Nice Girls Don't Ask
Three thought patterns that keep us from speaking up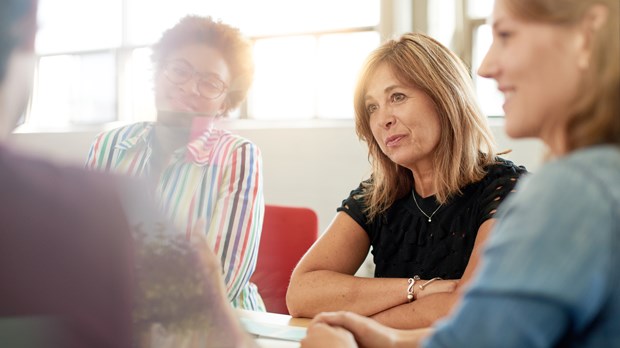 Feeling underappreciated and overlooked, I decided to talk with my team leader. I'm embarrassed to tell you I allowed my frustration to fester for several weeks before I said a word. I didn't want to be "that" girl—whiny, needy, and demanding.
As I nervously asked for what I needed and even wanted, I was surprised to hear "yes" to many of my requests. Why hadn't I asked sooner?
I'm not alone. In surveys, 2.5 times more women than men said they feel "a great deal of apprehension" about asking for what they want, whether it be help with household chores or childcare, a higher salary, or even a better price on a car.
As I've reflected on my own discomfort in asking, I've discovered three thought patterns that prevent me from asking friends, my husband, my boss, and yes, even God, for what I need and want.
I'm not worth it.
Several years ago, I began to take writing seriously. I researched writing conferences and found one that seemed like a good fit. However, I couldn't bring myself to click "register." As a stay-at-home mom, the cost and inconvenience to my family didn't seem justified.
One evening my husband caught me looking longingly at the conference webpage and asked me about it. He assured me the kids would survive for four days without me—and I was worth the expense.
"Why didn't you just ask?" he muttered as he handed me the credit card.
The lie that we're not worthy of help, advancement, rest, or even little "extras" can be incredibly believable. In today's world, we walk the fine line between overindulgence and selling ourselves short.
When I fall into the trap of devaluing myself, I give it the ultra-spiritual name of "humility." Scripture reminds us God wants us to ask for the blessings he has for us. (Luke 18:1). The truth is, we aren't worthy of his blessings. But he loves us and gave up his Son for us, bestowing immeasurable value into the very fiber of our beings. Real humility points us to Jesus, not our insecurities.
We can boldly, yet humbly, ask for everything God has in store for us. Rejoice in his yeses, be grateful for his no's, and patiently accept his wait-a-whiles. But ask—because he thinks you're worth it.
I'm too scared to ask.
The salesman sat smiling at my dining room table, calculator out and ready to sell me a water system our family apparently needed.
He listed his price. I didn't like it.
The thought of asking for a better price scared me to death. My fear defied logic. He wanted to sell me the system. He expected me to negotiate. I'd never have to see him again. Yet I was scared to ask.
Often, fear prevents us from asking for what we want. Perhaps it's the fear of using up our brownie points with God, so we don't ask for "little" things. Sometimes we're scared someone will think we're not "ladylike." Or we spiritualize fear with thoughts like "I don't really need a raise—God meets all my needs."
The boldness to ask is sometimes the means God uses to bless us. A stranger in a new country, Ruth experienced the blessing and provision of God as she faithfully showed up to glean from Boaz's field. She could have stopped there. There was much to be thankful for—safe travels, daily bread, and a loving mother-in-law.
It was Ruth's courage to ask Boaz to marry her that opened the door for God's plan. Because Ruth boldly asked, she received more than she ever could have imagined—redemption of a family line, a son, social standing. And unbeknownst to her, she had the privilege of a place in the lineage of our Savior.
We ought to ask biblically and in step with the Holy Spirit if we want to receive what we ask for (1 John 5:14-15; James 4:3). But do fearlessly approach the throne of God, and even other people in authority over you, and see how God might choose to bless you.
I'm too strong to ask.
I had sick kids, dinner burning, strangers ringing the doorbell, and my mother calling. All while on a conference call. In an exceptionally busy season, I needed help! But I never asked for it...
"I don't want to stress out my husband with extra responsibilities."
"I can't ask a friend for help—I'll owe her a favor afterward."
"I can do it—I can do all things through Christ, right?"
Too often I think I'm too strong, too capable, too spiritual to ask for help. Yet time after time, God uses people to care for me.
At the counsel of his father-in-law, Moses asked hundreds of men to help him, at varying levels of responsibility (Exodus 18). A man who was capable, wise, and called God's friend needed to humble himself and ask for help.
Asking for help not only blesses us; it also opens the door for others to experience the joy of obedience. It's ironic that the "strength" that keeps us from asking for help is exactly the pride that prevents us from experiencing the real power found in Jesus.
I admit, asking for help is a lesson I've needed to relearn many times. In a culture that celebrates busyness, strength, and ability, I have to consciously remind myself to ask for help.
Learning to ask for help, for courage, and for more (even of life's little extras) gives me a fresh understanding of God's generosity. To be sure, I don't always get what I want, but as I've learned to align my desires with what God wants for me, I see how he simply loves when I boldly, abashedly ask for the desires of my heart.
Esther Feng and her family live in Central New York. Esther currently serves as fund development strategist at MOPS International.