Letting My True Self Lead
My ministry is more powerful when I can be the person God made me to be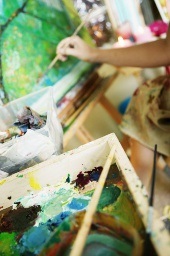 I would sit on our front porch, my lap filled with jean cutoffs and a bundle of embroidery threads. For hours I'd create sunflowers, peace signs, and butterflies across a canvas of Levi blue.
Back then I remember returning home stoned, to my family seated at the dinner table, "Leave It to Beaver" style, with my empty chair waiting. As I sat, I hoped against hope that my friends told the truth when they insisted that, unlike cigarettes, marijuana smoke was undetectable.
Last year, when a friend and I swapped rebellious-youth stories, I realized that when I stopped smoking pot, I stopped embroidering my jeans.
Creativity was a huge part of my childhood. I filled canvases with modern art and reams of wide-ruled notebook paper with Poe-like prose. Yet in my 14-year-old mind, when I came back to Jesus, I reasoned that I needed to flush my artistic bent down the toilet along with my stash. And the loss has taken a toll on what Thomas Merton might call my "true self"— the self that is made in God's image to do what God has gifted me to do
As my friend and I sipped our coffee and chewed on my discovery, I suddenly understood why I relentlessly fill my house with art. My true self longs to surround itself with beauty. And I also need to get my hands dirty (or fingers tired) in creating it. Psychologist David Benner writes in The Gift of Being Yourself, "God does not seek to annihilate our uniqueness as we follow Christ. Rather, Christ-following leads us to truest self."
These days, my creative side shows up more, and it occasionally spills over as a true voice into my writing and speaking. Its effect is can-hardly-sleep freeing, and the results have been, well, beautiful.
This past fall, a colleague asked me to teach a workshop on writing. Previously my writing lectures resembled talks delivered by an English professor or literature teacher. Only occasionally would I reveal embroidered-jeans Lesa. But this time I determined to try on "true self."
I put the talk away for a while. Because when I opened the document on my laptop screen, I found I had hidden myself safely behind name-dropping of famous authors I knew, clever quotes, and grammar rules.
Thankful for second chances, I trashed my notes and opted for narratives: My childhood of scribbling stories while dipping grilled cheese sandwiches in Campbell's tomato soup; my mad jealousy of Flannery O'Conner's wordsmithing; and my recent epiphany that my tattoo would be a word because I love words. Above all else, I ended each point wooing my listeners to write from the bent of their own gloriously naked true self.