Meet Sexual Sin with Truth and Grace
How to minister to people caught in fornication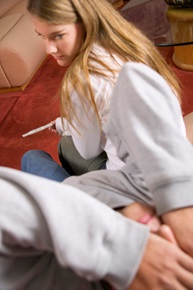 If fornication is sin, why do Christians engage in it? Why is sexually immorality prevalent among the Body of Christ? And what's the appropriate response?
Understanding the Culture
Everywhere we look we see the word SEX. Sexual immorality is not only blatant; it is subtle too. Magazine articles, books, movies, and videogames are enticing us. Even provocative dressing in church can distract even the most consecrated minds.
With each generation we seem to have new ways to commit old sins. Now fornication is even portrayed in cartoons. This generation grapples with animated characters using perverse language and engaging in sexual immorality. Media is bold; I must screen what I watch. Fornication is an expected problem among unsaved youth. It's horrifying when it becomes an epidemic in the church.
Leading in youth ministry for several years, I discovered the greatest battle among the youth was fornication. Their questions and personal stories were unbelievable. Clearly, we had failed them. They hardly concerned themselves with soul-winning and maturing in their Christian faith. They engulfed themselves in how much sin they could get away with. Christian youth are not the only ones struggling. Christian single adults face maintaining sexual purity while risking not being chosen because they uphold biblical principles.
Scare Tactics and Manipulation Are Ineffective
Often in the body of Christ, we skate around issues relating to sexually immorality. We have typically taken one approach, judgmental in nature: we bash and crush those who have fallen into sexually immorality. This carelessness has caused the current generation to turn a deaf ear to truth and righteousness.
The Bible is replete with wisdom and counsel. The problem is many aged Christians and even leaders lack the biblical knowledge to effectively teach spiritual truths concerning fornication and other forms of sexual immorality. In churches that lack the biblical fortitude, scare tactics about hell are used to enforce purity and abstinence. This approach was useless in the past and is completely irrelevant now. This young generation's everyday life is "hell": They must deal with declining moral values, increases in broken homes, rampant acceptance of homosexuality, declining spiritually sound churches, and rising carnal Christians. Worse, they must face a busted economy that leaves them with joblessness, hopelessness, and a future that looks bleak.
Our failure to teach biblical truths concerning fornication further perpetuates the tactics of the enemy. Growing up in a very strict religious environment, all I heard was "Fornication is a sin. If you do it, you are going to hell." Although this message came across the pulpit, many of us were still in bondage to the sin of fornication. I heard little about how to "flee" fornication, how to "abstain" from the very appearance of evil, or how to "maintain" my temple. I was a candidate for the bondage of fornication. The Bible decrees in Hosea 4:6a, "My people are destroyed from lack of knowledge" (NIV).