On Taking the New Guy to Lunch
Does camaraderie with a male colleague have to be a landmine?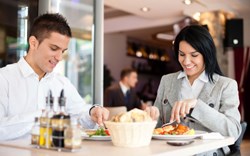 I have great sympathy for the new hires at our church. Our building is a maze of classrooms and closets, navigating IT takes a decade, and recalling names of all our staff is a bit numbing. It's a big, bustling place, a jovial family complete with fierce loyalty, inside jokes, and an expected dose of dysfunction.
One of our recent hires, new to our city, looked particularly bewildered as he walked in after his new commute. In a moment of sympathy and eagerness to get to know him, I asked him to lunch. We both stared at one another for a second. Both wondering if silently if our scooting out to lunch together was okay.
I'm the token female pastor on staff and he's the new dude. When I said, "Hey, do you want to grab some lunch and get to know one another a bit?" I was awash in unexpected paranoia. Was I too forward? Can the girl pastor take the new guy to lunch and it not appear scandalous? Was I over-thinking this? My friends who work in corporate settings do lunch with guys all the time. What was my big fuss?
I wondered if perhaps I should take a few other colleagues along. But some of them chat too much, others have an agenda. I wanted to know my new colleague without interruption. Most of my male teammates already had their lunch with him, no problemo.
Did I need to call his wife, whom I hardly know, and tell her I'm taking her husband to lunch? "Really, I'm totally normal and not at all a threat to your marriage, I promise I'm not hitting on him. Are we cool?" Would parishioners see us out, huddled around sandwiches, and wonder what sort of shenanigans their tithes are covering?
If I took him to lunch, who should drive? Who should pay?
If this seems like quite a bit of hyperbole, I guarantee you that many churches with a healthy ratio of men and women on staff deal constantly with these basic questions. Can they do lunch together? Can they meet together? And gosh, what if they have to travel together?
Churches often have rules on mixed-gender meetings. A pastor once told me his elder board prohibited male and female staff from offsite meetings together. He winced and shared how lonely his female colleagues felt as the men brainstormed together over coffee and sandwiches without them. The two lone women on that team were consistently left out of those impromptu moments where notes get scribbled on napkins and new ideas take shape.
This is understandable to a point, considering church history. Avoiding sexual sin is not exactly our strong suit. And yet what happens when paranoia prevents us from forging ahead into a healthy future as men and women serving together?