Find a Spiritual Mentor
You don't need another program; you need a person
To prepare me for this daunting challenge, my mother began brainwashing me at a young age. Her message was "Come in first and you will have no competition." So when I came home with a 98 her response was, "What happened to the other two points?" I lived my entire formative years feeling like I had fallen short of perfection. Nothing was ever good enough. The only mode of operation was to try harder and to work harder.
When I read in the Bible that God's banner over us is love, the concept felt very foreign to me. I had lived under the banner of never measuring up. So all my life, I felt the weight of condemnation. Before I knew it, I found my security in my ability to work hard. I was convinced I could outwork anyone. When God called me to serve him in ministry, I was convinced God chose me because he could count on me to work. I didn't realize that I had put my confidence in my performance rather than in him.
It was a shock to discover that God wasn't impressed with me or with what I could accomplish through human effort. I had yet to discover what my spiritual mentor learned many years before me. She was diagnosed with a heart problem and as a result, learned to depend on God. She lived one day at a time and expected God's grace to be sufficient for each day. When I worried about the future, she would say, "Do you think God's success depends on you?" Her question floored me. What did she mean?
In my mind I thought, "If God sent me to solve a problem, God needed me in order to succeed." It never occurred to me that the God of the Universe didn't need me to accomplish his purpose. He invites me to be part of what he is doing and he longs for me to accept. However, he doesn't need me and can easily replace me!
I wonder today if you need a fifth pillar. Perhaps all that you relied on isn't working for you anymore. Perhaps more than a program, you need a person. Perhaps you need someone who will take the time to care and will journey with you to change the world. If so, I pray God gives you an incredible gift in the form of a spiritual mentor. And I pray the world will be blessed by the best of your mentor and you!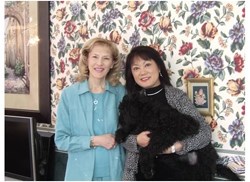 Adapted from The Best of My Mentor and Me. Copyright © 2013 by Anita Carman. Used by Permission.