May 2014
Success is measured in obedience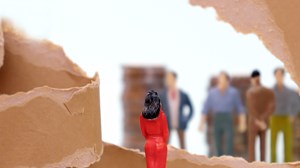 Lately, I'm hearing a lot about "calling" and following wherever Jesus leads. And I've been right there on the front row, soaking it up. When I read on this site about Jennie Allen's book Restless, I bought the eBook and read it all that same day (not the pace I'd recommend; it's one to work through!). A few weeks later, I did the same with Jenni ...
continue reading
---
A dual temptation winks at every leader
Would you sell your soul to wield more influence, to become a Christian celebrity? I imagine that most of us would answer with an emphatic "No!" But the temptation is there.
Not long ago I read a very honest blog post by Preston Yancey. It was one of the first of his pieces that I've ever read. My friend Sharon passed it along. He titled it, "When This Is Some Real Talk About ...
continue reading
---
Metabolize your leadership experiences
The mere mention of her name would bring back the knots in my shoulders and the twitch in my eye. I lay awake countless nights reliving our heated conversations. I kept beating myself up with the "what if" and "should have" scenarios.
The six-month ministry crisis had taken its toll on me emotionally, physically, relationally, and spiritually. When it was all said and done, ...
continue reading
---
You don't need another program; you need a person
I recently watched a movie called Chasing Mavericks. It was about a young man who wanted to surf one of the biggest waves in the world. He approached an experienced surfer in his town to coach him. The coach told him he would need to secure four pillars in his life. The first was physical. He would need to develop the strength to paddle a surf board across the California bay. ...
continue reading
---
An interview with Pastor Noemi Saucedo Chavez
Noemi Saucedo Chavez is co-pastor of Seventh Street Church in Long Beach, California. She has a heart for women and the Latino church and is committed to raising up the next generation to serve their community and the future church. Noemi is also an influencer among 30 under 40 in Long Beach, a group of young leaders in the city. I sat down with Noemi to discuss leadership, ...
continue reading
---
An interview with Judy Broker, Pastor of Friends to Friends Community Church
A church in Northern New Jersey has changed its name to reflect the reality which has unfolded over the last 20 years: People with disabilities are at the center of this church's ministry and mission. I spoke with pastor Judy Broker about this very unique congregation.
When did this ministry begin?
The First Reformed Church of Ridgewood was a dying congregation of approximately ...
continue reading
---
Can we get on with what matters?
Leaving church one afternoon, I was talking to "Nancy," a leader I served with. A new leader, "Sally," stopped to ask Nancy a question. Sally had just completed her training session and noticed one of the requirements of all leaders was to have a relationship with Jesus so they could help lead other women to Christ. Sally mentioned to Nancy she did not have a "real" relationship ...
continue reading
---
My daughter's declaration of independence changed all my plans
I wasn't ready for it. After all, she's only just turned 8. And what 8-year-old do you know who's called an after-dinner meeting to tell you gently but categorically that "it's just not working anymore"? That she "can't stand another day of living in your house"? That she's leaving.
I had to choke back my urge to giggle, but I realized from the look in her face she was deadly ...
continue reading
---
Leading begins with following
In Rodgers and Hammerstein's classic movie The Sound of Music, Maria, the new nanny for the von Trapp family, finds that the children don't know how to sing. So she teaches them the musical scale in song: "Let's start at the very beginning. A very good place to start. When you read you begin with A-B-C. When you sing you begin with do-re-mi."
Suppose Jesus came to earth to ...
continue reading