Tell a Good Story When You Preach
How to teach in a way that connects, compels, and builds trust.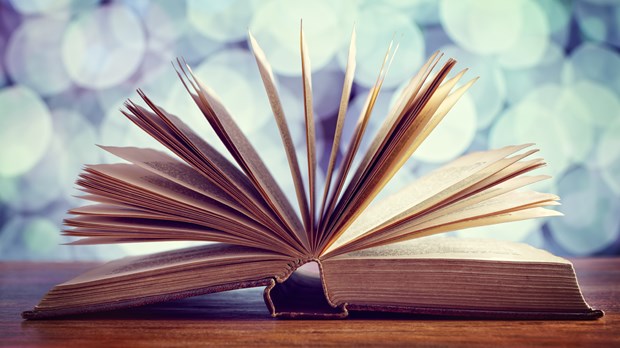 My stepsons come barging in the door after seeing a movie with their dad. They are laughing and talking and quoting lines from the movie as they scour the cupboards for snacks.
"How was the movie?"
"It was really good! So funny."
Then I ask this question: "What was it about?"
I usually get a play-by-play of the story line, with one of them talking over the other to clarify a point in the plot. They tell me about the actors and the cars and the funny parts. They tell me who won in the end and if this one was better than the other one that was kind of like this one but starred that other guy. All of this is said through mouthfuls of cheddar and sour cream potato chips, of course.
Never, in all the times they have told me about movies, has either one ever looked at me and said, "I can't remember. There was this guy, and maybe he was a detective or something, and he had a car. Something blew up. I don't know."
They always know. The can always remember. They can always tell me. That's the power of a story. We can remember a movie because someone is telling us a story. The story begins with people who need something, or something happens to them, or there is the promise of love, the threat of global extinction, or an epic battle between good and evil. The story unfolds as the characters respond to whatever comes their way. A good story draws us in because we want to know how it turns out: Did the accused commit the crime? Do the aliens wipe out life on earth? Does the girl find love? Find out this Christmas in a theater near you!
Our challenge as preachers is that almost everyone who listens to us knows how the story turns out. God is in the still, small voice. The boy kills the giant. Jesus heals the blind man. Thomas professes faith. Paul, once again, tells people what to do. Yawn. Why should our people keep listening if they know how this is going to end? There is a problem. God solves it. Take the offering.
We need to create tension, or we need to acknowledge the tension that is already there. Because although most of our hearers know how the Bible stories turn out, they don't know how their stories are turning out. They can't read to the end of their books. All of us—preachers and pew sitters—listen to the words of the Bible and think, Is it true? Does it matter? Will it happen for me?
That's the tension. Is this truth for me? Is this God really God for me? Are my sins really forgiven, and how would I know? Does a life of obedience really matter when it's costing me so much?
And there is our hook. Everyone walks into church hoping, praying, begging for something to be said or sung that will help them, comfort them, assure them, and sometimes challenge them, convict them, or push them. To put it simply: they want to see themselves in the story.
Illustrations that Connect
This is why illustrations matter. Illustrations help to place us in the story. But illustrations that invite us in need to be something we can actually imagine. Most of us did not fight Nazis in World War II. If you ask us to place ourselves in that story, we will always imagine ourselves as the hero—hiding Jews in our basement and standing up to the SS or giving bread to the hungry soldier from the other side.
But many of us can more realistically imagine ourselves fighting with a sibling over the remote control, or, in later years, fighting about where the extended family will have the reunion, or who should tell Dad it's time to stop driving, or who gets the dining room table when parents have died. We won't imagine ourselves the hero in these stories because we probably haven't been. What we need in a story about our siblings is some idea about what to do next—what it would really look like for us to be like Christ, not in some French village in 1942, but in the family room today or on the phone tomorrow.
Because we know that illustrations help our hearers place themselves in the story, we preachers can spend a great deal of time searching for the perfect illustration: the story that ties to the Scripture passage, is just the right length, and moves us easily to the next point. This is why there are books of illustrations available to buy and websites eager for you to subscribe to their ideas. But canned illustrations usually taste that way: the essence of a good story, but lacking in color and tang.
The strongest illustrations are drawn from the life of the church itself. If you start a sentence with "This week in the Bible study, Ben mentioned . . ." or "Nancy, the chair of our deacons, invited me to join her on a benevolence visit this week, and . . ." heads are going to go up. People are going to pay attention. Ben said something interesting in Bible study? What happened on the benevolence visit? (Or what is a deacon? What is a benevolence visit?)
Suddenly the life of the church has made it into the sermon. Someone was paying attention to things that happen every week. This wasn't a once-in-a-lifetime event. Bible study happens every week. Deacons visit people all the time. This was regular life being called out as an example of kingdom living. The illustration wasn't theoretical, distant, or abstract. It was personal, relatable, accessible, and relevant. That gets people's attention.
This also means we need to pay attention. If you have read and studied your text early in the week, think of yourself as flypaper for the rest of that week: anything that could link this text to the lives of these people should stick to you. An exchange with the server at lunch. A magazine article on change management. A song on the radio. Another passage of Scripture. A great quote on social media. As the week goes on, write these things down. Even if it is only remotely connected to what you're preaching about, record it. You never know how the Spirit may use it.
A Word of Caution
One important note: Always ask permission. If Ben says something in Bible study that catches your attention, mention it to him afterward and see if he's okay with you using it and if he wants credit. Say something like, "I loved what you said about verse 5. I may be able to use that on Sunday—would it be okay if I mentioned your name?" Don't promise that you're going to use the illustration. We all know that what looks perfect Wednesday morning may not fit when we are finishing the sermon on Saturday night.
We also know that some brilliant illustrations hit us at 6 a.m. Sunday morning, and we don't always have time to check with the person before we preach. But if they don't know you are going to use them, don't use them. The use of others in illustrations is an opportunity for us as pastors to care well for people. We want them to look good in illustrations, and we want them to feel safe at church. Respect their wishes if they do not want to be used, or offer to change their name or the details of the event if that makes them more amenable to the idea. But if they decline, honor that. Think of your use of illustrations as an opportunity to build trust with your congregation.
Mary S. Hulst is the college chaplain at Calvin College. She previously served as a professor of preaching at Calvin Theological Seminary and as senior pastor of Easter Avenue Christian Reformed Church. Taken from A Little Handbook for Preachers by Mary S. Hulst. Copyright 2016 by Mary S. Hulst. Used by permission of InterVarsity Press, P.O. Box 1400, Downers Grove, IL 60515-1426. www.ivpress.com