Comparison Is Stealing Your Joy
Five practical tips to fight back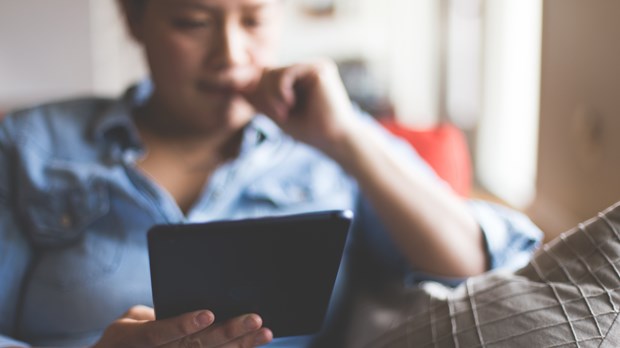 There are so many cautionary tales in the Bible about comparison—beginning with the very beginning. The serpent in the garden suggests to Eve that she compare herself to God. If only she will eat fruit from this one tree, it tells her, she could be like God in her knowledge of good and evil. The stories of Cain and Abel, Jacob and Esau, Joseph and his brothers, Saul and David, and so many more illustrate the extremes of what can happen when people compare themselves to others, falling prey to jealousy and envy. Even the disciples were not immune, jockeying for positions at Jesus' right and left hand. And Peter's last recorded words to Jesus in the Gospel of John are, "Lord, what about him?" after hearing an unsettling word about his own future.
Of course, all of the comparisons we read about in Scripture happened in real time. Imagine if King Saul had been able to scroll through David's Instagram feed—each perfectly staged, tagged, and filtered photo more infuriating than the last. Think of Peter wondering why John posted so many selfies with Jesus, all hash-tagged #beloveddisciple. Envision Martha glancing between the vivid, mouth-watering image at the top of a pinned Pinterest recipe and the not-so-picturesque dish she was about to serve her honored guest.
The internet and social media are wonderful in many respects, connecting us in unparalleled ways. But studies have shown we are growing less content with our own lives as we consume a near constant stream of images, status updates, articles, recipes, party decor suggestions, how-to videos, and self-improvement tips from others. Comparison is one of the signature elements of our fallen humanity—social media didn't create the problem, but it has certainly amplified its power.
Beyond the visual, relational, and material information in our social media feeds, the most dangerous forms of comparison happen when we look at the gifts of others with longing—and on our own gifts with disdain. This kind of comparison is most insidious, as it takes the beautiful image of the body of Christ, with all its diversity, and turns it into a discontented mass of people, each wishing they were like someone else.
I spoke to Pastor Maria Kringel, who serves and leads at Life Church in Roscoe, Illinois alongside her pastor husband, about the presence of comparison in the roles she plays. A mother of four and a health coach, Kringel acknowledges her fight against comparison is an ongoing journey she will probably always face. Yet, she recently found new strength to push back by refusing to let the idea of perfection rule her. "I finally broke through and got to a point where I don't care. There's always a voice saying, what would this person do? How would they handle this situation? How would they decorate their house? What would they wear? Well, who cares? I don't live for their approval anyway, and if I try to be like them, I don't get to be me. It shuts down who God made me to be." Of social media's role in persisting comparison, Kringel says, "It steals so much. It's such a strong pull. You think in your head that all these people have it perfectly together, but in truth they really don't—you're only seeing the highlights."
One way Kringel decided to fight against this as a church leader and a pastor's wife is to intentionally be more authentic, both from the pulpit and in her social media posts. Rather than only posting the positive and perfect, for example, she writes honestly of a hard day with her son Isaiah, who has cerebral palsy. She finds not just acceptance from congregants, but also gratitude. "People are so hungry for real authenticity. In ministry, they can't identify with a lot of us because we have this image of perfection."
As ministry leaders, the perfection impulse already looms large—resisting the desire to look, preach, lead, and think like other successful people is vital, but also quite difficult. Here are five practical tips for combating comparison in your life and ministry:
1. Raise your awareness.
Fighting comparison requires having a clear picture of its presence in your life. For many of us, comparing ourselves to others is so second nature as to be practically invisible. Pay attention to your inner dialogue as you go through your routine for a couple of days and keep a simple tally of how often you compare yourself to someone else, whether it's in person or online. The challenge is even catching yourself doing it! In this season of "perfect" holiday parties, gifts, meals, and experiences, the siren call of comparison is everywhere: "I could never," "I will never," "If only I had," "If I were more," "If I could do." Become conscious of your brain's litany of comparisons and take note of it. You might be surprised by the number of these messages your brain is regularly entertaining!
2. Take a break from social media.
Fasting from social media requires some honest self-evaluation. You know how much time you spend on social media, and only you know how it affects you. For some of us, a cold turkey fast might be unrealistic, which sets you up for quick failure. Instead, limit yourself to only checking social media at certain times of the day—preferably not first thing in the morning or last thing before going to bed. Replace your phone checking habit with something else if it proves too tempting—read a book or an interesting article, or listen to a song. For many of us, checking our phones has become muscle memory, so this is going to take serious effort. Don't let that stop you!
3. Ask for positive reinforcement.
Sit down with someone you are close to, and ask him or her to talk to you about your strengths. This might sound like an odd request, but most of us can very easily list off our weaknesses yet stumble when it comes to listing our strengths. Ask a friend, spouse, or family member to sit down and do this with you, and return the favor—chances are they need to hear it, too. Record their words, or take notes—seriously! This will be a great reminder during times when your focus may be on all the ways you believe you are coming up short. Come back to your list when you find yourself in a comparison rut.
4. Rethink your perceived weaknesses.
Consider Paul's reflections: "Three times I pleaded with the Lord to take it away from me. But he said to me, "My grace is sufficient for you, for my power is made perfect in weakness." Therefore I will boast all the more gladly of my weaknesses, so that Christ's power may rest on me" (2 Cor. 12:8–9). The idea of perfection we keep in our minds might be causing us to perceive individual character traits as weaknesses, or fail to see where God can use our actual weaknesses.
For example, I am a processing thinker, and frequently need time to think things through before I respond. During a meeting, I am usually not the most verbal person when discussing a topic, but will reliably have a very well-considered verdict an hour or two later. In the past, I have considered my "slow" brain to be a flaw, and envied the people in the room who could immediately respond. Over time, however, I came to see that a strong team has both kinds of thinkers, and dearly needs people who will think through things from all angles—not just give first impressions. After meetings, I now send emails beginning with, "After giving this some thought," and I provide additional points the group may not have considered, which generate further productive conversation. God can use your "less than ideal" to make your teams stronger.
5. Consider the whole body.
Regularly take some time to meditate on the body of Christ and your place in it. Print out a copy of 1 Corinthians 12. Read through it a couple of times, highlighting verses and phrases that speak to you. Write those verses on a notecard, placing it somewhere you will see it often. I have written verses 18 and 19 out—"God has placed the parts in the body, every one of them, just as he wanted them to be. If they were all one part, where would the body be?"—and stuck it on the mirror in my room as a reminder.
Kringel tells of a time God spoke to her about not leaning on others in her life. "It's called the body of Christ and the family of God for a reason. If I would have created you so you didn't need the gifts that other people have, then I would have put them all in you. But I didn't, I dispersed them. So in order for you to be all that I called you to be, you have to utilize the gifts of everybody else." God made us to need each other. If we had all the gifts we wanted, we wouldn't need anyone!
Ultimately, each of these tips should help us toward the biggest antidote to comparison, which is simply resting in Christ. After Peter asked, "Lord, what about him?" with a nod to John, Jesus replied, "If I want him to remain alive until I return, what is that to you? You must follow me" (John 21:22). The temptations and opportunities to compare ourselves are everywhere and constant—and still Jesus says to us, "What is that to you? Follow me!"

Amanda Fowler has a Master of Arts in Theology from Fuller Theological Seminary, and after 13 years in Los Angeles has just relocated to her home state of Michigan, where she works in small group and young adult ministry for a local church.