Lead Well Alongside Men
5 tips for co-laboring for the kingdom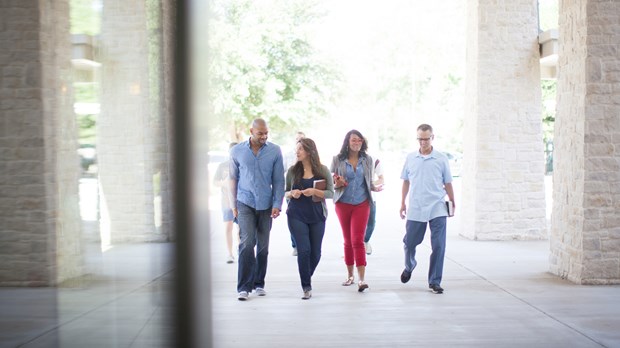 Gender plays a significant role when we talk about how women and men can lead well together in the church and workplace. As a lead pastor of a church and a program director at a seminary, I have come to see that it is both an opportunity as well as a challenge to co-labor with men in leadership. It doesn't take long to realize that we will never be done learning to do this well. Though it hasn't always been easy, I believe that it is well worth the effort.
Here are a few things I have learned over the years to help establish healthy and effective leadership alongside men in the church.
1. Solidify your commitment to mutuality and co-laboring.
If you're going to lead with men, or anyone different from you for that matter, you need to be committed to team leadership and mutuality. The vision in the creation narrative in Genesis is that of women and men created to work together as image bearers of God and coworkers tasked with caring for the earth.
This vision is so compelling that it inspires me to push through the hard work of leading with people different than me. If we are going to lead well with men, we need to be committed to God's vision of men and women coming together to bear God's image—something we do much better together than apart. If we are going to do this well for the long haul, we need to be committed even when it becomes challenging.
2. Determine his experience with leading alongside women.
When we are on a team with a man, the most loving thing we can do is figure out where they are in the process of leading with women. At times I have found myself on a team with men who have not had much experience leading with women. It's not that they don't want to or that they don't appreciate hearing from women, it simply has not been typical for them.
So I figure out where he's at when it comes to leading with women. Is it a new experience for him, or does he have a moderate amount of experience? Is he just beginning to see how to create space for women on the team, or does he have a track record of lifting up women's voices? This will help you understand the right balance between encouragement and challenge to offer as you work with him. Working through difficult challenges like this doesn't happen overnight. It may even feel like swimming upstream at times. And let's not forget that we have an enemy that trips us up because he would rather we didn't co-labor for God's kingdom.
3. Commit to courageous conversations.
When we bring people together who are different, it's inevitable that we won't always understand each other. This means we have to be more intentional in our communication. There have been many times when I have felt hurt or misunderstood, and I've been tempted to brush it under the rug. But team relationships with men have always gone better when I have chosen to be brave and have a courageous conversation.
Sometimes this means pointing out how they didn't leave space for me or other women to speak. Or it may mean addressing the problem that the administrative tasks are being offloaded to the women on the team when it's not appropriate. If we do so with care and clarity, it often reveals a blind spot that was unseen. In turn, I find my teammates feel more comfortable sharing how they feel and what may be confusing them in our working relationship.
4. Grow in emotional intelligence.
As leaders, it's important that we are students of emotional intelligence and pursue growth in these competencies. One of my favorite books on the subject is Primal Leadership by Daniel Goleman, Richard Boyatzis, and Annie McKee. The four main categories of growth in emotional intelligence are self-awareness, self-management, social awareness, and relationship management. If we commit to being lifelong learners in these competencies, we will be able to enter situations with a greater ability to understand ourselves and others. We will be able to lead well with men, and it will be more likely that they will experience our partnership as loving and respectful even in tense leadership challenges.
5. Be quick to offer grace.
As female leaders, we bring many insecurities into our roles—and what causes us to feel insecure is unique to us and not necessarily tied to our gender. It's a battle to press on and lead when we lack confidence in specific areas. We need a lot of grace as we grow and become more secure in our leadership.
It's a mistake to assume that men aren't facing the same struggle. The truth is, men have a lot of insecurities as well. Like us, they don't always realize how many of their actions stem from areas where they lack confidence. Men also need affirmation and specific and direct feedback so they can grow in their confidence. Even when actions are inappropriate, we need to be willing to discover what is behind the action, which is sometimes a lack of confidence. Offering grace doesn't mean ignoring hurtful behaviors. However, we are all broken people in need of grace as well as honesty. Grace is a gift we can offer our teammates, especially our male coworkers, and it results in more effectiveness all around. There will always be more to learn on this journey, but I know for sure: We really can't live well or lead well without each other!

Pastor Stephanie O'Brien is a lead pastor at Mill City Church in Minneapolis, Minnesota, and a program director and professor at Bethel Seminary in St. Paul, Minnesota. She writes about what she sees God doing at PastorSteph.com. You can keep up with her online on Facebook, Twitter, and Instagram @PastorSteph.