Counseling Others When You Have Your Own "Me Too" Story
How to walk alongside sexual assault victims when you've been a victim yourself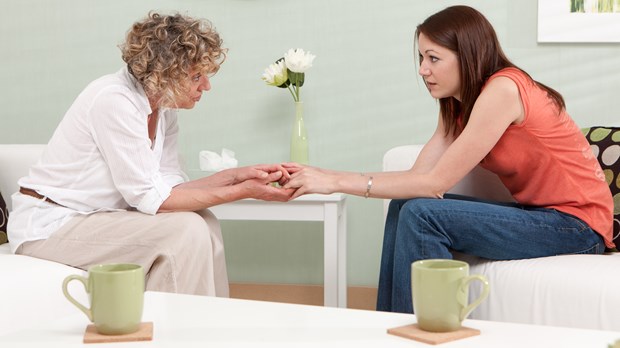 The scandal of Harvey Weinstein and the festering wounds left along his destructive path of sexual exploits made America face a fact: every day we interact with women who have suffered the horror of sexual assault. As #metoo flooded social media channels, multitudes of women felt the tide of suppressed emotion wash over their lives. In this world where every 98 seconds another person is sexually assaulted, we must grapple with the fact that many, many women have "me too" stories. And, we must recognize that many women leading in the church have experienced sexual harassment or assault themselves—maybe even within the church. The local church is one of my greatest loves, and I am not jaded, but we must be realistic. As much as I'd like to say the church is a safe place, untouched by the fallen desires of predatory humans—I've been in ministry too long to entertain such a foolish notion.
As female leaders, we must be ready to minister when we hear the cry for help, which means that many of us will counsel women who have been accosted, while still processing the emotions about our own "me too" moments. I am one of those women. As "me too" leaders venture into this redeeming work, here are some pitfalls we need God's wisdom to avoid:
1. Confusing your story with hers.
When I talk about the assault and abuse I've experienced, I am standing on holy ground because this is the place Jesus met me. He had called out in mercy long before, but it wasn't until I experienced assault that I finally turned to the only man who could save me—Jesus. But this isn't how every woman deals with her experience, and we can't project our own stories onto the women we counsel.
As we minister to women with stories of their own, we can't assume that they'll feel as we did or that they'll handle it the way we did. There's nothing to gain from comparing another woman's story—or the depth of her pain—to our own. Similarly, we can't assume that the things that helped us heal—beyond Jesus—will help her. Each woman walks her own journey to healing.
There are a number of ways women can deal with sexual assault. We can deal with it head on, push it down deep in attempts to hide it from memory, or let memories haunt us for a lifetime as they replay over and over in our minds. The redeeming choice is to take it to Jesus and do the work needed to find healing. I encourage you that if you have your own "me too" story and you haven't done this, start here. Even once we begin the healing process, hearing the stories of others can re-open our own wounds. You'll need to continue doing the work of healing on your own.
2. Playing the role of the Holy Spirit.
As those who have felt the sting of assault, we can easily slip into wanting to be the hero, to save someone who is walking through similar circumstances. We remember feeling alone, and we remember being so thankful for the person God sent to help us when we were in need. But slipping into the role of hero will only result in an intermingled mess of empathy and co-dependency. The Holy Spirit is always the better counselor, and we have the honor of helping people learn to recognize his voice.
Other times, the women we counsel will have unrealistic expectations of us. As you serve as a sympathetic listener who speaks wisdom, it's easy for women you counsel to begin relying on you for every answer. You might get calls in the middle of the night or frantic texts asking for aid because a woman who has been violated can become frantic and fearful. When this happens, we have the honor of helping the woman regain strength by leading her to find biblical conclusions on her own. Instead of causing her to lose confidence in her ability to make decisions, we help her talk through questions like, "Should I tell my mom?" We open the Scriptures, pray, and offer directive truth, but the important thing is her reliance on God.
In order to help instead of enable, it is important to set sensible boundaries and refrain from allowing the people we counsel to confuse our voice with the voice of the Holy Spirit. We tell them from the beginning what we can and cannot do and what hours we are reachable. We're not afraid to tell people, "I can't answer that for you, but God can. Take it to him and trust that he will guide you to the right choice." How lamentable it would be to exchange God's voice for that of a human, and how crushing it can be when someone idolizes a created being over the creator (Rom. 1:25).
3. Letting the lies she believes take root in you.
When we sit down to listen to the thoughts of others, we're forced to face lies we have also been tempted to believe, and we risk assimilating them. We hear "It was my fault," "I brought this on myself," and "I deserved it." And while we remind her that it was not her fault, that the assailant made the choice, and that no one deserves to be assaulted, we may struggle to believe this about our own circumstances. This is where it can get dangerous. If we haven't reckoned with the whispers from the enemy, they will replay in our souls.
When approaching any counseling situation, we should pray not only for wisdom, but also for protection as we tread on ground the enemy has attempted to steal. We're reminded in 1 Peter 5:8, "Be sober-minded; be watchful. Your adversary the devil prowls around like a roaring lion, seeking someone to devour" (ESV). The enemy will use the same lies again and again, not because he is lazy, but because the deception successfully steals from the children of God.
By no means does this imply we should stop ministering to others out of fear of exposure, but it does mean we must stay alert to the state of our own thoughts and feelings as well and make them obedient to Christ (2 Cor. 10:5). Depending on how you process, journaling after a meeting can be a prayerful check, or you could check in with trusted allies about your own heart. Just make sure that whatever you choose to do maintains confidentiality in regards to the other woman's story. A Spirit-filled counselor or mentor doesn't need all the details of the other woman's story to help us remember how to draw truth from the gospel, even after facing a potentially triggering event in another's life. Now that we're healthier and free, we need to remember that God does not want us to be subject to the yoke of slavery the enemy will try to place on our shoulders again, so we must be mindful that we don't end up welcoming it back (Gal. 5:1).
4. Focusing on the pain rather than the Healer.
Similar experiences often lead to instant rapport and a deep relationship with the women we're counseling. This is a good thing, but we can't allow that to take the place of the relationship that actually brings healing—the one between the saved and the Savior. It's easy to stay focused on the pain, but our job is to lead people to the throne of grace where salvation can be found. So we begin with and always circle back to the gospel, as we walk with them from grieving to healing. Only God can help them recover from the trauma and rescue their souls from the tragedy of sin. We must seek Jesus for all our strength, with every breath, because treading these deep waters with others while living the reality of our own lives is not for the faint of heart.
It is easy for the victimized to set our eyes just above the threshold of pain and our minds set on the assault; but if we are to have the hope of seeing beyond the wrongdoing to the Redeemer, we must keep our gaze fixed on Christ. We must point people to the God who brings glorious restoration who promises that one day "He will wipe every tear from their eyes. There will be no more death or mourning or crying or pain, for the old order of things has passed away" (Rev. 21:4).

Chara Donahue is a certified biblical counselor, writer, and speaker, and has been involved in ministry for the last 15 years. She is the founder of Anchored Voices.