true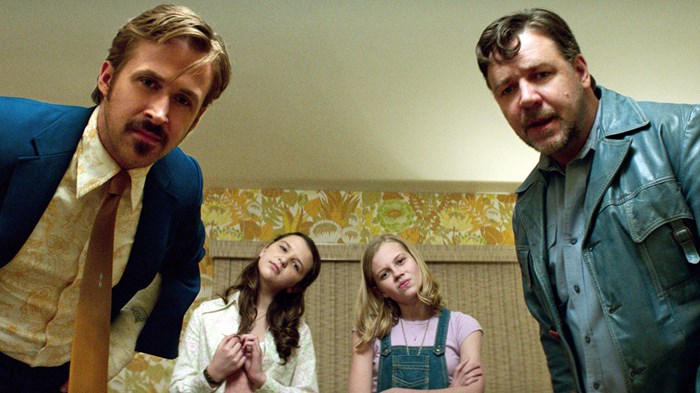 Image: Warner Bros. Pictures
Every summer, while everyone is out romping around in the sunshine, eating hot dogs or something, I spend hours in dark rooms, staring at brightly lit screens and scrawling blindly into notebooks. Vitamin D deficiency: an occupational hazard for critics.
But I'm not complaining. I get to watch a lot of movies and TV shows before they're publicly available—many more than I can reasonably write long essays about. I get to dip my toes into the vast ocean of provocative, imaginative stories being told on our screens of all sizes. For Christianity Today readers, this is terrific news. There are so many ways to explore culture, directing our attention toward both beautiful and broken parts of our world, moving and reshaping and challenging us. It's a gift.
And yet not everyone has time to see everything that's out there—especially now in the age of great television. Nor should everyone. You've got better things to do.
So to free you up for eating hot dogs and going on picnics—and, more broadly, cultivating a broad palette for great art and well-made entertainment—I'll be writing our weekly newsletter from now on, starting next week. I'll try to touch on the big releases and the small ones, and sometimes direct your attention away from the buzz and toward things you might otherwise overlook. This week you'll get a sneak peek.
I don't know about you, but I'm especially fascinated by how religion shows up on screen—in obvious ways, through characters of faith or depictions of church, but in less obvious ways, too. So sometimes I'll write about that here when I see it as well. Sometimes I'll link to other voices and articles that can help us make sense of what's going on in pop culture, which today is positively and unprecedentedly steeped in religious explorations and themes. Sometimes the answers may be ambiguous or even contrary to what Christians believe, but that doesn't mean it's not worth talking about the questions.
What I won't be writing is a list of recommendations. You'll still have to figure out if the show or film is your cup of tea, and if it's what you want to be watching by yourself or with your family or friends. But I hope this serves as a launching pad for your own pop culture exploration, a little cheat sheet for populating your to-watch list. Think of this newsletter as a little tour guide to culture in your inbox every week.
Raunchy Comedies Are Growing Up
There are two raunchy comedies out this week: Neighbors 2: Sorority Rising and The Nice Guys. Interestingly, both movies try to tap into the cultural moment outside the strict boundaries of the stories themselves. Neighbors 2 is by far the most progressive comedy I've ever seen, with a surprisingly refreshing approach to "girl power" that critiques hookup culture and repeatedly notes the difficulty of figuring out whether or not something is feminist enough. Most CT readers will want to skip the film, for sure (it hits every note of every R-rated comedy), but it's interesting to see this happening in a nonchalant way in this genre. I can't imagine this film getting made five years ago; now it just seems obvious.
A Buddy Cop Movie Meets Chinatown
By contrast, The Nice Guys mashes up buddy-cop comedies with violent '70s sunshine noir, starring Ryan Gosling and Russell Crowe. The movie premiered at Cannes this week and is pulling in rave reviews. I was less into it than a lot of people; Ryan Gosling is hysterical—a comic genius—but whenever he wasn't on screen, I just wanted to be watching Inherent Vice. But once again, it's a deeply 2016 movie, even as it's a '70s throwback: its ironic, comedic take on the corrupt underbelly of Los Angeles, in which the politicians, law enforcement, and capitalism are all in cahoots with one another and the good guys can't do anything about it, is deeply 2016.
Over at the Art House
You might catch Maggie's Plan, a slight but fun little comedy starring Greta Gerwig, Ethan Hawke, and Julianne Moore in a farce that seems straight out of Shakespeare: Hawke and Moore are unhappily married academics; Hawke and Gerwig have an affair, and eventually they get married; then things really get going in an unpredictable direction. Moore has a preposterous accent, and Gerwig is her usual luminous self. I wrote about the film at Sundance earlier this year.
And don't forget to check out the marvelous Love & Friendship, the latest movie from director Whit Stillman (Metropolitan, Last Days of Disco). It's a rollicking, hilarious Jane Austen adaptation—maybe the best one. I wrote about it from its Sundance premiere.
Whole Lot of O.J.
Twenty years after the conclusion of the O.J. Simpson trial, the most publicized criminal trial in history, eighteen hours of TV (in two separate series) have turned up to re-analyze, retread, and re-contextualize how such an insane trial even happened. The People v. O.J. Simpson: American Crime Story concluded on FX last month; this weekend, the ESPN documentary O.J.: Made in America premieres in some theaters, with a roll-out on ABC on June 11. I wrote about it for us this week.
Must-See Documentaries
I'm happy to declare thatAlmost Holyis a vital film for Christian audiences, and those who've called it a "real-life superhero movie" are about right. The movie follows Pastor Gennadiy Mokhnenko, a Ukrainian pastor who is known in his country for his vigilante crusades against drugs and a corrupt government, and his extensive work rescuing homeless children, battered women, and many others, giving them a home and getting them clean. The film takes a historical approach to Pastor Gennadiy's story. It's not easy to watch; small children turn up who are third- and fourth-generation addicts or prostitutes in a country that's weathered political catastrophes before and after the dissolution of the USSR, and you get a much deeper understanding of this. Pastor Gennadiy's tough-love tactics—which extend beyond the reach of the law—are sometimes questioned, and the film doesn't end on a high note. But it's vital viewing.
Pervert Park (in select theaters) delves into the lives of a group of Floridian registered sex offenders in a trailer park that functions as a kind of halfway house, with a therapist. One by one, the residents tell their honest stories, which render the film difficult to watch (frank descriptions of deviant sexual activities are just part of the landscape) but vital for those who want to minister to sex offenders.
The Other Side (in select theaters and on Fandor) follows a group of residents in deep Louisiana: meth addicts and their community, mixing family loyalty and patriotism with gun-worshipping patriotism, outspoken racial bigotry, and debauchery (sexual and otherwise). If you can stomach it, which isn't an easy feat, it's a frank and unswerving look at a culture many of us never see.
Weiner, about New York City politician Anthony Weiner, is a timely (if troubling) film about the perils of being in the public eye and the egomania that can run amok in a celebrity-driven political culture. I wrote about the film from the True/False Festival earlier this year.
Consider Reading
The "Lenny Letter" newsletter (produced by Lena Dunham) this week included a surprising essay by Khloe Kardashian on the spiritual journey of her and her family. (As People Vs. O.J. dramatized, Kardashian's father Robert was a devout Christian.) In Slate, Ruth Graham wrote about the piece.
Wondering how your favorite TV shows keep afloat in the era of "peak TV"? This deeply-reported piece from Vulture is a great explainer.
The New York Times profiled YouTube star Briana Babineaux, whose story is emblematic of a rising set of young gospel singers
Ken Morefield wrote a wonderful list of seven films about freedom of speech that are better than God's Not Dead 2.
We interviewed the legendary filmmaker Terence Davies about honesty in filmmaking and his two movies coming out this year, Sunset Song and the Emily Dickinson biopic A Quiet Passion.