For years (just as I promised at my Baptist ordination) never a near-petrol hiccup has passed my lips. Books, not booze, are my addiction. I am hopelessly hooked—I cannot live without books.
How serious is my affliction?
Actually, my dependency is much bigger than books—it is print of any kind. Magazines interrupt me wherever they intersect my line of vision. As a professional minister, I have tried to keep abreast of the theological journals relating to the ministry. Naturally, therefore, I read things like Bibliotheca Sacra, but I cannot stop with things that relate. While waiting in a dentist's office, I read things like Orthodontia Today or The Molar and Cavity Journal. Waiting for an oil change, I read Pipeline Perspectives. In a hobby shop, I read three pages of Plastercraft, Vol. III, No. 32, while waiting for a gum-chewing clerk who doesn't even suspect Bibliotheca Sacra.
But books tempt me most. They call to me like mating seals while I, in zombie advance, pick them up and read. I cry weakly against them, yet I read until my eyes bleed.
Here is my real problem: How can I get anything done while there is one unread book in the house crying, "Read me! Read me!"? I cannot make peace with any unread book. A new book in my home is a psychotic guest that rises against my addiction. Knowing I am weak, it sneers at my lack of self-control. When I try to get away from it, it woos me, flirtatiously flipping its pages if I try the New York Times acrostic or television's "MacNeil-Lehrer Report."
No book ever worries that it might contain a subject that doesn't interest me—all subjects interest me. For instance, I once read a book on Ferris wheels. Of course, I have no real interest in these nauseating vertical spinners. But a friend said, "How would you like to read this small book on Ferris wheels?"
"Please," I said, "no thanks, I don't read." I turned to walk away from the pusher.
"It's free," he said with a curl of temptation in his voice.
"No!" I cried. "Please!"
"Did you know that Ferris wheels were once called 'pleasure wheels'?"
I took the book. Now I know more about Ferris wheels than I care to. But what could I do?
I have doubtless cost the bookstores of our city thousands of dollars. Most of the children's books I read without leaving the store. For years I have read every Dr. Seuss title on the spot. I didn't do it to save money. I did it because in sampling a page to know whether I wanted to buy it, I sampled so many pages I didn't need to buy it. The Butter Battle Book would not have looked good anyway beside my copies of The Review and Expositor.
It is hard to muffle a Dr. Seuss giggle that ricochets off the hard, glossy enamel faces of his books. Of course, people turn their heads in my direction. I never see them. But my wife says that people who giggle in bookstores do have a problem. She must be right: I am a librophiliac. Librophilia is a reader's disease. Its symptoms are red, itching eyes and the catatonic clutching of open books.
The intercourse between writer and reader is an immense intimacy. No wonder Eric Hoffer said, "No minds are chaste, all minds copulate wherever they meet." Hoffer's metaphor makes me feel even worse. Drunkenness is a more wholesome way for me to think about my problem. And worse yet, librophilia's effects are not only psychological: there is physical destruction as well.
James Michener always gives me a hernia carrying home his latest thousand-page title. Most of my back trouble, I'm sure, has come from trying to hold The Source with one hand and a coffee cup in the other.
Writers are the producers of my addiction. I wonder if they know the misery they create. Writers can be happy: after all, they only work on one or two books at a time. Readers, on the other hand, have at least 7.5 books going all the time. Actually, the number of books a reader takes on is usually directly related to the number of bathrooms he has in his home and office. I am working on a survey that will prove that, over a lifetime, readers are in bathrooms seven years and three months longer than nonreaders.
What's to become of librophiliacs like me? Who can say? Miserere. For the moment, I'm in control. The only book in my study not read is my $120 dictionary. It is the only book I've been able to read one word at a time. But then, the plot is sluggish, the pictures are small, and it jumps around so badly the mind wanders, especially in the k's and q's.
Have something to add about this? See something we missed? Share your feedback here.
Our digital archives are a work in progress. Let us know if corrections need to be made.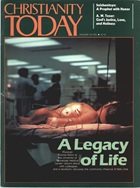 This article is from the January 18 1985 issue.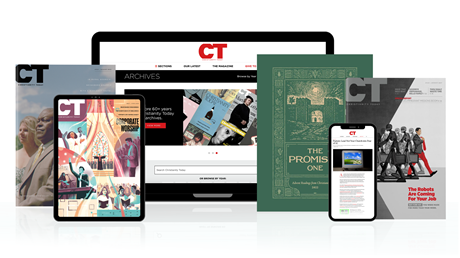 Subscribe to Christianity Today and get access to this article plus 65+ years of archives.
Home delivery of CT magazine
Complete access to articles on ChristianityToday.com
Over 120 years of magazine archives plus full access to all of CT's online archives
Subscribe Now
Confessions of a Librophliac
Confessions of a Librophliac