During my teen and college years, I often fantasized about myself as an old woman, standing in a dusty attic with rays of sunshine sneaking in through the slats of a vent. I pictured my granddaughters at my side, coughing at the dust and smell of mothballs, watching as I pulled my wedding veil, photos of their grandpa as a young man, and ribbon-tied love letters from an antique cedar chest.
Now, just three months away from my wedding, I'm forced to face the reality of romance in the 21st century. If my future grandchildren want to read of their grandparents' courtship, they'll have to access a long-since retired e-mail account. The records of our love letters, like those of many of my peers, exist mostly in cyberspace.
Technology is changing the way we do romance. Devices such as instant messaging, e-mail, and chat rooms provide single people with the ability to connect with potential mates across town or across the world.
Though the methods have gone high-tech, meeting Mr. or Miss Right with the help of a go-between is nothing new. Genesis 24 tells of Isaac's servant traveling by camel to find a wife for his young master. Today, Isaac would have access to as many as 2,500 matchmaking sites online; some are devoted specifically to linking believers while most others include religion as a qualifier in the search. Christian matchmaking sites, with names like Equally Yoked, ChristianCafé, and Seek-Ye-First, allow users to post a profile and photo, and then, usually for a fee, search a database of thousands of other single believers. The sites are the cyberversion of a church singles social.
The people using these sites, according to the stereotype, are either lonely, socially inept individuals or relational predators seeking easy prey. Many think Internet-birthed relationships are shaky pairings that won't last any longer than a middle-school romance.
The potential problems of online matchmaking are huge, but the same risks exist any time single individuals pursue romance naïvely or for the wrong motives. The people seeking a match on the Internet are a fairly representative cross-section of the single-adult population—they are fellow church members, mail carriers, soccer coaches. In general, they are average people who long to build relationships.
Among this crowd is a woman I'll call "Jenny," a 34-year-old elementary school teacher from Michigan who has used online matchmaking for more than two years. Her favorite is the dating service ChristianMatchMaker.com. Jenny is athletic, attractive, and outgoing. Her profile and photo drew hosts of men—60 in one four-day period—seeking romantic relationships. She deletes many of the letters without replying, though she has talked with several men on the phone and met with a few in person. While most of the people she met were decent, her pursuits netted a few unwanted run-ins, including a man who told her to "resist the devil and come cook and clean" for him, and a woman with romantic intentions.
Jenny began using the Internet as a matchmaking tool after ending a serious relationship. "I had stayed in that relationship because I thought no one else would come along," she says. Looking back, Jenny says she wasn't over her relationship when she turned to the Internet to find someone new. This isn't uncommon; the Internet, she says, often attracts people who are on the rebound. Online matchmaking gave Jenny hope that marriage was still a possibility. "When I felt like there was nobody out there, I'd get online and write the whole country," she says. "You meet someone, you date, it doesn't work out, and then you go back online."
Lessening the Risks
Connected by only phone lines or cable wires, individuals who meet online have the ability to remain almost totally anonymous, which lessens the immediate risk of meeting another, but comes with other long-term risks, especially when moving a relationship from online to in person.
"It's like going to a bar blindfolded and then going home with someone," says Parry Aftab, a New York lawyer and the executive director of Cyberangels.org, an Internet safety watchdog group.
Aftab is quick to stress the potential dangers of developing online relationships with strangers. "At Cyberangels, we handle about 600 cases of cyberstalking a day. There have been two deaths because of cyberstalking in the United States," she says. "I probably get ten rape reports a month. And it all happens because of a disconnect that makes people feel like they know a stranger intimately."
Respectable matchmaking services recognize these dangers and advise their users to proceed with caution. Christian sites feel an even greater urgency to create a safe environment for their members. eHarmony.com, for example, has made safety one of its distinctives.
Led by Neil Clark Warren, a clinical psychologist and best-selling author of How to Know If Someone Is Worth Pursuing in Two Dates or Less (Thomas Nelson), eHarmony claims to eliminate 20 percent of all applicants due to their questionable emotional stability. With the remaining pool, eHarmony uses an applicant's established list of "can't stands" and "must haves," and a patented set of 29 relational dimensions such as energy levels, intelligence quotient, and spiritual beliefs, to find a potential spouse. Warren's service looks for high levels of compatibility between individuals and offers no match if a strong one cannot be found.
Warren hopes eHarmony will bring a revolution in the way believers approach spouse selection. "In the church, we think that if we just pray to God, he'll bring the right person to us," he says. "We don't even try to understand the principles that govern the selection."
People pursued courtship and marriage differently in the first century, Warren explains, and the Bible provides few specific guidelines. What the Bible does provide, he says, is an admonition to use our God-created brains in the pursuit of a marriage relationship.
"Finding the right person is such a complex challenge in this society that most people can't do it," he says, citing recent divorce statistics. Warren believes his matchmaking formula can help to reverse those rising divorce rates.
Jenny, who tried eHarmony, isn't so sure. "The results of their personality profile didn't fit me at all," she says. "And I felt like I wasn't in control. It was like I was going to my pastor and saying, 'Okay. You find someone for me.'"
Still, Warren's highly structured approach has received nods from leaders such as James Dobson, who recently endorsed eHarmony on his Focus on the Family radio program. And other single Christians have praised the site: "We found a sense of peace in the realization that we had a blueprint for the type of deep, intimate, caring relationship we want to experience," wrote David, an eHarmony member from Seattle who apparently found his match.
Love at First Site
One of the Internet's greatest attractions is its ability to instantly connect two individuals, regardless of their locations on the globe. The greater the distance between romantic partners, however, the more limitations exist for getting to know one another.
Like most newlyweds, Randy and Vangie Townley are settling into a new apartment and still sending thank-you notes for wedding gifts. And, maybe more than most newlyweds, they are still getting to know one another. The Townleys, now living in Fairfax, Virginia, met through ChristianMatchMaker.com. Vangie, a Filipina, registered with the site for fun. Randy, then a graduate student at Regent University in Virginia Beach, logged on in search of someone to show him around the Philippines during his scheduled vacation there. After e-mails, phone calls, and a few days together in her country, Randy asked Vangie to marry him. In keeping with Filipino tradition, he then bought her family a gift—a refrigerator.
"I didn't know her as well as I wanted to when we got together," Randy says of their rushed engagement, "but I put it in God's hands."
Two months after proposing, Randy returned to the States and began to have second thoughts. "Am I doing the right thing?" he asked a friend. "I didn't know if the jitters were the normal fears you have related to marriage or if they were because of our circumstances." He did a lot of praying. "I didn't want it to be a matter of the heart alone. I wanted it to be a matter of the brain as well—a logical decision."
Prayer and thought, as well as his growing feelings for Vangie, calmed Randy's fears and they were married last August, six months after they became engaged.
For Vangie and hundreds of Filipinas like her, marrying men from the United States, most of whom they've met through the Internet, is a growing trend. It has become so prevalent that the Philippine government now requires all women applying for a fiancée visa to complete a training course in which they are warned about the potential dangers of marrying men with whom they've spent little face-to-face time.
It's likely that marriages like the Townleys' will become increasingly common as the Internet enables single Christians to meet people outside their countries' borders. The Internet, in fact, has sparked a revival in the mail-order bride industry. The Immigration and Naturalization Service estimates that up to 6,000 "mail order" marriages occur each year in the United States.
The Townleys are convinced their marriage will survive despite its unconventional beginning. "We are committed to the vows we made," says Randy. "For better or worse."
"Forever and ever," Vangie says as she takes his hand.
The Future of Christian Courtship
Four months after my initial interview with Jenny, I called to see how her Internet search was going. In early December, a young man whom I'll call "Jason" noticed her profile online and sent an e-mail. After three weeks of talking online and on the phone, the two met in person and have been dating ever since. They live five hours apart but see each other almost every weekend.
Though their relationship is strong and has the approval of both families, Jenny often avoids telling others how she met Jason. "I feel like I have to prove he's a good person," she says. "People are convinced that anyone you meet on the Internet must be dangerous."
Those concerns are legitimate. But certainly more than one strong marriage has started with a chance meeting or a blind date. And in the future, one suspects, more Christian couples will point to the Internet as that special place where they first clicked.
Amber L. Anderson, who did not meet her fiancé online, is a 25-year-old writer in Chicago.
Related Elsewhere
Internet matchmaking sites vary in the services they offer and the amount of detail they provide about members. Here's a rundown of the most-visited Christian sites.
ChristianDate.com: Claiming 28,000 members, it's one of the few totally free sites.
ChristianMatchMaker.com: A nine-page questionnaire asks everything from preference in pets to willingness to relocate.
ChristianCafé.com: Features 75,000 profiles and 25,000 active members.
EquallyYoked.com: Unlike most sites, the emphasis here is not solely on building romantic relationships.
ChristianSingles.com: Allows members to include an audio or video clip with their profile.
Christianhearts.com: Encourages online dating by allowing members to play games (Four in a Row, Battleship) online with other single Christians.
In articles appearing on our site yesterday, Lauren Winner examined the church's ministry to single people while Margaret Feinberg reported on evangelism efforts targeting singles.
An article on Christian dating books and an interview with Joshua Harris (I Kissed Dating Goodbye) will appear on our site later this week.
A British Christian matchmaking site, Christian Connection, has received attention from The Daily Telegraph, The Guardian, and other media—most recently for finding wives for local clergy.
"Uncomfortable with local bar scenes, restless in the social circles of their own churches, single Christians by the tens of thousands are flocking to Internet services offering the prospect of spiritually correct matchmaking," The Associated Press recently reported.
Christian Computing magazine also profiled matchmaking sites in its June 1998 issue, and the Canadian Press examined the phenomenon last July.
The film You've Got Mail caused several publications, including The Christian Science Monitor, to look at digital romances.
At Breakpoint Online, Julia Duin argued Christian churches should learn from Jewish matchmaking practices.
ChristianityToday.com's singles area has articles from many Christianity Today sister publications of interest to unmarried Christians, including Camerin Courtney's "Single Minded" column.
Christianity Today's earlier coverage of Christian single life includes
Sex and the Single Christian | What about the unmarried in their postcollege years? (July 7, 2000))
Women Churchgoers 'Face Growing Difficulty in Finding Partner | British magazine says church is out of single men, especially older ones. (June 7, 2000)
Have something to add about this? See something we missed? Share your feedback here.
Our digital archives are a work in progress. Let us know if corrections need to be made.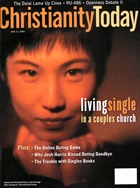 This article is from the June 11 2001 issue.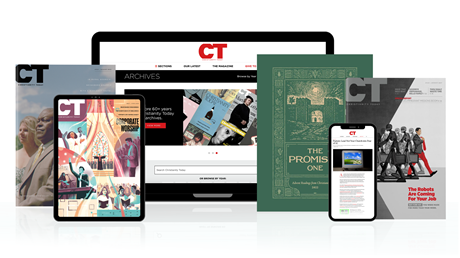 Subscribe to Christianity Today and get access to this article plus 65+ years of archives.
Home delivery of CT magazine
Complete access to articles on ChristianityToday.com
Over 120 years of magazine archives plus full access to all of CT's online archives
Subscribe Now
Surf Here Often?
Surf Here Often?