After watching the Jesus film and listening to Christian radio, on July 15, 2001, Samuel (not his real name) took a monumental step for an Afghan and Muslim—he received Christ as his Lord and Savior. Soon thereafter, as Western aid workers were either arrested or expelled from Kabul, the Taliban came for him. They told Samuel he was guilty of "working for foreigners," which had been legal, and threw him in jail.
For the next 14 days, they beat Samuel at least once a day with a five-foot steel cable. After the last of these sessions, he fell unconscious in his prison cell.
That night, Samuel had a dream. In it, a luminous man wearing bright white clothes appeared. The visitor, whom Samuel would later describe as having "very beautiful feet and shoulder-length hair," spoke kindly to him. Then he said, "Get up." In the dream, the visitor led Samuel out of the cell. Going to the front gate, the ex-Muslim met another man, who was wearing bright green (many Muslims associate green with God's blessing). This man led him out of the prison.
Then Samuel awoke, finding his cell door open. "He walked through it to find the front gate of the prison unguarded and open," a close Western associate says. "He walked out and into the night."
A year after the September 11 terrorist attacks, Christians in many countries report fresh momentum in the spiritual battle of presenting the gospel to the world's 1.2 billion followers of Islam. While not all stories of Muslims finding freedom in Christ are as dramatic as Samuel's, the church has entered a new era of opportunity.
Dudley Woodberry, professor of Islamic studies at the School of World Mission at Fuller Theological Seminary in Pasadena, says he sees increased openness to the Christian message among Muslims. "I am noticing in various parts of the world. … a significant increase in conversion," says Woodberry, a former pastor to the international community in Saudi Arabia. "I don't know all of the factors involved. All I can say is, at this point, in numbers of areas, there has been an increased level of responsiveness."
Just 6 percent of current missionaries are focused on Muslims. Yet the signs of a breakthrough are clearly visible. Twenty mission agency leaders, former Muslims, and workers among Muslims spoke to Christianity Today about current progress and problems in reaching Muslims.
Most were guarded in what information they would share, or in how they could be identified. Others respectfully declined to participate, citing possible risks to lives and ministries. Mainstream media have taken a sometimes unwelcome interest in Christian activities among Muslims, thanks in part to September 11 and to the case of Dayna Curry and Heather Mercer in Afghanistan.
"I do believe that mentioning specifics about how evangelism looks can be risky," one worker in the Middle East says. "It inevitably gets back in the Arabic newspapers here. It has happened again just recently, implicating some dear friends."
The risks are real: in some cases, death to converts or those who share the gospel with them. Compass Direct reports that two Muslims who converted to Christianity in Nigeria's
Muslim-run northern Zamfara state have been missing since April. The Islamic penalty for "apostasy"—changing one's religion—is death. Westerners who share Christ with Muslims are usually only deported, however. For security reasons, this report uses (and notes) pseudonyms freely throughout and leaves many places and mission agency names unspecified. Behind the stories, however, stand real missionaries and real converts from Islam.
Fresh Momentum
Islam, founded by Muhammad in the seventh century, is the world's second great missionary faith, behind Christianity. The key belief is that Allah is the only God and that Muhammad is his prophet.
Reaching Muslims has always been one of the most difficult of missionary tasks. In 1900, there were just fewer than 200 million Muslims among the world's 1.6 billion people, or 12 percent. Today, after what had been optimistically labeled a "Christian century," there are 1.2 billion Muslims, or 19 percent, among a global population of 6.2 billion people. Missionary Nik Repkin (a pseudonym) estimates that an average of only one person per church-based evangelical agency working in the Horn of Africa is becoming a believer in Christ every year. Meanwhile, 80 percent of Muslim "seekers" there have returned to Islam.
Robert Sayer, U.S. director of Arab World Ministries (AWM), says two dedicated missionaries with the agency, Dave and Betty (pseudonyms), did not see a Mauritanian Muslim become a follower of Christ during their first seven years of ministry in one location in the 1980s. Sayer, who notes that such reports were once common, says an agency effort to start 25 churches or house groups across North Africa by a certain date did not come close.
"All that has changed," Sayer says. "No, we're not seeing Muslims in the heart of Islam coming to Christ in people-movement fashion, but God is indeed blessing missionary laborers."
Pat Cate of the Christar agency says in the journal Evangelical Missions Quarterly that one missionary couple he knows saw no converts among Muslims during their first 14 years of ministry in one location. But for the next nine years—until they were kicked out of the country—they saw hundreds of Muslims make decisions for Christ.
The North Africa field leader of AWM has seen positive trends across the region. He cites media outreach, increased exposure to North African believers, more prayer, and increased tolerance by governments toward local Christian expressions.
"In all of North Africa, with the exception of perhaps Libya, there has been a significant increase in receptivity to the gospel," the field leader says. "Fifteen years ago, most were saying that it takes about five years of work with a North African before a solid conversion takes place. These days, with increased exposure to Christian media. … this figure is significantly reduced, sometimes to weeks if not days."
Several agency and school leaders say interest in reaching Muslims has increased markedly among those planning to be missionaries. The number of students in Columbia International University's M.A. concentration on Muslims has "doubled or tripled" since September 11, according to Warren Larson, who heads the program.
"We've seen here on our own campus a real eagerness in student-led, even student-initiated, prayer meetings for Muslims," Larson says. "They're praying for Muslims. They're thinking about Muslim work. On September 11, the whole thing just came into focus."
Impressive growth
Signs of progress have abounded, even before September 11. In North Africa, the numbers of Christians from Muslim backgrounds (in missions jargon, Muslim-background believers, or MBBs) have multiplied. In Morocco, the growth was from 300 people (and eight to ten groups) in 1979 to 900 people (20 to 25 groups) in 1999. In Tunisia, there were perhaps 30 MBBs and two or three groups in 1979. Twenty years later, there were 150 believers and five or six groups. Even Libya has grown from no known MBBs to as many as 10. AWM says the number of believers has doubled there in the last three years.
In Algeria, 120,000 people have died in a civil war that broke out in 1992 when the military government canceled legislative elections that Islamists were widely expected to win. Church growth has been impressive there, especially among the repressed non-Arab minority Berber peoples, who constitute perhaps 40 percent of the population. In 1979, there were 1,200 believers and 12 to 18 groups. Three years ago, there were 12,000 and 60 to 80, respectively. Many are from the Kabyle Berber community.
By all accounts, that growth has continued. Menes Abdul Noor is pastor of Cairo's Kasr El Dobara Church, the largest Protestant church in the Middle East. Noor's Christian radio programs are heard throughout the region, and he is a well-connected elder statesman of evangelical Christianity in the Middle East.
"There have been reports of many villages having up to hundreds of believers in Algeria," Noor says. "Of course, it is hard to give accurate numbers, but one Algerian leader said that he personally knows of 40 churches in the region around him, with congregations varying from 80 to 200 believers. We can only imagine how many more churches and believers there are."
Many factors account for the growth in North Africa. Sayer cites worship music in North African dialects as being a source of strength for area churches. The New Testament is available in various Arabic dialects, plus two Berber languages.
Missionaries are not allowed into this region, which has been under the sway of Islam for 1,300 years, but there are open doors in Europe. Robert Blincoe, U.S. director of Frontiers, credits "Silent Tsunami," an annual multi-agency outreach, for much of the progress. Every summer, young people from the United States, Europe, and elsewhere go into seven European cities with the highest populations of Muslims—including London, Paris, Berlin, and Rome—and evangelize.
"The missionaries are working with communities of Kabyle Berbers in Europe, who are coming to faith and being trained there," Blincoe says. "Then they have a heart for their homeland. They can go back to visit relatives. I can assure you it's for real, because visitors go in with them and take the opportunity to preach in the homeland."
Another cooperative summer outreach, "Operation Transit," has allowed Christians to distribute hundreds of thousands of New Testaments and video copies of the Jesus film—which has been produced in all of North Africa's major dialects—to Muslims visiting their home countries. Hundreds of thousands of Muslims annually pass through ports in France, Italy, Spain, and Malta to visit their families.
The ministry is having an effect. According to one international ministry that has asked for anonymity, one North African refused a packet, saying, "I will not take it! It is making too many people Christian."
Partners International helps fund a variety of non-Western works in Muslim areas. Among them are AWEMA, the Berber Evangelistic Association, the Africa Inland Church in Sudan, and Chaya Suku, a mission agency in Indonesia.
Interdev has assisted joint works in the Muslim world since 1986. There are 75 evangelistic partnerships, many of them holistic, with more than 500 agencies—a third of them non-Western—in those regions. Sixty-three more such collaborations are in development. A stronger sense of risk is driving some ministries closer in order to share, and ultimately reduce, the risk. The North Africa Partnership, meanwhile, links more than 100 agencies from the United States, Europe, Latin America, and Africa.
Media ministries, including those using the Internet, are reporting receptivity to the gospel in North Africa and the Middle East. SAT-7, a Christian satellite television broadcaster, reports an increasing volume of viewer letters, phone calls, and e-mails since September 11.
"I well remember one conversation with a convinced Muslim," a worker with AWM says. "I began to share with him about the death of Christ. I braced myself to defend my views of Christ's death, as Muslims believe he did not die on the cross. Imagine my surprise when he pointed to his wrists and said, 'Yes, they put the nails here.' It turns out he had seen the Jesus film and formed his views on the death of Christ from that film, not from the Qur'an."
Of course, even broadcasting the gospel carries some risks. When feba Radio began broadcasting Christian programs into the Maldives in 1998, the Muslim government expelled all foreign Christians "for life" and briefly jailed all Maldivians it suspected of converting to Christianity.
Another agency reports a circulation of 60,000 copies for one of its low-key magazines in the region. It says demand by Western and Arab ministry partners for two of its openly evangelistic booklets in Arabic has multiplied in recent years.
Maher Fouad of the Cairo-based Arab World Evangelical Ministers Association (AWEMA) told CT, "I cannot mention the names of countries or cities for security reasons. I can say that. … 10 years ago, the underground churches in North Africa did not exceed more than 2,000 persons, but now the numbers of believers [have] reached over 50,000 persons."
Unstable, Ripe Countries
North Africa is but one area where Muslims are turning to Christ. Countries facing political instability and natural disasters have been particularly ripe, especially when Christians combine practical relief and development ministries with their words of witness. Over the last 40 years, Christian growth rates have been double population growth in Bangladesh. In 2000, the rate of increase for Christians was 3.2 percent yearly, versus 1.8 percent for Muslims.
Operation World reports that the number of MBBs of Iranian descent was just 500 worldwide in 1979 at the start of the Iranian Revolution. Abe Ghaffari was in the country for several years before the shah fell, and he saw only one Muslim come to Christ. Ghaffari says that most Iranian Muslims were nominal in their religion, more interested in economic advancement than in founding a pure Islamic state. Then Ayatollah Ruhollah Khomeini seized power.
"After the revolution, they were really exposed to Islam," says Ghaffari, who helps resettle Iranian refugees through his organization, Iranian Christians International. "They saw that Islam didn't provide all the answers and that the Islamic clergy were corrupt."
Ghaffari estimates there are now 30,000 Iranian believers from Muslim backgrounds worldwide, including 15,000 in Iran itself. Annual growth, he estimates, is between 7 and 10 percent, with pockets of revival in places such as Germany. He is uncertain how much of a factor the terrorist attacks may become in Iranian evangelism.
"We have heard of isolated incidences where Iranians have said, 'Now we know what Islam is all about. It is violent and hateful, and we are finished with Islam.' "
In Indonesia, the world's largest Muslim country, the Christian minority may have reached 34 million adherents—far above official estimates. Many people became Christians in the mid-1960s, when government reprisals left 500,000 communists and sympathizers dead. Operation World reports that churches on the heavily Muslim island of Java have grown by 5 percent annually since 1992, despite persecution, political upheaval, and economic woes.
In much of the country, Christians may freely evangelize Muslims, according to Nus Reima of the national evangelical fellowship there. Reima, who also works with Campus Crusade, says broadcasting the Jesus film and personal witnessing remain effective approaches. Muslims constitute 87 percent of the country. Most are moderate and relatively tolerant of other faiths.
"Indonesia is a very big country," Reima says. "In some areas you have opposition. Some areas are open. We emphasize the areas that are open."
Evangelical Christianity is making steady gains in Turkey, which is an island of relative stability in the Muslim world. Three decades ago, Christians began offering Bible correspondence courses to interested people in the 99 percent Muslim nation. Today there are as many as 1,500 evangelical believers in the country, up from just a handful, according to missions observers. Christians in Turkey are becoming increasingly bold, especially in the cities. Luis Palau preached to hundreds of people, including Muslims, in 1999. A ministry leader in the country told World Pulse, "Now Turkish fellowships are beginning to emerge with a new confidence. They are renting or purchasing meeting places and are doing outreach. Steady numbers of believers have managed to change their identity cards from 'Muslim' to 'Christian.' "
According to Clive Calver of World Relief, more than 1 million people in Sudan have made professions of faith since that nation's civil war started again in 1983. While most of these people have come from animist backgrounds in the south (the share of Christians in the region has grown from 5 to 70 percent), Muslims are also hearing the gospel.
"We also [have] many reports from workers in Sudan of. … people coming to faith through evangelistic efforts and dreams and visions," Noor says.
Noor credits increased prayer through the AD2000 and Beyond Movement for more spiritual receptivity and reports of dreams and visions in his own Egypt. "We can see this especially happening in Egypt," Noor says. "Although it's very hard to give numbers, it's hard to miss the obvious increase in number of workers with Muslims and the number of Muslims being baptized." Another prayer initiative, "Arise Shine Morocco," began this year.
Dreams and Visions
Khaled AbdelRahman grew up in Iraq, believing that one day he would be an imam (leader) of a mosque. After AbdelRahman became a serious student of Islam, he began arguing about religion with some young Christians. "I created many faith problems for them," he says. They introduced him to their church's priest, who expertly fielded his questions. The priest died a year later, but AbdelRahman, now a young man, found his view of Christianity changing, and he began to struggle with the contradictions he saw in Islam.
One night, as he slept, AbdelRahman saw a vision of a man with a beard.
"Son," the man said, "why do you attack my sheep?"
AbdelRahman replied, "Who are you, Sir?"
"Jesus Christ."
"I'm not attacking your sheep, Sir. I'm trying to bring your lost sheep back to the straight path."
"You are the one who is lost. I'm the straight path."
Confused, AbdelRahman stopped pursuing Islam and Christianity and began pursuing a life of pleasure. About that time, his father, a high-ranking officer in the Iraqi army, died in a car crash.
AbdelRahman's mother, a journalist and native of another Arab country, assumed the death was a tragic accident. Later, AbdelRahman heard a commanding voice as he slept: "Run away from your country now!" He knew it was the voice of Jesus. A few hours later, he was on a flight to his mother's home country (which he prefers to be left unnamed, for security reasons), feeling a little sheepish. From his grandfather's house he called his mother. She said a police unit had assassinated his father and was now looking for him.
In shock, AbdelRahman passed out. When he woke up a few hours later, he began praying earnestly for God to show him the truth. Later, in a dream, Jesus told him, "I love you. Why don't you love me likewise? Come to me, because I have a plan for you."
AbdelRahman did so. A few months later, Iraq invaded Kuwait. After he got kicked out of his mother's country because of his evangelism and "apostasy," he evangelized Muslim refugees in the Netherlands while applying for religious refugee status, which he obtained. He now lives in the United States and works in the information technology sector. He also has an Internet-based apologetics ministry directed toward Muslims. His story can be found on www.answering-islam.org, a Christian ministry to Muslim seekers.
Woodberry says dreams and visions like this one constitute a major factor in the conversion stories of Muslims from around the world. He has collected more than 650 testimonies from Muslims who have received Christ. He says a third of these conversion accounts mention dreams as a factor.
Warren Larson has seen some of these accounts, and he is not surprised. For 23 years Larson planted churches and worked at a Bible correspondence school in Pakistan.
"God speaks to people, Muslims in particular, through dreams," Larson says. "[He] draws them to himself, continues to work through dreams."
Frontiers is also hearing reports of dreams and visions among Muslims. The agency has 600 missionaries—250 from outside the West—serving on about 100 church-planting teams in 35 countries with Muslim areas. But Blincoe, who launched the agency's work in Iraq following the Gulf War, cautions that people are still needed.
"We can talk about miracles," Blincoe says. "But there is no substitute for the apostolic method that Christ directed. That is, a person with his voice should tell the gospel message. In the end, people who have had dreams and miracles still need a human being."
Eliminating Western Biases
Timothy Abraham (a pseudonym) grew up in Egypt's Nile Delta region, a hotbed of Islamic fundamentalism. At 14, he joined the Muslim Brotherhood, the group that assassinated Anwar Sadat. But as a young man, following discussions with a local Coptic Christian family and through a dream in which Jesus told him, "I love you," he received Christ and was secretly baptized.
Timothy continued to go to the mosque and would pray in the same manner as the Muslims did, except now to his heavenly Father. Timothy discreetly tried to share his faith. Two Muslims eventually said a prayer with him to receive Christ.
One day the local leader of the Brotherhood invited Timothy to come with a group of Muslims to pray in the mosque. Timothy said, "Yes, I'm coming." Then the leader lifted his hand and slapped him full force, shouting, "Kafir!" (infidel). The men who had prayed with Timothy had set him up. One man on the scene, a local drug dealer, suddenly became a zealous Muslim and began beating Timothy. Others began to join in. A respected man from the community stopped the violence but said to Timothy, "I'm saving you from death, but I want to kill you myself, because you left Islam."
Abraham eventually obtained a visa and now lives in the United States. He broadcasts 14 programs a month for Muslims via the Voice of Hope radio ministry.
Some of the greatest successes in evangelizing Muslims come through efforts at what missiologists call contextualizing the Christian message. Missionaries seek to remove what advocates such as Blincoe call "Westernized ideas of what it means to follow Christ." Of course, one of the most basic ways is to translate Scripture into the local language. Another would be to encourage new believers to worship Christ using their own forms of music. Southern Baptists working among the Muslim Kotokoli people of Togo, West Africa, have presented the Bible chronologically and orally as a story, a form of communication this group highly values.
Three decades ago, Phil Parshall and his missionary coworkers created communities of Christ-centered believers in Bangladesh by using acceptable religious language (such as "Allah" for God or other Islamic terms) and cultural forms (such as keeping the Muslim fast). Many Muslims eventually came to Christ.
Some missionaries take it further. To avoid the ostracism that new converts to Christianity usually suffer, they encourage or permit Muslims who receive Christ to, at least for a time, worship in the mosque and to call themselves Muslims—since Muslim means "one who is submitted to God." Some missionaries in Muslim areas have even called themselves "Muslims," on the theory that they are submitted to God. Although Frontiers does not dictate this approach, its workers have a green light to experiment.
But many Muslims (and some Christians) see this as deceptive. Larson says, "Muslims don't understand it, and they think it's deceitful." A few years ago, several Western Christians were expelled from Egypt after calling themselves Muslims.
A study led by Dean Gilliland of Fuller Theological Seminary of a contextualized group in a region code-named Islampur discovered some potential theological problems with allowing believers to attend mosques. Despite having access to the New Testament and solid Bible teaching, two-thirds of the leaders surveyed said that the Qur'an was the greatest holy book. Forty-five percent did not affirm the Trinity. A third went to the mosque more than once a day.
Woodberry says highly contextual approaches work best in Asian areas where the church is not equipped to accept MBBs. "They are a small fraction [overall] but they are in one of the largest movements in South Asia," he says. In certain African areas where Muslims and Christians live together peacefully, new believers are more eager to enter the churches that reached out to them.
In northern Nigeria, however, missionaries attempted to launch a movement of Muslims who believed in Jesus but who were not tied to local churches. Although this experiment received much publicity, it collapsed. This happened in part because of the clandestine style of the leaders, Gilliland told Evangelical Missions Quarterly.
Defending Muslim Rights
September 11 seems to be having two effects on Muslims worldwide. Some are becoming more radical, while others—as in Iran—are seeing their religion with new eyes and are seeking alternatives. Many Muslims are naturally drawn to Jesus and to the assurance of heaven that he offers. Most who work with Muslims say the opportunities have never been better.
Muslims feel vulnerable in India, where they, like Christians, face attacks from radical Hindus. Five months of rioting earlier this year left more than 900 people dead in Gujarat state—most of them Muslims. Christians have been among the few defending Muslims there, and one of the only groups offering relief. Joseph D'Souza of the All India Christian Council says that he and other Christian leaders have spoken before throngs of Muslims in India about religion and peace. He says Christians and Muslims have the opportunity to resolve misunderstandings and work for the common good.
"The Christian community has stuck our necks out and reached out to them," D'Souza says. "Every woman that is raped, we feel, is our sister. We want them to know that Jesus cares for them, and the church in India will stand with them as they bear the brunt of this attack. So that has opened all kinds of doors to network with Muslim leaders all across the nation" (see "Harassed Kashmir Christians Reach Out to Discreet Muslims," p. 26).
Woodberry says the same goes in America. To keep a lower profile after the attacks, two of his neighbors stopped wearing Muslim clothes in favor of Western garb. "Muslims feel vulnerable in this country," he says. "It is a very open situation for us to befriend Muslims and accompany them shopping, do things with them, try in various ways to support them and do things that will help them feel more like they belong. In building friendships in this way, often it becomes very natural to share our own motivations and concerns."
Such opportunities are increasingly available, but there are still not enough workers. Pat Cate noted in EMQ, "It really can be said that Islam is the most studied and least evangelized religion." The International Mission Board of the Southern Baptist Convention is one of the few denominational mission boards with a large and concerted outreach to Muslims. imb personnel are working with more than 300 predominantly Muslim people groups in 75 countries. The 2001 Annual Statistical Report says that Southern Baptist missionaries and their partners overseas started 121 churches and recorded 3,405 baptisms among these groups. Avery Willis, senior vice president for overseas operations, says the biggest problem in bringing Muslims to faith is not theological.
"All we want to do is give them an opportunity to know the truth in Jesus Christ, and then they make the decision," Willis says. "The biggest difficulty is just getting an opportunity for them to be exposed to the truth."
Last year a Pakistani Muslim who memorized the Qur'an met Roy Oksnevad at the South Asian Friendship Center and Bookstore in Chicago. The Muslim teacher's goal during their weekly visits was to learn English. Then came September 11.
Pointing to a newspaper, Oksnevad said to his friend, "If this were from God, the outcome would be love, joy, peace, patience, kindness, goodness, faithfulness, gentleness, and self-control. What I saw was an outcome of death, destruction, hatred, and suspicion."
Over the next several weeks, Oksnevad, director of the Department of Ministries to Muslims at Wheaton College, shared a Christian perspective on the news. Finally, the Muslim asked him not to teach him English anymore. "You see clearly; I don't," the man said. "You are right and I am oftentimes wrong. Teach me religion."
The discussion continues.
Stan Guthrie is associate news editor of CT and author of Missions in the Third Millennium. For an interview with David Johnstone, see www.christianitytoday.com/go/johnstone.
Related Elsewhere
A ready-to-download Bible Study on this article is available at ChristianBibleStudies.com. These unique Bible studies use articles from current issues of Christianity Today to prompt thought-provoking discussions in adult Sunday school classes or small groups.
Also appearing on our site today:
Deconstructing IslamApologist Jay Smith takes a confrontational approach.
September 11 Prompts Sober MissionsThinking Christians have to seriously consider whether to go abroad because of dangerous elements.
Previous Christianity Today articles on Islam and evangelism to Muslims include:
Outpaced by Islam?The Muslim challenge is growing faster than our Christian outreach. (Feb. 4, 2002)
Letter from a Muslim SeekerChristians aren't the only ones asking 'Why?' after September's tragedy. (Dec. 5, 2001)
Is the God of Muhammad the Father of Jesus?The answer to this question reveals the heart of our faith. (Feb. 1, 2002)
Does God Hear Muslim's Prayers?We must remember that God does not deal with theologies; he deals with persons. (Feb. 1, 2002)
Is Islam a Religion of Peace?The controversy reveals a struggle for the soul of Islam. (Dec. 28, 2000)
A Many Splintered ThingThough Muslims shared allegiance to Muhammad and to the Qur'an, Islam faced division as soon as the prophet died. (Dec. 28, 2000)
In 2000, Christianity Today focused on Muslim-Christian relations in a series by Wendy Murray Zoba. Articles included:
Islam, U.S.A.Are Christians prepared for Muslims in the mainstream?
Islamic FundamentalsChristians have a responsibility to understand our Muslim neighbors and their beliefs.
Article continues below
How Muslims See ChristianityMany Muslims don't understand Christianity—especially the idea of salvation by grace through faith.
Engaging Our Muslim NeighborsThe Church faces a challenge not just to understand Muslims, but to befriend them.
A 1996 article in International Journal of Frontier Missions, (PDF), gives great background on the work of Samuel Zwemer, The Apostle to Islam.
Answering Islam has a page of essays and articles on "The Christian Witness to the Muslim."
Other Christian sites discussing Muslim beliefs about Jesus and Christianity are available at The Muslim-Christian Debate, Campus Crusade for Christ, and FarsiNet.
Muslim perspectives on Jesus and Christianity are also ubiquitous online. They include Al-Sunnah, Harakah, Islam 101, Answering Christianity, and WhatIsIslam.com
Adherents.com is the place to go for statistics related to the adherents of any religion.
Have something to add about this? See something we missed? Share your feedback here.
Our digital archives are a work in progress. Let us know if corrections need to be made.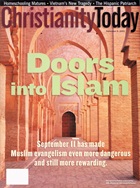 This article is from the September 9 2002 issue.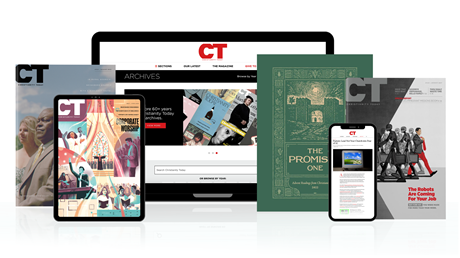 Annual & Monthly subscriptions available.
Print & Digital Issues of CT magazine
Complete access to every article on ChristianityToday.com
Unlimited access to 65+ years of CT's online archives
Member-only special issues
Subscribe
Doors into Islam
Doors into Islam