Two books recently made into movies set forth nearly opposite views of the world. Graham Greene's novel The Quiet American should be titled The Decadent Brit since the dominant character is a debauched British journalist named Fowler. He reports from Vietnam in the dying days of French occupation, just as a few American agents are infiltrating the country—among them Pyle, the shadowy "quiet American" in whose murder the Brit conspires.
Fowler takes a Vietnamese mistress and spends his evenings puffing on an opium pipe. He has a cynical view of the French, the Vietnamese, the Americans, and especially himself. As he put it, "I envied those who could believe in a God, and I distrusted them. I felt they were keeping their courage up with a fable of the changeless and the permanent. Death was far more certain than God."
The second book was To End All Wars, the autobiographical account by Ernest Gordon, a British Army officer captured by the Japanese during World War II and assigned to the building of the Burma-Siam railway. Each day Gordon joined a work detail of prisoners to build a track bed through low-lying swampland. If a prisoner appeared to lag, a Japanese guard would beat him to death or decapitate him. Many more men simply dropped dead from exhaustion, malnutrition, and disease. Ultimately, 80,000 prisoners died.
Gordon could feel himself gradually wasting away from a combination of beriberi, worms, malaria, dysentery, typhoid, and diphtheria. Paralyzed and unable to eat, he asked to be laid in the Death House. Gordon's friends, however, had other plans. They carried his shriveled body on a stretcher from that contaminated place to a new bed of split bamboo.
Something was astir in the prison camp, something that Gordon would call "miracle on the River Kwai." For most of the war, the prison camp had served as a laboratory of survival of the fittest, every man for himself. Men lived like animals, and for a long time hate was the main motivation to stay alive.
Recently, though, a change had come. One event in particular shook the prisoners. A Japanese guard discovered that a shovel was missing. When no one confessed to the theft, he screamed, "All die! All die!" and raised his rifle to fire at the first man in the line. At that instant an enlisted man stepped forward and said, "I did it."
Enraged, the guard lifted his weapon high in the air and brought the rifle butt down on the soldier's skull, killing him. That evening, when tools were inventoried again, the work crew discovered a mistake had been made: No shovel was missing.
One of the prisoners remembered the verse, "Greater love hath no man than this, that a man lay down his life for his friends." Attitudes in the camp began to shift. With no prompting, prisoners began looking out for each other rather than themselves.
Gordon sensed the change in a very personal way as two fellow Scots came by each day and cared for him, dressing the ulcers on his legs and massaging the atrophied muscles. He put on weight and, to his amazement, regained partial use of his legs. By default, because he had studied some philosophy, he became the unofficial camp chaplain.
Gordon's book tells of a transformation within the camp so complete that when liberation finally came, the prisoners treated their sadistic guards with kindness and not revenge. Gordon's own life took an unexpected turn. He enrolled in seminary and became a Presbyterian minister, ending up as Dean of the Chapel at Princeton University, where he died in early 2002, just before the movie about his life was completed.
The miracle on the River Kwai was no less than the creation of an alternate community, a tiny settlement of the kingdom of God taking root in the least likely soil. To a man, the prisoners clung to the desperate hope that their life would not end in a jungle prison but would resume, after liberation, back in Scotland or London or wherever they called home. Yet, even if it did not, they would endeavor to build a community of faith and compassion in the days they had left. For them, God was more certain than death.
Perhaps something similar to this was what Jesus had in mind as he turned again and again to his favorite topic: the kingdom of God. In the soil of this violent, disordered world, an alternate community may take root. It lives in hope of a day of liberation. In the meantime, it aligns itself with another world, planting settlements-in-advance of that coming reign.
For those who have no such hope, Graham Greene's account of imperial decadence offers the bleak alternative. It ends with Fowler's lament: "How I wished there existed someone to whom I could say I was sorry."
Related Elsewhere
A ready-to-download Bible Study on this article is available at ChristianBibleStudies.com. These unique Bible studies use articles from current issues of Christianity Today to prompt thought-provoking discussions in adult Sunday school classes or small groups.
Article continues below
The official website for To End All Wars includes a synopsis, images, media coverage links, and video clips. Previous CT coverage of the film includes:
Light Sabers and Self-Sacrifice | Two recent films—a blockbuster and an unknown—show two ways of confronting evil. (July 11, 2002)
Film Forum: The R-Rated Film That We're Not Supposed to Call Christian | What critics are saying about To End All Wars. (September 26, 2003)
Christianity Today sister publication Books & Culturealso reviewedTo End All Wars.
The official site for The Quiet American provides trailers and critical reviews of the film. ChristianityToday.com's weekly Film Forum also compiled reviews of The Quiet American early this year:
Film Forum: Two Elegant Adaptations by Director Phillip Noyce | What critics are saying about Phillip Noyce's The Quiet American and Rabbit-Proof Fence.
Film Forum: Critics Would Send Cradle 2 an Unmarked Grave | More reviews of To End All Wars and The Quiet American.
For more CT movie reviews, see our Film archive and also our Film Forum area, a weekly roundup of what Christian critics are saying about new and noteworthy movies.
Previous Yancey columns for Christianity Today include:
Going It Alone | We should take heed when much of the world says it distrusts us. (July 2, 2003)
God of the Maggies | In broken sinners, Jesus saw not their past but their future. (April 25, 2003)
Perestroika of the Spirit | In Russia, the vocabulary of faith needs interpreters. (March 5, 2003)
Jesus' Sword | Longing for peace in tumultuous times. (Jan. 7, 2002)
Guilt Good and Bad | The early warning signs. (Nov. 11, 2002)
God's Funeral | What will keep faith from nearly disappearing in America? (Sept. 3, 2002)
Sheepish | Feeling autonomous and proud? Then ponder the lives of sheep. (July 2, 2002)
Servant in Chief | Jimmy Carter's journey from the White House to building houses.(May 28, 2002)
Why Do They Hate Us? | How to turn the Baywatch syndrome into the Jesus syndrome. (March 27, 2002)
Honest Church Marketing | We enhance our 'image' by offering the world a realistic picture of faith. (October 24, 2001)
Compassion Confusion | We should serve the needy even when it has bad political consequences. (August 28, 2001)
Fixing Our Weakest Link | Evangelicals should be more "needful of the minds of others." (July 13, 2001)
Replenishing the Inner Pastor | Churches should take greater interest in their shepherds' spiritual health. (May 14, 2001)
Yancey's Where is God When it Hurts, Special Edition and Soul Survivor: How My Faith Survived the Church are available on Christianbook.com.
Have something to add about this? See something we missed? Share your feedback here.
Philip Yancey
Philip Yancey is editor at large of Christianity Today and cochair of the editorial board for Books and Culture. Yancey's most recent book is What Good Is God?: In Search of a Faith That Matters. His other books include Prayer (2006), Rumors of Another World (2003), Reaching for the Invisible God (2000), The Bible Jesus Read (1999), What's So Amazing About Grace? (1998), The Jesus I Never Knew (1995), Where is God When It Hurts (1990), and many others. His Christianity Today column ran from 1985 to 2009.
Previous Philip Yancey Columns:
Our digital archives are a work in progress. Let us know if corrections need to be made.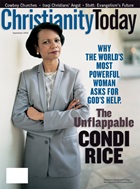 This article is from the September 2003 issue.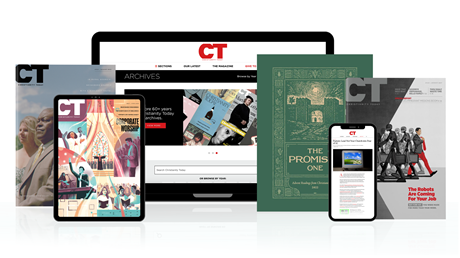 Annual & Monthly subscriptions available.
Print & Digital Issues of CT magazine
Complete access to every article on ChristianityToday.com
Unlimited access to 65+ years of CT's online archives
Member-only special issues
Subscribe
The Least Likely Soil
The Least Likely Soil