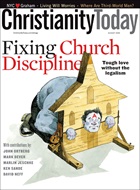 This article is from the August 2005 issue. Subscribers can read all of CT's digital archives.
Churches Under Fire
Five East Africans arrested for leading a private Christian worship service in Riyadh were released after a month in jail. Three weeks after their May 30 release, the three Ethiopians and two Eritreans had received no indication that they will lose their jobs or be subject to deportation. The men were interrogated extensively while blindfolded the first seven days. Within the past two months, at least three meetings of expatriate Christians gathering privately for worship in Riyadh have been broken up and their leaders arrested for several days or weeks. Saudi Arabia prohibits the public practice of any religion other than Islam. • Compass Direct
Legal Beat

The British Columbia Court of Appeal says it's okay for a college to discipline a Christian teacher who had written letters to the editor disapproving of homosexuality. In the June 13 decision, Kempling v. the British Columbia College of Teachers, the court said teacher Chris Kempling had displayed "conduct unbecoming a teacher," and ruled on the basis of an earlier Supreme Court decision, Ross v. Moncton School District Board. Janet Epp Buckingham of the Evangelical Fellowship of Canada said, "The court says, in effect, that teachers must stay silent on controversial subjects or risk disciplinary action."
Related Elsewhere:
Compass Direct has its full report on the release of Christians in Saudi Arabia.
More on Saudi Arabia and Persecution is available on our website. The United States Commission on International Religious Freedom has more detailed information about religious freedom in Saudi Arabia.
More about the British Columbia College of Teachers' decision to temporarily suspend the teaching license of Chris Kempling is available from LifeSiteNews. ...
1
Our digital archives are a work in progress. Let us know if corrections need to be made.
Christianity Today News Briefs
Christianity Today News Briefs