true
So, we put our heads together to come up with the 10 Most Redeeming Films of 2005, and what a diverse list it is. Our second annual such list includes everything from brutal boxing to wheelchair rugby. Everything from exorcists to terrorists. Everything from a mysterious caped crusader with a penchant for justice, to a wide-eyed young boy with a heart for compassion. And a talking lion.
What do we mean by "redeeming" films? They're all stories of redemption—sometimes blatantly, sometimes less so. Several of them literally have a character that represents a redeemer. And with some of them, the redemption thread is buried beneath the surface; you might have to look a bit harder for it, but it's most certainly there. Some of them are "feel-good" movies that leave a smile on your face; some might leave you with more of a contemplative frown, asking, "How should I process that?"
See for yourself in the list below, which we present in reverse order, with the No. 1 movie at the bottom. (Just imagine the drum roll in your head and play along, OK?)
The story of real-life Depression era boxer James Braddock, who literally went from the soup lines to the world championship, is more than just another story about someone who overcame tremendous odds. It's a story of family and friendship, of goodness and faith. Braddock, played marvelously by Russell Crowe, is portrayed as a God-fearing man of integrity who is madly in love with his wife and kids. It's a story that illustrates the power of truly knowing what you're fighting for. Crowe and Paul Giamatti, who plays Braddock's manager and best friend, both turn in Oscar-worthy performances.
(Our full review.)
Yes, there's a marvelous tale of redemption amid all that darkness—starting with the Dark Knight himself. It's a story of how, even in the face of awful things happening in a broken world, you can channel your anger and sorry into something very good. As a young boy, Bruce Wayne had seen both of his parents gunned down by a thug in a back alley. As an adult, Bruce turned his anger into a relentless pursuit of justice—instead of vengeance, and there's a significant difference. Before his death, Thomas Wayne had asked his young son, "Why do we fall? So we can learn to pick ourselves up." Lesson learned.
(Our full review.)

8. Murderball
When this movies starts, we see handicapped athletes; by the time the credits roll, we just see athletes. "Quadriplegic rugby" is the topic of this rough, hard-edged MTV documentary, a story about the rivalry between several athletes and the former teammate who now coaches the other side. The men in the spotlight have inspiring stories of willpower, courage, and hope; the story is funny, suspenseful, dramatic, and above all, human. There is even some acknowledgement of God's grace as one of the athletes survives multiple trauma, and we watch a victim's anger transformed into a compelling passion.
Paul Haggis, who wrote the screenplay for the award-winning Million Dollar Baby, wrote and directed Crash, a film exploring the consequences—some obvious, some subtle—of racism. But it's much more than that. It's about the way in which we withdraw from society, keeping with people who make us comfortable, and judging everyone else—reminding us that we're all capable of ugly behavior. The film ultimately illustrates realistic change in people's lives—not miraculous turnarounds, but those first little baby steps toward a new attitude. Few films last year provoked so many rewarding conversations in communities, churches and on campuses.
(Our full review.)
6. The Exorcism of Emily Rose
Co-written and directed by Scott Derrickson, a devout Christian, this movie is so much more than just a scary film about demonic possession. It's a terrific conversation starter—for Christians as well as for secular viewers—about the existence of a spiritual realm. Derrickson believes that if he can get people talking about the Devil, then they'll logically start talking about God. The bulk of the film takes place in a courtroom, where an agnostic attorney defends a priest charged with negligent homicide, because a young woman died during an exorcism. A Christian prosecutor, skeptical about all the surreal talk, tries to prove that the deceased woman was mentally ill—and that the priest is guilty of neglecting those needs. Fabulous discussion fodder.

Spielberg's dramatic thriller addresses the subject of violence and retribution quite effectively, without ever dropping into left-wing politicizing or pacifist polemics. It's a troubling document of the times, but, in Spielberg's own words, also a desperate prayer for peace. Though focused on Israeli and Palestinian tensions, the film speaks as much about America's current war on terrorism and even personal quests for justice. Exploring a controversial subject with fairness and balance, this is the rare film that is equally exciting and thought provoking. In the midst of all the bloodshed is a redeeming story of a man dynamically changing his view of revenge and justice.
(Our full review.)
A single mother hires a total stranger to pretend to be the absent father to whom her deaf son has been writing letters all his life. What could have easily been a contrived, manipulative melodrama turns out to be a remarkably delicate study in character, mood, and tone. This lovely gem of a story also illustrates not only a child's longing for a father figure, but also—for his mother—the power of friends to help us, even when we're not so willing to let others in. The script occasionally toes the line of sentimentality, but the actors are so strong and the direction so convincing, that it works very well.
(Our full review.)
3. Pride & Prejudice
This most recent adaptation of the Jane Austen classic is witty and romantic, as you might expect, but it's also strikingly naturalistic and a gracefully compelling look at the social world of Austen's book. And the ultimate message: Good guys do finish first! This film beautifully illustrates the value of a person of character; though not as evident and popular as good looks or a suave manner, integrity is more lasting, foundational, and truly attractive. Keira Knightley is a screen-stealer as Lizzie, who ultimately learns the lesson of 1 Samuel 16:7: "Man looks at the outward appearance, but the Lord looks at the heart."
(Our full review.)
C. S. Lewis's beloved book finally makes it to the big screen, and it's a wonder to behold. While lacking the fierce originality and awe-inspiring vision of Peter Jackson's Lord of the Rings films, director Andrew Adamson (Shrek, Shrek 2) sticks close enough to the story to preserve its redeeming truths. The film effectively tells the tale of four siblings on a journey from doubt to belief to victory—in a world that moves from permanent winter (and never Christmas) into spring, thanks in no small part to the great lion Aslan, the very incarnation of redemption as a Christ figure. The special effects are terrific, but the best one of all is the wide-eyed wonder of George Henley, who plays the youngest sibling, Lucy. She's worth the price of admission.
(Our full review.)
One of the most adrenalin-charged, high-spirited movies of the year, with a heart so big it's bursting. Young Damian, played with irresistible charm by Alex Etel, becomes one of the screen's most inspiring heroes in years, showing that childlike faith and courageous generosity can become contagious—and can literally change the world. Damian is obsessed with the stories of saints, and in this fantastical, imaginative interpretation, they actually appear to him with counsel and direction—most of it good. The film ends on a note that'll make you want to donate to your favorite charity—or go on a short-term missions trip. It all adds up to a great perspective on what's truly miraculous, and it's all accomplished without any hint of cheese. That's some sort of a cinematic miracle.
(Our full review.)
We asked each of our voters to describe one movie they wish had made our list of 10 most redeeming films.
Because of Winn-Dixie
A sweet story based on the Newbery Honor-winning book by Kate DiCamillo, this charming little film tells the tale of a lonely single dad ("The Preacher," played with grace by Jeff Daniels) and his vivacious little girl, Opal (newcomer AnnaSophia Robb), who are trying to find their way in a small Southern town. Along comes an adorable dog to break down all sorts of barriers, bringing hope, healing and redemption to many of the town's down-and-out characters, who all find new life after meeting the mutt. (Our review.)
—Mark Moring
Broken Flowers
Bill Murray does melancholy like no one else, and here he's at his dejected, apathetic best as a middle-aged Don Juan who's left a long trail of broken hearts in his wake. Broken Flowers is a tour of deeply scarred human beings, but it's also the first step on the road to redemption. The most subtle of hints clue us in to our protagonist's slow but steady journey from indifference to a love for life's great Mystery—a thirst for truth, love, and grace—that makes Broken Flowers a work of hard-won hope and healing. (Our review.)
—Josh Hurst
Grizzly Man
Chronicling the last days of naturalist Timothy Treadwell before his unfortunate mauling by bears, this critically acclaimed documentary excels at using the man's own video footage to explore his life from multiple perspectives, asking poignant questions while allowing viewers to make up their own minds about his life. I see it as a confessional portrait of an emotionally troubled and misguided man that tried to fill his God-shaped hole with grizzlies. While there are some sad and troubling excerpts where Treadwell profanely expresses his disbelief, look for a scene in which God makes his presence known in a big way.
—Russ Breimeier
Mad Hot Ballroom
New York City public school fifth graders and ballroom dancing might seem an unlikely mix. But the cool and brave real-life teachers who combine the two—and the makers of this documentary about their program, American Ballroom Theatre's Dancing Classroom Program—give us a wonderful example of what can happen when you invest in the lives of others. Through learning the tango, rumba, fox-trot, swing, and merengue, this wonderfully eclectic assortment of kids gains confidence, poise, integrity, life goals; some even get off the path to destruction. What a cool and thoroughly entertaining way these folks are loving their neighbors. And what a testament to the redemptive power of art—even, and maybe especially, in unlikely places. (Our review.)
—Camerin Courtney
March of the Penguins
This delightful documentary follows a year in the life of Antarctica's population of emperor penguins, tracking their impressive march to a central breeding ground and the fight to shelter their young against the minus 80 degree temperatures and howling winds. The filmmaking feat is mindboggling when you imagine what the people behind the cameras also had to endure. And while the movie doesn't give an overt nod to the Creator, it's hard to walk away from this spectacle of sacrificial love and intelligent design without a sense of awe. Scripture says the heavens and the earth declare God's glory. I'd argue that penguins do as well. (Our review.)
—Lisa Cockrel
The New World
As he retells the "romance" of John Smith and Pocahontas, director Terrence Malick doesn't seem as interested in historical accuracy, action, or big kissing scenes as he is in the soul-stirring effects of natural beauty, and the power of myth to communicate transcendent hope. His version of the love story may frustrate audiences expecting a conventional romance in which love is defined by "feelings." Here, Pocahontas falls in love with a dreamer, only to realize that dreaming and feelings aren't enough to establish a lasting and fulfilling bond. In this dark, volatile world, where the desire to conquer drives men mad, true love is won by compromise, compassion, and commitment. (Our review.)
—Jeffrey Overstreet
Star Wars: Episode III—Revenge of the Sith
In capturing the downfall of Anakin Skywalker, this film well demonstrates how evil lures and seduces us—it's not a single decision, but a lot of small, seemingly innocuous decisions. Anakin is a strong Jedi, but the weaknesses of his heart lead him astray—helped by the constant nudges of a deceiver, Emperor Palpatine … all masked by seemingly honorable goals such as saving the one you love. Along the way, we see a perfect illustration of both James 1:14-15 and C. S. Lewis' famous quote: "The safest road to hell is a gradual one—the gentle slope, soft underfoot, without sudden turnings, without milestones, without signposts." (Our review.)
—Todd Hertz
Tim Burton's Corpse Bride
Burton's latest ghoulish whimsy is a surprisingly mature riff on the nature of marriage, both its objective sacramental quality and its call to commitment. Instead of celebrating romantic rebellion and the pursuit of individual desires, the film nicely illustrates the biblical principle that we should love the one we are married to, rather than—as our culture would often have it—that we should follow our fickle feelings wherever they lead. (Our review.)
—Peter T. Chattaway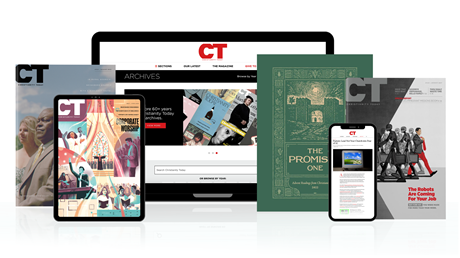 Annual & Monthly subscriptions available.
Print & Digital Issues of CT magazine
Complete access to every article on ChristianityToday.com
Unlimited access to 65+ years of CT's online archives
Member-only special issues
Subscribe
The 10 Most Redeeming Films of 2005
The 10 Most Redeeming Films of 2005