We've asked 114 leaders from 11 ministry spheres about evangelical priorities for the next 50 years. Here's what they said about publishing and broadcasting.
Today's new media pose a challenge for Christian publishing and broadcasting—and tomorrow's look to be a downright conundrum.
Already, industry insiders are talking about on-demand kiosks that will print paperbacks right in bookstores within seconds. These kiosks' product lists could number into the hundreds of thousands, offering bestsellers, stand-alone book chapters, and self-published titles from authors around the globe.
They also imagine broadband sites and iPod/cell-phone services that will broadcast original programming from media giants alongside YouTube-style self-productions. The old media won't die, most agree, it will just be distributed in new ways, and it will face greater competition from new technologies. Radio will confront popular podcasts; TV, viral videos; books and magazines, e-publications.
Big companies can expect to lose their monopoly on mass communication, as cheap, accessible media production opens the floodgates to nearly everyone with a message to share. The professionals will vie with amateurs for consumers' attention—amateurs who can target niche groups and who don't need to turn a profit to survive. As a result, audiences may become more and more specialized. ("Tennis-loving, Reformed youth pastors in the greater Cleveland area, this is for you …" "Attention, Episcopal mothers of adopted Chinese children …")
Yet in a world in which every individual is his or her own "media baron," as John Roos of the Inspiration Networks puts it, quality content will still rise to the top. The surface challenge of technology calls for creativity, innovation, and flexibility. The deeper test begs for books and programming that matter.
Publishers of fluff will die, says Cameron Strang of Relevant Media, because younger readers long for authenticity. Christian bookstores may not survive, either. As Christian books find more and more outlets, from online e-book sites to mass retailers like Wal-Mart, topics will become wider ranging and more attractive to nonbelievers. Furthermore, predicts Al Hsu of InterVarsity Press, authors will better reflect "the multiethnic, global [church], with a truly international exchange of ideas."
In broadcasting, we can look forward to Christian programs that break the preaching/teaching mold, says Frank Wright, president of the National Religious Broadcasters. Shows about science, history, fashion, food, and entertainment—all incorporating a winsome, biblical worldview—will invite consideration. The dream, says Wayne Pederson of Moody Broadcasting Network, is programming that compels postmoderns to perceive Christ anew.
But the focus on Christ won't change. "We like to say that the Bible has a long shelf-life," says Joe Davis, COO of Salem Communications. "It didn't start with Gutenberg, and it won't end with new consumer habits and means of delivery. The best [Christian communicators] have always shared a deep respect for Scriptural truth. That won't be any different 50 years from now."
Madison Trammel | Consulted: Harold Myra, Cameron Strang, Mark Taylor, Lane Dennis, Frank Wright, John Roos, Wayne Pederson, John Wilson, Al Hsu, Mark Kuyper, Joe Davis.
Related Elsewhere:
Also posted today: The Top 50 Books That Have Shaped Evangelicals.
More Christianity Today coverage of books and television is available in our full coverage area.
We continue our look at what evangelical leaders think are the priorities for the next 50 years in 11 categories: local church, youth, missions, politics, theology, culture, evangelism, higher education, international justice and relief and development.
Christianity Today's other articles on its 50th anniversary include:
Where We Are and How We Got Here | 50 years ago, evangelicals were a sideshow of American culture. Since then, it's been a long, strange trip. Here's a look at the influences that shaped the movement. By Mark A. Noll (Sept. 29, 2006)
Sidebar: 'Truth from the Evangelical Viewpoint' | What Christianity Today meant to the movement 50 years ago. (Sept. 29, 2006)
Have something to add about this? See something we missed? Share your feedback here.
Our digital archives are a work in progress. Let us know if corrections need to be made.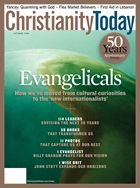 This article is from the October 2006 issue.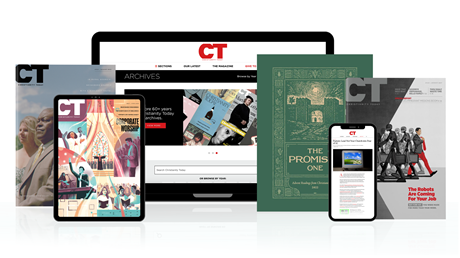 Subscribe to Christianity Today and get access to this article plus 65+ years of archives.
Home delivery of CT magazine
Complete access to articles on ChristianityToday.com
Over 120 years of magazine archives plus full access to all of CT's online archives
Subscribe Now
What's Next: Publishing & Broadcasting
What's Next: Publishing & Broadcasting