Perusing the list of most-read Her.meneutics posts of 2012, you may be tempted to conclude that this past year was not much different from the rest. In one way, you would be right: Sexuality and relationships keep readers talking, as they have every other year. In other ways, you would be wrong: 2012 saw the addition of several new writers, several new books from said writers, our first-ever eBook, plus the addition of a Her.meneutics column in CT print, and changes (and more to come soon!) in our editorial leadership. As the editor of the site for 3-plus years, I sometimes have to pinch myself when I think of how quickly the site has grown.
Part of its growth, I believe, comes from the panoply of topics we aren't afraid to cover. This includes sex, of course (see list below). But it also includes shoes, voting (or not), the Mommy Wars, mental illness, and vaccines. We believe that the light of Christ may be found in news stories and contemporary debates of our day, and that the Christian writer's call is to refract that light to a church seeking wisdom. Our post next week, "The Best of 2012: Writers' Choice" will feature this panoply.
And now for the list!
A note about metrics: Our top 10 lists are based on number of unique pageviews per post, and thus do not necessarily reflect posts' popularity among readers or editors.
(10) Why Stay-at-Home Moms Are More Depressed Than Working Moms, by Ellen Morgan Peltz, guest writer
A new Gallup poll reveals what I've learned from experience: Parenting is really hard.
(9) Confessions of a Lustful Christian Woman, by Jonalyn Fincher
The first step Christians can take to help women struggling with lust is to acknowledge that they exist.
(8) Cross-Gender Friendships: What's Appropriate for Married People? by Sharon Hodde Miller
A new model suggests married men and women can be best friends—and not with their spouses. Think again.
(7) Sexy 'n' Spiritual Tees for Jesus, by Michelle Van Loon
The problem with OMG Wear—and other displays of Christian fandom.
(6) The Best Naked Pregnant Woman on a Magazine Cover, by Caryn Rivadeneira
Why Jessica Simpson's recent Elle cover is worth celebrating.
(5)Ann Voskamp, Tim Challies, Beth Moore: Dinner and a Defense of Earnestness, by Micha Boyett, guest writer
Tim Challies calls Ann Voskamp's book "dangerous." She invites him for dinner. He apologizes. Beth Moore also wants an invite. We look at what it looks like to err on the side of earnestness.
(4) Why Mark Driscoll Is Wrong about Twilight, by Beth Felker Jones, guest writer
The popular series' troubling take on love actually overlaps with Driscoll's teachings on men and women.
(3) 'He's Just Not a Spiritual Leader,' and Other Christian Dating Myths, by Marlena Graves
I've seen otherwise strong couples fall apart because the woman held an unfair spiritual standard for the man.
(2) Getting to the Root of Female Masturbation, by Marlena Graves
And the surprising role the church can play in helping women curb addiction to it.
(1) Real Women Don't Text Back: How Women Fuel the Man-Boy Problem, by Ruthie Dean, guest writer
Women will help single men grow up by refusing to play by their frat-boy standards.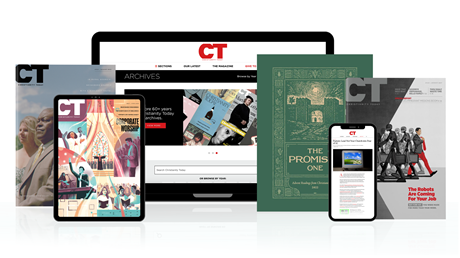 Subscribe to Christianity Today and get access to this article plus 65+ years of archives.
Home delivery of CT magazine
Complete access to articles on ChristianityToday.com
Over 120 years of magazine archives plus full access to all of CT's online archives
Subscribe Now
The Top 10 Her.meneutics Posts of 2012
The Top 10 Her.meneutics Posts of 2012