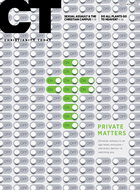 This article is from the September 2018 issue. Subscribers can read all of CT's digital archives.
Fantastic coverage by @CTmagazine on the current status of men's ministry (including a well-placed one-pager on @jordanbpeterson). One question though. There were several mentions of beer. When did beer become synonymous with men's ministry?
The church's failure to enlist young people for the work of fighting evil in this world leaves a vacuum that Jordan Peterson fills. The Peterson phenomenon is an indictment of the church's teachings and its theology. To motivate men might require re-examining our most central teachings, as N. T. Wright calls for in Surprised by Scripture. Men meeting for breakfast is good, but men convicted by Sunday's sermons to build a Habitat for Humanity house is more excellent.
Years ago when I ran a youth ministry, I figured out that if mostly girls showed up, the guys never would. But if you got up a game of tackle football with the guys, the girls would show. With that theory still kicking around, I did my DMin thesis in homiletics on "Preaching to Attract and Engage Men." The research shows that boys and men do not learn in the same manner as our female counterparts and, the sad reality is, too many clergy are unconsciously preaching to women. It is true that the goal of discipleship is not gender specific, however, the manner in which that's achieved is. So, kudos to "the Meck" and other churches of their ilk who have figured that out.
As a lead pastor, I experienced a call to help lead our men's ministry. In every church I was in, I made sure to give time, serve, and show up to men's breakfasts, men's Bible studies, and men's retreats. My men's leaders so appreciated it, ...
1
Reply All