Dr. Luther's Theology
One day in 1511, Luther and his monastic mentor, Johann von Staupitz, sat under a pear tree in a garden near their cloister at Wittenberg. The vicar-general told young Luther he should become a professor of theology and preacher. Luther was taken aback. "It will be the death of me!" he objected.
"Quite all right," said Staupitz. "God has plenty of work for clever men like you to do in heaven!"
Luther did receive his doctor's degree—just over a year later, on October 18, 1512. That day he also received a woolen beret, a silver ring, two Bibles (one closed, the other open), and a commission to be a "sworn doctor of Holy Scripture." He took that commission seriously. It guided his theology and his career as a reformer. Years later he declared, "What I began as a Doctor, I must truly confess to the end of my life. I cannot keep silent or cease to teach." In his view, the Reformation happened because the pope tried to hinder him from fulfilling his vocation of expounding the Scriptures.
Dying to Be a Theologian
Though he held a doctor's degree, Luther was no mere member of the learned guild of scholastic theologians. His theology grew out of his anguished quest for a gracious God. For Luther, theology was not simply the academic study of religion. Rather, it was a lifelong process of struggle and temptation. As Luther never tired of saying, only experience makes a theologian. "I did not learn my theology all at once," he said, "but I had to search deeper for it, where my temptations took me. ... Not understanding, reading, or speculation, but living—nay, dying and being damned—make a theologian."
Out of Luther's struggles emerged a theology that shook the foundations of medieval Christendom. Though Luther appreciated the protests ...
You have reached the end of this Article Preview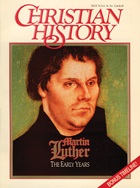 04/01/1992