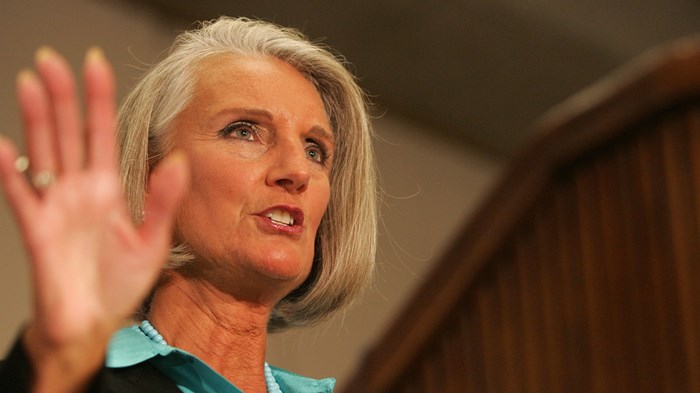 Image: Tara Walton / Toronto Star (via Getty Images)
"What fuel has the Refiner added to the fire as He works to reveal Jesus in and through you? He has recently stoked the fire under me!"
So began yesterday's revelation by Anne Graham Lotz, the "best preacher in the family" of Billy Graham (according to her late father himself), that she has been diagnosed with breast cancer.
The popular evangelist and author received the news "three years to the day … at the very same time of day" as her husband Danny Lotz's death while swimming in 2015.
"When I realized the strange 'coincidence' of the timing, I came to the chilling conclusion that it was an assignment from the enemy," wrote Lotz on her AnGeL Ministries website. "But just as that thought was forming, I heard the soft, gentle whisper of the Spirit, reminding me that it was on a Friday, during that very same time … between 3:00 and 3:30 in the afternoon … that God's Passover Lamb was sacrificed.
"Jesus died on the very same day of the week, at the very same time of the day, crushing the head of the serpent, forever defeating the devil and death. Praise God!," she wrote. "The cross … the blood of God's Lamb … trumps anything the devil can throw at us or assign to us! So I am left to worship and totally trust our God who is ultimately in control. Of everything."
In requesting the prayers of her many supporters, Lotz cited Amy Carmichael, a famous Irish missionary to India whose "eloquent and moving prayer below has given me words to express my heart's desire." The prayer reads:
From prayer that asks that I may be
Sheltered from winds that beat on Thee,
From fearing when I should aspire,
From faltering when I should climb higher,
From silken self, O Captain, free
Thy soldier who would follow Thee.

From subtle love of softening things,
From easy choices, weakenings;
Not thus are spirits fortified,
Not this way went the Crucified,
From all that dims Thy Calvary,
O Lamb of God, deliver me.

Give me the love that leads the way,
The faith that nothing can dismay,
The hope no disappointments tire,
The passion that will burn like fire,
Let me not sink to be a clod:
Make me Thy fuel, Flame of God
"Pray for God to heal me in whichever way He deems would bring Him the most glory," wrote Lotz. "Healing without surgery, with surgery, with surgery and follow-up treatment, or through the greater miracle of the resurrection."
CT profiled Lotz in 1999 as an "angel in the pulpit," and again in 2008 as a "reverent maverick." She told CT:
When I look at my life, God's given me many things, but he's withheld many: education—seminary or Bible training—many things. And he made me a woman. To be honest, there was a time before I started BSF [Bible Study Fellowship] when I wondered why God hadn't made me a man. If I had been a man in my family, I wouldn't have had to struggle with missed opportunities.

I think the fact that God made me a woman is water on the altar. You can come to a Just Give Me Jesus revival and see what God does there. Nobody can credit a seminary, nobody can credit my being Billy Graham's daughter—I left home at 18. I just have to credit the hand of God in my life. Without God, it would have been impossible.
Lotz tributed her late mother, Ruth Graham Bell, for CT in 2007, and reflected on how 9/11 changed her life and ministry. In 2013, she weighed in on the spiritual discipline in greatest need of renewal in America.
CT's past coverage of Carmichael includes how her vision for telling missionary stories, failures and all, is finally being realized, as well as her reflection on what love looks like and how she inspires missional motherhood and #MeToo activism.
CT's past coverage of breast cancer includes three Lenten reflections, author Margaret Feinberg's reflection on her own cancer diagnosis in 2013, and what the apostle Paul has to do with mammogram guidelines.
Correction: An earlier version of this blog misstated that Danny Lotz died by drowning. He died of cardiac arrest while swimming in the family's pool.