Franklin's sister and Billy Graham's number-two daughter has, by all accounts, inherited a portion (some would say "a double portion") of her father's spirit. One evangelical leader recently said that listening to Anne preach is like "listening to Billy with a skirt." Even her father acknowledges that "if ever there was a woman called of God, my daughter Anne is one." But she was never considered as a candidate for succession in her father's ministry (as far as was made known to her) and has not been invited to speak at crusades.
Yet Anne Graham Lotz, one-time stay-at-home mom and Bible-study organizer (she still cleans her own house), is emerging—almost in spite of her circumstances—as a gifted and spellbinding "Bible expositor"—she does not call herself a "preacher." Time magazine said that Anne "inherited the greatest share of Billy's gift"; Franklin says she "is a powerful woman" and "an anointed, powerful speaker"; Ruth Graham says, "God has given her an unusual gift"; Billy Graham has called her "the best preacher in the family."
Her first major public-speaking address at Amsterdam '83 was described by Graham biographer William Martin in his A Prophet with Honor as "a stunning display of a genetic gift for capturing the attention of a gathered assembly." Billy Graham later noted in his autobiography that her message "haunts me even as I write these memoirs."
Her presentation at the Christian Workers Conference at San Juan Mission World (1995) evoked spontaneous applause, interrupting her message three times. It is Anne that Billy Graham calls when he's looking for sermon help: "She can look at almost any page in the Bible and outline it for you. She's never been to Bible school or seminary or even college but she knows the Word of God. She's studied it on her knees at 4:00 every morning."
Against the tide
Many people do not know about Anne's gifts and achievements because she has had to swim against the tide and has kept a low profile. She felt the call of God for years, but for a time the course of her life frustrated her longings. She married young, with her father's encouragement and in keeping with the Graham daughters' tradition of marrying in their teens. (Gigi married at 17; Anne married at 18; Bunny, at 19.)
She struggled in her early married life with depression, enduring a season of infertility and then miscarriages. When children finally came along, she felt inadequate as a mother and spiritual guide (how would you like to have Ruth Graham as your standard?) and languished for want of intellectual stimulation and spiritual refreshment. "I felt trapped. I was dealing with small clothes, small children, small words. My whole life was small."
When she finally resolved to launch a Bible Study Fellowship teaching series (an intensive Bible-teaching parachurch program for laypeople) in 1976 in Raleigh, and no one volunteered to teach it, she decided that "if that's what it took to get it to my city so that I could be in it, I would teach it myself." (She adds: "I had never taught anything—my children didn't even pay attention to me.")
She used to throw up before class, she was so racked with nerves and insecurity about teaching in front of a crowd. Three hundred signed up for that first class. Every year after that more women signed up than the class could accommodate. Today ten classes of similar size are operating in Raleigh.
BSF launched Anne into the realization of her gifts and calling. It gave her the grounding in Scripture she had longed for; introduced her to her own heretofore untapped "unusual gift" as a Bible teacher and expositor; and ultimately compelled her to establish AnGeL Ministries 12 years later in 1988 (the capital letters are her initials) to facilitate what was becoming an international speaking and teaching ministry. "Angels never went anywhere unless God sent them, and when they spoke they only gave out God's word."
She used to throw up before class, she was so racked with nerves.
Today, for every speaking invitation she accepts, she declines ten. Her first two books—The Vision of His Glory, focusing on Revelation, and The Glorious Dawn of God's Story, on Genesis—won the 1997 and 1998 Evangelical Christian Publishers Association Gold Medallion Awards, respectively, in biblical exposition. The International Bible Society awarded her (with her father) the prestigious 1998 Golden Word Award for "her special ability to encourage people to search the Scriptures for themselves."
As she grew into her calling as a female "Bible expositor," Anne faced a critical challenge. Speaking at a pastors' conference shortly before she launched AnGeL Ministries, hundreds of pastors in attendance stood up and turned their backs to her. She realized, "They had a problem with it, and so their problem became my problem."
She searched the Scriptures and prayed intensely, and the Lord confirmed her mandate through several scriptural passages, one of which came through the prophet Jeremiah. The Lord told him: "Therefore prepare yourself and arise and speak to them all that I command you. Do not be dismayed before their faces" (1:17, NKJV). "Only he was telling me not to be afraid of their backs," she says. "He said, 'You're to stand up and say whatever I tell you. You're not accountable to your audience. You're accountable to me.'
"I feel when I stand up in a pulpit I'm not coming from a position of authority," she says. "Everywhere I go, I'm invited; if men have invited me [to speak], I'm under the authority of that committee. But I don't accept the fact that as a woman I can't preach to or teach men. My authority is the authority of God's Word."
Freeing the captives
The message she gave at the Christian Workers Conference—when she was interrupted by spontaneous applause three times—came from Daniel 9, where Daniel prayed for his people in captivity in Babylon.
"Who are the people to whom God has sent you?" she asked. "Are your people being held captive by the enemy? Are they outside of the place of God's blessing?"
Turning the question back upon herself, Anne says the people to whom God has sent her are women today—baby boomers and their offspring—who "are buying into something that is going to lead to their destruction." She's talking about "Girl Power" as embodied most recently in the flaky quasi-feminism of the Spice Girls. "I see women across America falling into this as a way of getting power over men. And yet, it's not God's way, and it is going to lead them to greater bondage."
She said in her message from Daniel 9 that "Daniel confessed the sin of his people as if it was his own sin." He confessed "the shame of his own people" who were "outside the place of God's blessing and held God's name up for scorn."
Anne fears, as well, that much of the American church runs the risk of falling into a similar trap: "[Many] Christians come to the Cross and receive Christ as Savior and then just seem to go ahead and live the way they've always lived. Generally speaking," she says, " 'the sin of the people' for today is what it has always been—rebellion against God, his Word, and his authority in our lives. But this is compounded by the fact that we don't love the Lord with all our heart, mind, soul, and strength. Nor do we love our neighbors. The lack of love is evident in our lack of holiness, our materialism, our selfishness, and our compromise of the truth.
"I would tell the baby boomers to examine their relationship with God and make it the priority of their lives," she says. "Somewhere along the line, the parents of these baby boomers didn't pass on the reality of their faith in Christ, and the parents bear responsibility for that.
"And so the baby boomers are now changing the direction of our country, and they bear responsibility for that. When I get to heaven I want to find that I was on the cutting edge of the battle for my generation."
Many "liberated" women are facing their midcentury milestone birthdays and feel the quandary expressed by one: "It's not so much our fading youth we worry about as our fading future." Anne Lotz turned 50 last year. And for all her setbacks and bewilderment, she has found the answer, has overcome personal and professional obstacles, and has emerged with courage, grit, and grace to proclaim the message that saved her and can save her disenchanted constituency.
If Franklin relates to boomers' "justice concerns" as well as their anti-institutional spirit, Anne connects with their disillusionment and spiritual longings—particularly for aging boomer women who have grown weary of their so-called liberation. Many women are languishing without these answers.
So without a crusade venue, and in spite of the forces that have worked against her, Anne Graham Lotz is assuming a pulpit presence that resonates with her audience in a way that bears a striking resemblance to that of her father.
When Billy Graham addressed the graduates of Gordon-Conwell Theological Seminary in 1994, he commissioned them, quoting Paul, to "do the work of an evangelist" (2 Tim. 4:5), and he emphasized that both "evangelistic preaching" and "expository preaching" were essential to fulfilling this mandate. So perhaps there is a divine serendipity in the way the "the Graham anointing" is revealing itself. Fueled by his own reckoning with sin, Franklin brings zeal and simplicity to his evangelistic preaching; at the same time, Anne brings wisdom and grit, honed in the crucible of distress and setbacks, to her biblical expositions.
Anne concluded her message on Daniel 9 with a prayer that captures the force of her calling: "God, if you never heal my physical body, solve my financial problems, if all my family leaves me, if no one is converted through my preaching—glorify your name through my life."
Have something to add about this? See something we missed? Share your feedback here.
Our digital archives are a work in progress. Let us know if corrections need to be made.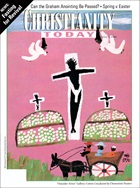 This article is from the April 5 1999 issue.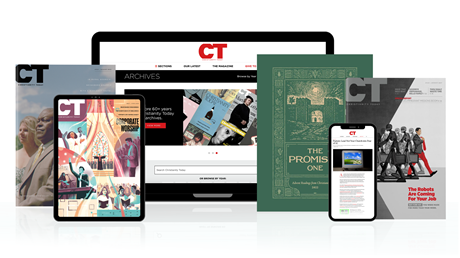 Subscribe to Christianity Today and get access to this article plus 65+ years of archives.
Home delivery of CT magazine
Complete access to articles on ChristianityToday.com
Over 120 years of magazine archives plus full access to all of CT's online archives
Subscribe Now
Angel in the Pulpit
Angel in the Pulpit