August 2007
I just read a great news story: A woman raised over $7,000 for a local humane society by putting Michael Vick football cards, which had been chewed, slobbered, and generally destroyed by her dogs, for sale on eBay. I love this story for several reasons: 1.) I love dogs - particularly the "mean breeds" like pit bull terriers and Rottweilers (one of whom sits "purring" ...
continue reading
---
I really hate those "home parties." You know, the ones where you go to someone's house and hear about the latest gadgets, skin care products, or overpriced home d?cor. The hostess serves brownies and everyone talks about their kids and how busy they are. Then the sales representative stands up and gives a hyper-peppy presentation punctuated by polite gasps ...
continue reading
---
The purpose of my new book, What Women Wish Pastors Knew, is simple: "To help today's pastor better understand women in the congregation so the pastor can better minister to them."
My research included survey responses from women ages 18 to 92, working both at home and outside the home in numerous occupations, high school to Ph.D.-educated, married and single, ...
continue reading
---
Where do you go when you feel low, empty, spent? When you feel beaten down by your circumstances or just by your day?
At nine months pregnant with our second child, I experience moodiness and exhaustion as norms in my life now. But of course, I have plenty of non-pregnancy-related experience in feeling down too. We all do; we're human. And as women, we often experience ...
continue reading
---
Susan Perlman, associate executive director of Jews for Jesus and president of the board of the Interdenominational Foreign Mission Association of North America (IFMA), once asked Billy Graham, "If a woman feels the call to mission, is gifted for ministry and leadership, and comes up against a solid wall of resistance, what advice would you give her?" He said, ...
continue reading
---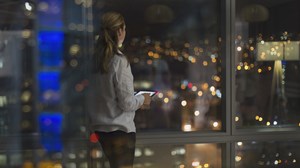 In his book, Dark Nights of the Soul, Thomas Moore speaks of both the mystery and necessity of the soul's darkness. I don't know about you, but my usual response to the dark is to switch on the biggest spotlight I can find. Yet, Moore reminds us that a life worth living (defined here as one that is changing ever more into the likeness of Christ) is full of barely-lit ...
continue reading
---
I have often pondered these two sets of verses - positioned almost as brackets at the beginning and end of Proverbs, a book that understands and describes wisdom as she:
"Wisdom cries out in the street; in the squares she raises her voice. At the busiest corner she cries out; at the entrance of the city gates she speaks?" (Proverbs 1:20-21)
"Her husband ...
continue reading
---
Within the past 12 months, I've been going around in my travels having casual conversations with groups of Christian women and asking them to list the women leaders they can think of who don't seem scared to them. No one ever answers immediately, except to say, "They're aren't any!" Typically it takes about 20 seconds before someone comes up with ...
continue reading
---
I am married to a jazz musician. I have to admit that there was a certain romantic notion swirling around the thought of life with an artist. We shared a love and study of music, albeit two very different styles. I was a classically trained pianist whose concept of jazz was limited to the elevator variety. He was a be-bop fanatic who thought the Eagles were a group of ball ...
continue reading
---
Mariah is 13. She eschews Harry Potter for everything Tolkien. Just because. When her nose isn't in a book, she's mostly fused to her iPod, but can frequently be found playing the video game, Diablo.
She loves to draw. (Draws tattoos on her dog, Elle). Writes in her journal faithfully. Pages and pages. Avoids social situations as much as possible. Would rather ...
continue reading