When You Feel Like a Failure
Whether you've truly failed―or you just feel like a failure―the experience can actually be a blessing.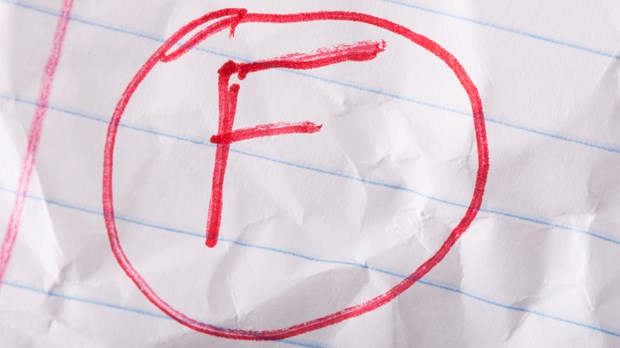 "Well, Cara, I'm not really sure what to say, but you failed to do what we hired you to do." The chairperson folded her hands on her lap, and looked at me blankly. I stared back at her, numb to the world around me.
Glancing at the paper in front of her, she went on to list all of the many ways she believed I had failed at in my first two years of ministry. My cheeks burned red and tears pooled in my eyes, soon cascading down my face. I looked at my boss―the same man who'd fed me accolades of praise week after week―who now sat mute in the corner. Why wasn't he standing up for me? Why was there such a disconnect from the encouragement he showered upon me in our one-on-one meetings and the silence that swallowed him now?
"I'm sorry," I whispered. An apology was all I could muster. She'd rendered me mute, as well.
The meeting crippled me for a long time. Two weeks later, I moved two states south to take on a promotion with the same outreach organization. I'd been offered the job months prior, but wanted to finish out my time in good standing, so I'd stayed an additional two months after the initial offer period. Still, her words haunted me. I didn't trust my own leadership abilities, just as I didn't trust that God in me could do a mighty work through me. I cried whenever I divulged the truth of that awful meeting. Finally, feeling like I would never fully thrive unless I worked through the pain, I turned to a therapist.
Wiping away tears, I told her my story. I felt like an utter failure. Surely, she could see it, too. But where one woman's words had stripped me to the core, her words filled me up. They were like balm to my soul.
"You can't fail at that which hasn't been communicated to you," she said simply. She was right. The chairperson held me to expectations of her own that hadn't been communicated to me. Clearly, my boss also had different expectations of me―expectations I met with shining gold stars. In that moment, the therapist's clarity helped me understand I hadn't actually failed at all―even though I had been made to feel like I failed. This clarity of truth was all I needed. Eventually, I returned to ministry a new woman, with a bounce in my step and a newfound confidence in my position.
Had I not been told I failed, I would not have begged God for mercy. I would not have learned to be vulnerable and ask for help. I would not have learned that strong leaders are honest regarding their own abilities, just as they are honest about their own expectations of others. Equally important, I would not have understood how significant it is to learn from mistakes, nor grasped the necessary art of self-care.