When You Feel Like a Failure
Whether you've truly failed―or you just feel like a failure―the experience can actually be a blessing.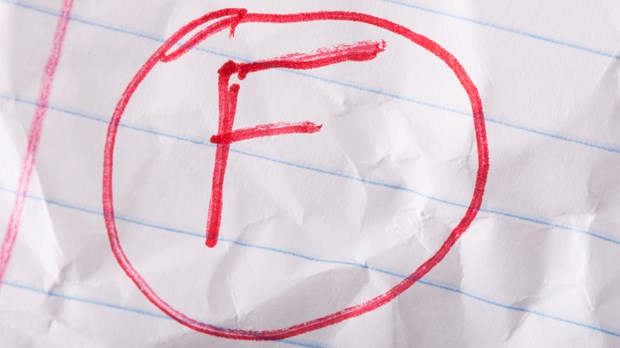 "Well, Cara, I'm not really sure what to say, but you failed to do what we hired you to do." The chairperson folded her hands on her lap, and looked at me blankly. I stared back at her, numb to the world around me.
Glancing at the paper in front of her, she went on to list all of the many ways she believed I had failed at in my first two years of ministry. My cheeks burned red and tears pooled in my eyes, soon cascading down my face. I looked at my boss―the same man who'd fed me accolades of praise week after week―who now sat mute in the corner. Why wasn't he standing up for me? Why was there such a disconnect from the encouragement he showered upon me in our one-on-one meetings and the silence that swallowed him now?
"I'm sorry," I whispered. An apology was all I could muster. She'd rendered me mute, as well.
The meeting crippled me for a long time. Two weeks later, I moved two states south to take on a promotion with the same outreach organization. I'd been offered the job months prior, but wanted to finish out my time in good standing, so I'd stayed an additional two months after the initial offer period. Still, her words haunted me. I didn't trust my own leadership abilities, just as I didn't trust that God in me could do a mighty work through me. I cried whenever I divulged the truth of that awful meeting. Finally, feeling like I would never fully thrive unless I worked through the pain, I turned to a therapist.
Wiping away tears, I told her my story. I felt like an utter failure. Surely, she could see it, too. But where one woman's words had stripped me to the core, her words filled me up. They were like balm to my soul.
"You can't fail at that which hasn't been communicated to you," she said simply. She was right. The chairperson held me to expectations of her own that hadn't been communicated to me. Clearly, my boss also had different expectations of me―expectations I met with shining gold stars. In that moment, the therapist's clarity helped me understand I hadn't actually failed at all―even though I had been made to feel like I failed. This clarity of truth was all I needed. Eventually, I returned to ministry a new woman, with a bounce in my step and a newfound confidence in my position.
Had I not been told I failed, I would not have begged God for mercy. I would not have learned to be vulnerable and ask for help. I would not have learned that strong leaders are honest regarding their own abilities, just as they are honest about their own expectations of others. Equally important, I would not have understood how significant it is to learn from mistakes, nor grasped the necessary art of self-care.
Above all, I learned failure―even when it just feels like a failure―really can be a good thing.
Learning from Failure
In an April 2017 article from The Guardian, writer Gavin Haynes introduces readers to a psychological phenomenon in Helsingborg, Sweden―The Museum of Failure. Its mission is simple and, ultimately, life giving: "Innovation requires failure. Learning is the only process that turns failure into success." Highlighting such marketing flops as Colgate lasagna and Harley Davidson perfume, the museum goes a step further―encouraging attendees to learn from their mistakes.
Take, for example, Coke II. Introduced to the public in 1984, consumers did not embrace the new taste. Acknowledging the failed innovation, Coca-Cola immediately began selling its original formula again―because, why change a good thing? What some outsiders might view as a failure, the company sought to embrace and learn from. Today, Coca-Cola is the world's third most valuable brand. I don't doubt it's much different for those of us who are in ministry.
Jerusalem Greer, a speaker, minister, and author of At Home in this Life, shared with me an experience of failure early in her ministry career. In an effort to not be what she described as a "program church," the church staff―including her―wanted to be innovative, particularly when it came to mid-week services and small-group ministries. Their efforts to create something new and different, however, didn't include any sort of programming or care for kids, thereby doing a disservice to the parents of young children. Children were welcome to come to Wednesday night praise and prayer services and weekly home groups, but as any parent knows, it's difficult to keep a child "under control" in the middle of serious adult conversations or prayer sessions. All too often, an already worn out parent would go to another room to entertain the child with books, snacks, and songs. Parents and children both missed worship and community experiences, and in the end, parents simply forfeited their involvement altogether.
It wasn't until Greer became a parent herself that she realized how her arrogance and inexperience not only crippled her leadership influence, but also failed a large population of potential congregants. Now, almost 20 years later, she looks back on the experience with gratitude, mostly because she learned how important it is to realize your limitations. "Just because you are an innovative thinker," she reasons, "doesn't mean you've thought of everything. You have to listen to the collective wisdom and life experiences other people bring to the table."
She continues:
There is a reason most churches provide some sort of care or programming for the youngest members. There's a valid need. My mistake back then was in throwing the entire concept out, instead of modifying it to fit our innovative vision. The truth is we need both: we need to create church cultures that welcome children in all spaces―in both words and actions―and we need to care for our parents who are worn thin. I believe both are possible, but it does take a change in culture, and it is a slow change.
Jesus' Example
Greer is not alone in seeing failure as a good thing. Read the Gospels―repeatedly, there remains a divide between the expectations of the Israelites and the human God sent to earth. Where was the purple-robed king sent to rule over all of the earth? Where was the great warrior-judge, the one who would "wage war against the idol-worshipping Gentiles and destroy the sinners among the Jews"? How, then, did Jesus, seen as a failure in light of their expectations, respond?
He just kept on going.
In Matthew 13:54–59, Jesus returns to his hometown to teach people in their place of worship. His words were met with questions and accusations, while his ways were met with negative and offensive reactions. As a result, Jesus continued to preach, but was unable to perform miracles because of their lack of faith in him. Although Jesus had failed to be who they thought he should be, he hadn't failed in the least, for he continued to be true to who he truly was.
Although Jesus may have failed in the Israelites' expectations of him, he was not a failure in the least. Quite probably, it's the same for you. If you've recently been labeled a failure―whether by yourself or by someone around you―consider one of these three action steps:
Seek to see failure as a good thing. If you've believed yourself a failure because of another person's unmet or unspoken expectations of you, ask yourself the following questions: How might this experience make me a better leader? How might my failings bring me closer to God, and transform me into the most authentic and real version of me?
Seek the peace only Christ can bring. In Strengthening the Soul of Your Leadership, Ruth Haley Barton writes, "we often blow right past the place where God is creating a stir to get our attention." Might current or past experiences of failure be God's stirring in your life?
Seek to rewrite the narrative. More than anything, you may need to rewrite your own story of failure, which starts with acknowledging that you're not a failure. Consider how changing this perspective changes your story altogether.
Above all, know that you are loved and you are not alone. We stand with you and are here for you. Even in your failures, we cheer you on.

Cara Meredith is a writer and speaker from Seattle, Washington. She is a member of the Redbud Writers Guild and co-host of Shalom in the City's monthly book club podcast. She holds a Master's of Theology (Fuller Seminary), and can be found on her blog, Facebook, and Twitter.