Getting Past the Lie of Rejection
Five steps you can take to get back on track.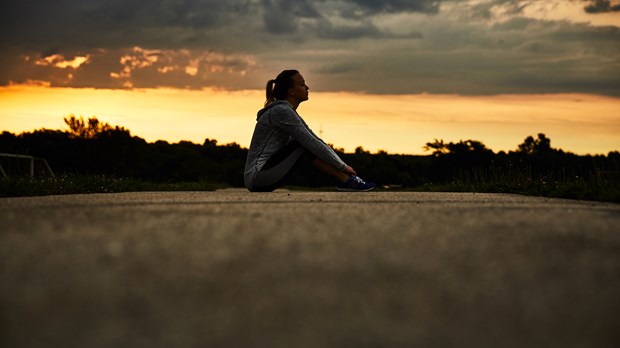 "We feel like the Holy Spirit is calling you elsewhere."
Each word pierced me like a dagger to my soul. After pouring hours, sweat, tears, and passion into a church I loved, the leadership decided I was not enough. I was not enough. Those four words penetrated my mind and colluded to form a lie that began to shade how I viewed all other circumstances. The feeling of rejection paralyzed me, preventing me from moving forward in ministry. Sitting comfortably on a back row of a worship center, unnoticed and safe in my own self-pity, seemed a more enticing option than working through my pain.
On my first Sunday attending a different church, the associate pastor introduced himself and asked me a key question: "Are you surviving or thriving this morning?" With more honesty than expected, I blurted, "I'm surviving, but I hope to thrive again someday."
The word rejection comes from a Latin word that means to be thrown back. When we experience rejection, the feeling not only stops us in our present pursuits, but it sometimes causes us to retreat from progressing because we fear future failure. In psychology, this phenomenon is called learned helplessness. We are most vulnerable at the point of rejection. We experience disapproval or repudiation, and that experience becomes a catalyst for self-defeat. I internalized the end of my tenure at the church and allowed lies of rejection to infiltrate my thoughts. Every time I started to move forward in ministry, the fear within me told me that I wasn't good enough and there was no way God could use me.
Because we live in a fallen world, rejection is a certainty, but Jesus gives us the ultimate example of how to thrive through rejection. If we look to the life of Jesus, we will notice that even the Son of God was not immune to the sting of rejection. From the onset of his ministry, Jesus encountered opposition and disbelief (Luke 4:16–29). People questioned his authority and authenticity (Mark 6:3; John 5:43; 6:64–67). He even told his disciples to expect rejection by the world (John 15:18).
In Luke 9:51–56, we see Jesus respond to rejection. As he journeyed to Jerusalem where he would face the ultimate rejection, he sends messengers to a Samaritan village to prepare for his visit. Rather than welcome Jesus, however, the people of the town rebuff his arrival. The disciples respond in anger and ask Jesus if they should call down fire from heaven to judge the town. Jesus rebukes this suggestion. Instead of vengeance, he continues forward in his mission and journeys to another village. With each rejection Jesus faced, we see him respond with movement toward his goal. Even when thwarted, Jesus remained steadfast. When asked permission to seek justice, Jesus rebukes his disciples. When taunted on the cross, he asks forgiveness of his transgressors.
These actions reiterate his resolve to do the Father's will. Jesus knew his purpose given by the Father. All his actions were motivated by his desire to do the will of the Father (Luke 4:34). Therefore, in each situation of opposition, his resolve never changed. He was able to do this because his unity with the Father surpassed all else. Throughout the Gospels, Jesus seeks out communion with the Father through prayer. These times with God provided him with direction, comfort, and encouragement for all he endured. In our own lives, seeking out times to prioritize our relationship with our Heavenly Father allows us to recalibrate our motivation for ministry.
Jesus knew that completion of his calling rested in his obedience as God's Son. His suffering highlighted his submission to the Father (Hebrews 5:7–9). As followers of Christ, we must continually strive for submission to God rather than reception by man. The approval of others had no effect on Jesus' identity as the Son of God—rather, it was the truth of who he was.
We, too, must focus on the truth of who we are. Through Christ, we are declared children of God and ambassadors for the kingdom (2 Corinthians 5:20). Our identity is independent from any work we do (Ephesians 2:8–10). Since this is the case, we cannot define ourselves as rejected or unworthy. In my own struggle with rejection, I allowed my identity to be defined by how others saw me rather than by the truth of who God declared me to be. The truth is that through Christ I am chosen, redeemed, and created for good works. As Christ's ambassadors, we must follow his example. This obedience requires us to stay resolute to what we know to be true about who we are in Christ.
As the Son of God, Jesus could have accomplished his ministry alone. Yet, he chose to cultivate friendships with others. When he sent the disciples on mission, he sent them out in pairs. Jesus emphasized relationships because he knew the difficulties of the world. We are members of one body to encourage one another and build each other up (1 Thessalonians 5:11). A cord of three strands is not easily broken. When we isolate ourselves, we give the enemy a foothold to speak lies into our minds. When I left my position at the church, I had to leave behind many important relationships. Beginning anew was a difficult process. Yet, as I connected with others in a new church, I began to feel a fresh sense of joy. While I wanted to put up walls, I was eventually able, through prayer and support, to move forward and continue to be part of the body of Christ.
Five Steps to Take
When you're faced with feeling rejected, here are five steps you can take to focus on the truth of who God says you are rather than the lies of rejection.
1. Give your pain a name.
When someone hurts us, we often respond in anger or sadness. We try to cope in a number of ways like denying the event, blaming others, or retreating. I chose to lie curled up on the couch watching Netflix for hours to numb my thoughts. Healing comes, however, when we approach God with our pain. Personally, I had confront my emotions. I was not only mourning the loss of a job, but also struggling with my own insecurity. When I allowed myself to be honest with God, I was able to experience his mercy and his grace.
2. Stay connected in God's Word.
In ministry, we often are so busy planning for others' spiritual journeys that we neglect our own. Continue to prioritize your relationship with the Heavenly Father. In doing so, you guard your heart by knowing that his approval is what matters above all.
3. Develop relationships with other like-minded women.
When we are in relationship with others who are pursuing the same objectives, we can cheer on one another. Then, when rejection happens, there are people to help us over the hurdle. When I was at my most vulnerable, I had a group of friends in ministry with whom I was able to share my pain. They prayed with me and spoke truth into my life.
4. Cultivate an identity outside of ministry.
For a while, my identity was wrapped up in what I did at the church. I had no other hobbies or interests outside of my role. When I lost my job, I felt I had lost everything. It was through this loss that God reminded me of other talents he had given me. I had grown up playing the violin and now spend time practicing and teaching others the instrument that has brought me so much joy. Take time to build an identity outside of your ministry. When we do this, it safeguards us from making our ministry our idol as well as helps us reach others for the kingdom of God.
5. Utilize the event as an opportunity for growth.
After I was able to see my situation for what it was, I was able to use the event to learn more about myself. I began to evaluate my circumstances by asking questions: Is there a skill I can work on, a characteristic I can develop, or a new avenue to pursue? What was being rejected: my message, my method, or me personally? What false narratives am I allowing to control my mind? By working my way through these questions, God helped me gain a better perspective, thus allowing me to grow as both a believer and a minister.
In looking back on my experience, I am thankful for the process. At some point, we will all face disappointments. To continue to run the race that Christ has called us to run, however, we must look at rejection as a hurdle rather than a grave. By doing so, we build strength. Robert McGee states the process eloquently: "Confess your sins, worship God, and get on with your life. You can experience the mercy of God no matter what you've been through."

Cortney Whiting is a wife and mother of two children. She received her Masters of Theology from Dallas Theological Seminary and served in the local church for over a decade. Currently, Cortney serves in a lay capacity and writes for various Christian ministries. You can connect with Cortney on Twitter @CortneyWhiting or on her blog.