When the Path to Ministry Is an Obstacle Course
What if the things that seem to get in the way of ministry actually qualify us for it?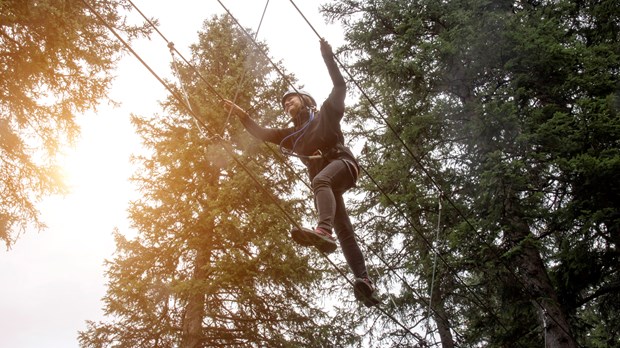 As a college student I found myself in crisis. On the one hand, I felt an intense call to ministry—concern for the needs of the world and an indescribable pull to do something about it. At the same time I found myself in a context in which (out of an admirable desire to honor their reading of Scripture) many of my professors were actively discouraging of ministry for women. Trying to fit what felt like a tidal wave of calling into that tiny box of limitations brought real confusion and pain, which not only affected my sense of calling, but also my whole sense of self and of God. Meanwhile, the world was telling me to fight for my rights. It gave me a ready-made—but not very Christlike—response for the pain I was feeling.
I'll never forget the day that my husband, Jamie, who was taking Greek at the time, came home and told me about the word he was studying—hesuchia in 1 Timothy 2:11–12, which is translated as "silence" in "Let a woman learn in silence." He'd discovered that the word was not necessarily total quietness but had connotations of peacefulness (in fact, earlier in the same chapter, in verse 2, a word based on the same root word is translated "peaceful"). While he was excited to tell me that the Bible wasn't telling me to shut up, I was deeply convicted. I wanted that kind of peace, but all I felt was anxiety. I had to laugh at the irony: God had hidden a directive for peace in this very passage which was the source of my disquiet. On that day I decided to trust that there had to be a way that the God in my heart was the same God in the Bible and the church. I knew that peace meant trusting that God was One even if I couldn't see it yet.
Lack of Purpose in the Workplace
It was with those questions yet unresolved but a willingness to sit in the tension that I graduated and stepped into the workplace. Jamie had always felt drawn to teaching, so we agreed that he should pursue his PhD. This meant a move to England and working in whatever job I could get to support us while he studied. It was humbling to discover no employer cared that I got the Greek award and instead asked how fast I could type. For three years I worked as a receptionist in a sales office answering phones, wondering why God had laid on my heart the longing for full-time ministry.
Meanwhile, friends were adding to my frustration by saying: "You're gifted too. Why are you following your husband all over the world and working in a job you hate to support him in his ministry?" I had to return to that conviction to have peace knowing that God was One. So I asked myself: Even if I can't see it yet, is it possible that the God in my life and the God in my heart is One? Could the God who is calling both Jamie and me know that we're married and our callings are interwoven?
Frustration as a Full-time Mom
When Jamie's PhD was done, he was offered a job teaching in the US, which meant another international move. We'd just started talking about having kids so I was surprised to find that the jetlag which I couldn't shake turned out to be morning sickness. I loved the idea of being with my kids full-time (and my visa didn't allow employment anyway), so for the next ten years I was home with my two beautiful kids. It was a choice I wanted, and I saw it as a kind of ministry. At the same time, part of me felt frustrated. There were needs I saw in the church to which I had little opportunity to respond. And, once more, friends said "You're gifted too. Why are you following your husband all over the world and taking on so much of the housework and child-rearing to support him in his role?"
Once more I had to return to that peace conviction. Now I asked myself: Even if I can't see it yet, is it possible that the God who makes me long to be with my kids and support my husband is the same God who makes me passionate about his church and mission?
The Career Lie
I didn't realize it at the time, but we often mistakenly equate calling with career. Career means choosing a job title that we want one day (often as a teen) and pursuing a degree that matches the job title. Then, when we graduate, the only way to be successful is to get that job title we determined for ourselves as teenagers. This is more about shaping our personal brand and making an impressive resume than stepping into calling. And the most dehumanizing thing about this approach is that we have no control over whether or not that perfect job title will be available to us after college—meaning we have no control over whether we'll reach that goal.
When we take this idea of career and apply it to calling, it does serious damage to our faith. God has little concern for resumes—a story is so much better. And if we feel pressure to name our ideal job title when we're a teen, what about those jobs which we could never imagine? At 15 I could never have imagined myself in my current role, and yet by following my calling, God shaped me and my life for this role over a 20-year period.
When I'm with college students now, instead of asking "What job do you want after college?" (which is a performance question), I ask "What frustrates you? What gives you joy? And how do you feel called to respond to that frustration and joy?" These are passion questions, and they draw beautiful responses from the students, which often come from their own stories.
What I realize now is that even when I was a secretary and a full-time mom, those unspoken joys and frustrations were expressing themselves in my life. As a secretary I had little outlet for Bible teaching, so I volunteered to teach the youth group. As a full-time mom, my limited outlets for teaching compelled me to write my first two books while the kids were napping or at preschool.
In the end, calling is much more than something we do for money—in fact, we may not get paid for it—so it's important to separate out these lies about career from our understanding of calling. If we wait for a paid role before we step into our calling, it will limit our ability to live out our calling—not only because the church may not recognize our gifts, but also because there may not be a paid position available yet. It may mean raising our own support or doing it part-time or doing it on the side for a while. But that doesn't mean God isn't calling you to something that could become a paid role in the future.
I realize now how I'd answer those questions I ask students: I'm frustrated in any way that the church is not living up to its call, and I have joy for all the potential that the church has to transform lives—and I want to be part of that any way I can, whether or not it has a job title or pay.
Anxiety in Entering Ministry
Finally, after years of wrestling and waiting, when my youngest started school, I looked for a part-time paid ministry role. It was humbling to start looking for my first ministry job 13 years after graduating from college, knowing many of my peers had been in ministry for over 10 years already. On top of that, I had few female role models to look to, and the old messages discouraging from this work came back to me. It was a trying time.
Once more, I had to rely on that old habit of trusting that God is One: If God is calling me to do this work, there must be a way for me to do this work as the person God has made me to be.
Ten years later, I'm the lead pastor of that same church where I began as part-time associate pastor. As I'm presented with challenges, I have to ask again and again: "If God has put us here to do his work, isn't there a way God can provide what we need to do it?"
Strangely enough that lesson which arose from the most unsettling season of my life has seen me through many challenges and remains with me still. That skill which arose from the things that seemed to be obstacles has become the best thing I know. Because as much as I'd like to have all the answers, the best thing I can offer and model for my people is faith in God. Sometimes the most powerful thing I can do is say "I don't know, but if God is calling us to it, it's his job to provide for it. And if God doesn't want it, I don't want it either." Every time I lead with that peace, I remember all the crisis moments where God taught me to have that peace. The God who is calling you is the same God in the church, in your family, in the Bible, and in the world. Will you choose to trust God no matter what?

Mandy Smith is lead pastor of University Christian Church in Cincinnati, Ohio, and author of The Vulnerable Pastor.