The Simple Reason Colombia Welcomed 1.7 Million Venezuelans
What I learned about neighboring at the Simon Bolivar International Bridge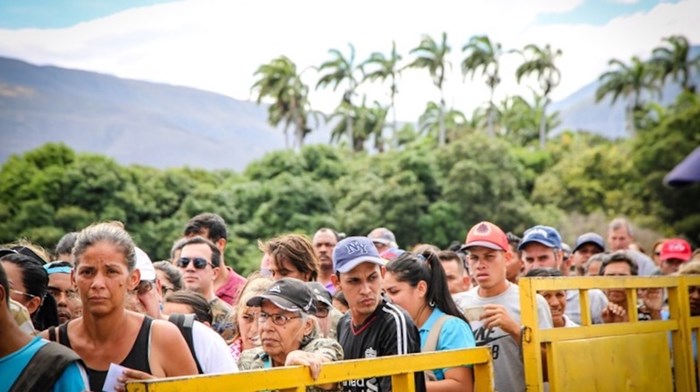 I have worked at Compassion International for nearly ten years in the complementary intervention space. We focus on needs like disaster response, water sanitation and hygiene, income generation, and vocational training. If you are familiar with Compassion, you know that we are Christ-centered, church-based, and child-focused in the context of poverty.
In February 2019, our national office in Colombia reached out, expressing concern for children and families crossing the border from Venezuela in very large numbers – and wanting to find ways to support them. A growing political and economic crisis in Venezuela forced millions to leave.
The team in Colombia began to plan and submit interventions to provide for the physical, emotional, and economic needs of migrant children and families from Venezuela.
In June 2019, I traveled to Colombia to witness the work they were doing firsthand – and see what else we could do to support these churches and families in crisis.
While we were in Cucuta, we traveled to the famous Simon Bolivar International Bridge. We happened to be there the first time the bridge had been opened in months, and that particular day was chaotic. People were crossing the border, carrying everything they could manage, on a brutal migrant route. And once they made it past border patrol inside Colombia, they had to stand in line for hours in the hot sun just to register to be there.
Throughout the rest of the trip, we visited multiple churches, and I heard story after story that broke my heart. One mother told me she had been walking for days with nothing to feed her children when she arrived in Cucuta. She left her parents and extended family to try and find something better for her children. They had no food or electricity in Venezuela, and she had to do something.
No one we heard from wanted to be in Colombia, but all of them were grateful to be there.
Many Colombian families from the churches in Cucuta opened their homes and shared their food with families they had no relation to. They truly welcomed and cared for strangers in need – even if they lived in poverty themselves and sent their own children to Compassion's program.
I asked myself, "If I were in their situation, would I do the same?"
It was a question I brought home and wrestled with. Would I love my neighbors (or even strangers) the same way? Do I love my neighbors (or even strangers) the same way?
Forced migration/displacement is a complex and growing issue facing the humanitarian section. The UN High Commissioner for Refugees (UNHCR) estimates that the "number of forcibly displaced people has grown by 50 percent in the last 10 years," with current figures showing "79.5 million displaced at the end of 2019." Out of the 79.5 million displaced, 5.4 million were Venezuelans.
Over the past few years, Colombia has welcomed more than 1.7 million Venezuelans. Venezuelans can register to work, send their children to school, and receive health care. It is truly remarkable.
I asked a Colombian colleague why Colombia would respond in such a benevolent and generous way. She said it wasn't long ago when Venezuela welcomed Colombians in need, and now, it is Colombia's turn to care for their brothers and sisters.
Fast forward to February 2021. We are living in the time of COVID-19 and social distancing, and if I'm being honest, I'm struggling to connect with people in meaningful ways. On a random Saturday morning, I scheduled a meeting with a local business owner in my community. The owner was roughly my age (from what I could see behind her mask), and she was excited to discuss the need I brought to her.
During the course of our conversation, she mentioned that she was from Venezuela. She had grown up in San Cristobal – the town just on the other side of the bridge where I had stood in 2019, watching droves of migrants cross over into Colombia.
We talked about the beauty of the area and my last visit there. She and her husband had been in Colorado for about a year, and they had a young daughter in preschool. She shared that her parents still lived in Venezuela. Even with a mask on, I could see in her eyes and hear in her voice how much she missed her home.
I had many questions about what life had looked like for her over the last few years, but I decided all I needed to say in the moment was, "I'm so glad you're here."
She is my neighbor, and I hope to continue to connect with her and hear more of her story. But for now, I want her to feel loved and welcomed here. Knowing that like others I met in Cucuta, she may not have wished to be here, but she's grateful to be here.
Danielle Kettunen graduated from the University of Colorado, Denver with a BA in History, focusing on African history. She will graduate in May 2021 with a M.A. in Humanitarian Disaster Leadership from Wheaton College. She currently coordinates and supports global Complimentary Interventions (CIV) at Compassion International.
The Better Samaritan is a part of CT's Blog Forum. Support the work of CT. Subscribe and get one year free.
The views of the blogger do not necessarily reflect those of Christianity Today.