3 Ways to Protest Racial Injustice from Home
If you're avoiding physical gatherings, here are some ways you can still protest racial injustice.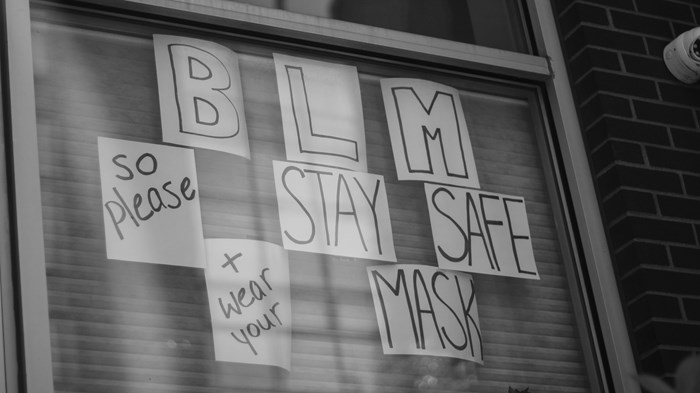 Over the past few months, Christians have participated in gatherings for racial justice and prayer for racial reconciliation to protest the shootings of Black men and women and to observe anniversaries of past events. It can be tempting to see participating in public assemblies like protests as the only way to advocate for racial justice. But, you don't have to join a physical gathering to advocate.
Although physically protesting is a powerful way to advocate for justice, if you have a chronic disease or pre-existing conditions that make you vulnerable to COVID-19, it's important to modify involvement to protect health. Sometimes you need more than a mask to stay safe; you need to stay at home. It's okay if your involvement looks different from others. You can still be heard and cry out for justice if your risk for contracting the disease is too high and you cannot be around groups of people.
If you need to avoid the front lines, here are three meaningful ways to continue to engage in racial justice advocacy:
1. Boycott companies that perpetuate injustice.
Economic injustice is a major factor in the oppression of Black people. Decades of wealth gaps, redlining and other discriminatory practices have continued to perpetuate a system of injustice. We still see this today.
In addition to economic injustice, some companies and organizations are not taking aggressive steps toward condemning hate speech. For example, many large corporations chose to discontinue advertising on Facebook this summer because of insufficient actions toward hate speech on their platforms.
You can protest by pulling your support from companies and organizations that do not align with your values for racial justice. Even when there aren't public protests in the streets, educating yourself about economic injustices in your community, identifying brands that are and are not supporting racial equality, and choosing to share your findings is a powerful way to advocate from home.
2. Partner with advocacy and education organizations.
Many cities have local organizations that have been doing anti-racism work for years, and there are several national nonprofits also committed to racial justice. The deaths of several Black people in 2020 may have set off global protests, but this type of activism isn't new. It continues today, and many of our brothers and sisters carry on the important work of education and activism.
Many organizations are working on building bridges in communities and advocating for practical steps like police reform, economic justice, education on the racial history of their areas and more. All of these organizations could use your time, expertise, volunteerism and dollars. Many continue to offer ongoing education and virtual tools. Pray about which organization best fits your vision and convictions about racial justice and reform, and then offer your support any way you can.
3. Voice your concerns to a politician through advocacy and voting.
Advocacy and policy change has moved mountains in our country. But, we still have many mountains to move. Two ways to make your voice heard are advocacy and voting.
Advocacy lets you voice concerns and priorities to your members of Congress. If you're not sure where to start, review the AND Campaign's Steps for Christian Civic Engagement on Racial Injustice and ways to get involved.
Also, voting is another powerful way to make your voice heard. Local and national elections are crucial times to express what's on your heart. A few first steps involve registering to vote if you haven't yet and showing up to the polls or voting by mail when it's time to cast your vote.
Creating change from home
It can be difficult to stay at home and not join up with others when you long to be magnifying the God of justice, but if your health requires you to stay at home, there are many ways to be heard.
To learn more about becoming a collective agent of change and ways to take action against racism during COVID-19, download the free guide, "The Black Church in Action Against Racism During COVID-19."
Theon E. Hill serves as Associate Professor of Communication at Wheaton College where he teaches and researches on the intersections of race, faith, and politics. His work has appeared in media outlets and popular blogs including The Atlantic, Chicago Tribune, Christianity Today, Faithfully Magazine, and The Front Porch.
Danielle Ripley-Burgess is a two-time colon cancer survivor first diagnosed at age 17, an award-winning communications professional and author of "Blush: How I barely survived 17." She previously served alongside the Humanitarian Disaster Institute at Wheaton College as a communications strategist.
The Better Samaritan is a part of CT's Blog Forum. Support the work of CT. Subscribe and get one year free.
The views of the blogger do not necessarily reflect those of Christianity Today.