Life is More than Wall Street: Lessons on Leadership and Loving Others
With over four decades of leadership, learn how Atul Tandon ended up in pursuit of humanitarian work and speaks to building others up.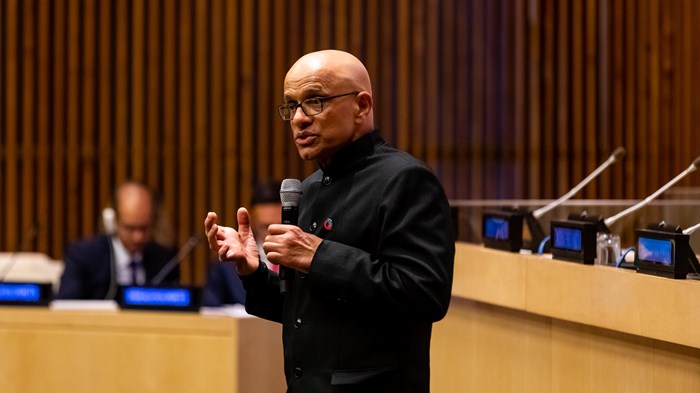 Over four decades of leading organizations and managing businesses, I have had the great pleasure of serving an incredibly diverse group of people. From some of the wealthiest families and individuals in the world to those living in extreme poverty; from my hometown of Delhi to New York City to Darfur; from Wall Street to Main Street to the dirt paths of villages in rural Africa.
Growing up in a family of limited means in India, but with parents dedicated to pursuing excellence for their children, I became the first person in my family to go to business school. What followed was a textbook case of rapid growth: management training, followed by launching a start-up, and then joining Citibank's first foray into consumer banking in India, a program that turned out to be amongst its most successful worldwide.
It was a breathtaking journey, introducing essential consumer banking services like ATMs, credit cards, mortgages, consumer loans, and even remote banking to India's emerging middle class in the 1980s. Citi then brought me to the United States in the 90s to help turn around its businesses impacted by the S&L crisis, and eventually, I ended up at the bank's headquarters in New York City, serving on the global leadership team for the bank's consumer businesses.
By the world's standards, I had reached the pinnacle, but at 40 years old, I found myself asking a different question: What kind of work brought my heart the deepest satisfaction and the greatest joys? And was I engaging in that work?
My answer, as a person of faith, came from God's long-standing call to love our neighbors—to seek the welfare of the poor, the widow, and the foreigner. To not only emulate the Good Samaritan and give a hand to the person left hurting on the side of the road, but to follow both Mahatma Gandhi and Martin Luther King Jr. in their adjuration to repair the Jericho Road itself, so all could travel safely.
Trying to take the business training of 20 years on Wall Street to help those living in poverty find a way up and out was neither straightforward nor intuitive. It took decades of work leading big and small humanitarian organizations, and thousands of hours spent with our field staff and families struggling to make ends meet, to bring the two worlds together—to reach a point where one could inform the other, making both better. This journey has taught me—and is still teaching me—so much about how to lead, serve, and walk in obedience.
As I look back over my career, here are a few of the key lessons I continue to learn:
People matter.
At the end of the day, if you want to build great things and achieve great success, start by investing in people. This realization only became obvious when I studied my own heart; God cares more about people than he does our achievements.
Is your team able to achieve more than they thought possible? That is the mark of a great leader. It's people who make things happen, not organizations!
Build great teams.
Just as the individual people around you matter, so do the teams you build. Find people who feel just as strongly as you do about the mission at hand. Surround yourself with a team that shares the same values and vision, and has the raw skills and talents you need, and most of the rest will fall into place.
Operate with clear motivations and principles.
I am continually reminded that my work follows a cycle—and that cycle starts with clear principles. Principles create a vision, which helps you craft plans. With plans, you move to implementation, evaluation, and learning—and then you start all over again. Cloudy principles lead to cloudy results, but being clear upfront will create a guide for everything you do moving forward.
"God has not called me to success, but to faithfulness"
I return to this Mother Teresa quote time and again. It captures a liberating yet powerful principle—my daily task is to do my best at what I am called to do, do it smartly, do it well, do it to build up those around me, and to do it joyously; not to let "success" be my sole focus. The psalmist's prayer is for God to "bless" the work of our hands, not for the work of our hands to be "successful." This has been one of the most difficult yet enduring lessons of a long career.
The greatest power we have is in loving our neighbors.
We find lasting joy, deep satisfaction, and true success when we love our neighbors. I think often of one of Opportunity International's clients, Linda Nyarko, in Accra, Ghana. She started her career baking six loaves of bread each day in a single oven under a tree. Now, she runs a successful bakery that employs dozens of people and produces thousands of loaves of fresh bread every day, distributing all over the city's bustling markets. When Covid-19 lockdowns shut down her bakery, Linda called me, and, in her broken English, said: "In times of hunger, I will not let my staff go hungry. In times of plenty, I'll share my success." This is what it means to be a great leader—and this is what it means to be successful.
Forty years in, I'm still learning these lessons each and every day. I'm still a student—of my colleagues, my mentors, my peers, and the incredible people we serve. And I look forward to learning from you.
The Jericho Road is still marked with challenges, but what an honor to spend our lifetimes making that road a bit easier for those that come after us—and to learn from others as we make our way.
Atul Tandon is CEO of Opportunity International, a global organization working to end extreme poverty through financial services, training, and support. Atul leads Opportunity's efforts to help families build sustainable livelihoods and end generational poverty by helping ensure children receive high-quality education. 
The Better Samaritan is a part of CT's Blog Forum. Support the work of CT. Subscribe and get one year free.
The views of the blogger do not necessarily reflect those of Christianity Today.