Patrick Johnstone, international director for research at WEC International, is the author, with Jason Mandryk, of the 2001 edition of Operation World. The phenomenally successful prayer guide has gone through six international editions and sold more than 2 million copies (see official site). In a telephone interview with Associate News Editor Stan Guthrie, Johnstone discussed world missions trends in light of September 11.
What is the missions fallout from September 11?
It is quite plain how antipathetic the majority of the Afghans are to all that the Taliban were seeking to do. So we have hope and prayer that this might yield good opportunities for Christians. As for the wider implications, the greatest challenge is not so much what some are calling the "clash of civilizations," the Muslim-West clash. The biggest conflict is going to be between the largely silent Muslim majority and the very vocal Islamist minority. The Islamist minority now has center stage. It has done a lot towards winning the propaganda war, and sometime or somehow the Muslim majority is going to have to speak clearly from a theological and social perspective about what needs to be done about the future. Otherwise, relationships could be very difficult between the Muslim world and the non-Muslim world.
What makes you think that there is a silent Muslim majority?
Because of the way Islam is built up. It's very hard to find in Sunni Islam—as opposed to Shi'a Islam—a spokesman who can speak out clearly on theological positions. And to make matters more difficult, if somebody expresses a moderate position, he is putting his head above the parapets and may be threatened with death.
But what makes you think the majority isn't behind some form of radicalism right now?
I think that in the hearts of many, many Muslims there's a tremendous fear that the Islamists might gain control. But they dare not say it because it looks un-Islamic. I'm leaving aside the Palestinian issue and speaking now in more general terms. In Indonesia, the majority of Indonesian Muslims are horrified by what the extremists are doing. The same is true in many Muslim countries. Many of the leaders of the Muslim world may have to speak against what the West is doing, but they're longing for the West to win, because their own heads might be lost if the West doesn't succeed.
Muslims know that there's something wrong and they're unhappy with the situation but dare not articulate it. But I think many are going to be open to the claims of Christ as a result.
What makes you say that—recent history?
Over the last 10 or 15 years there hasn't been a huge rush of [Muslim] people coming to Christ, but it has certainly picked up speed. The Islamist pressure has accelerated it. At the time of the Iranian revolution in 1979, there were very few Christians who came from a Muslim background in Iran or outside it. But with those who fled and even those who remained, the level of interest greatly increased, and the number of conversions greatly increased from what it was. We're only speaking of thousands, but they were in the hundreds before. And so the very fact of the Ayatollah [Khomeini] and what he has done has made many Iranians more open for the gospel. That's true inside Iran and outside. And right across the Muslim world there are, here and there, those who are coming to Christ in larger numbers. And so my expectation and trust is that the September 11 incident is actually going to open up many more Muslims to the gospel.
You've said elsewhere that September 11 may greatly reduce what you call "Christian tourism," or the high number of short-term missions trips offered through North American churches and missions agencies. Do you still think so?
The point for Christians is that it's now not just a simple matter of "Oh, I'll go to that country for a visit." You've got to seriously consider whether to go, because there is an element of danger. This is going to lead to a much more serious contemplation about traveling overseas, especially in countries where there's a significant Islamic presence. Therefore, my suspicion is that the season of easy Christian "tourist" visits may have largely passed.
Well, that's going to have some significant repercussions, considering the tremendous growth of this kind of ministry in the last two decades.
Yes, and I think it's going to cause a lot of rethinking. I would hope that it does lead to much more serious long-term strategizing.
Do you think mission agencies are going to focus a bit more on long-term ministries? Or will this development spell the end of some agencies?
I think that those who are involved in solely short-term ministries might have to really look very carefully at their programs to make them relevant. I would hope that it does lead to a longer-term commitment. As a result of September 11, I see a much greater seriousness about our faith and our actions. I trust that leads to more effective outreach.
You have also said that the hand of tyrannical regimes has been greatly strengthened by September 11 and the desire to build an international coalition against terror. Please explain.
I'm glad to see that there are discussions going on between the Russian leaders and the Chechens. But basically the Russians have felt less pressure from the West on their human-rights record and military actions in Chechnya. The Chinese have felt freer to put pressure on restive minorities. The Sudanese have now come back into favor, to an extent, with the U.S.A., and the oil companies are free to carry on. That oil money is pouring into Sudan, and it's being used [by the Islamist government] to buy weapons to suppress the south, and nobody says anything. The fact of September 11 has helped those systems with repressive tendencies for [their brutality] to be accentuated without so much fear of publicity. Robert Mugabe is actually destroying his own country [Zimbabwe] for the sake of political gain. He has had much more freedom to take actions since September 11, because the world's press is not noticing. This particular war has lessened human rights pressures on many countries with repressive tendencies.
You've also said that we need to study martyrdom more intensely. What do you mean?
Many Christians are now being persecuted at a level few would have expected 10 years ago with the collapse of [Soviet] communism. And now the levels of persecution are quite intense in many countries. So it's a very serious thing to contemplate ministry in countries where that is happening. And more than that, I think we are going to face increasing pressures in Western countries, too—maybe a more subtle form of persecution—ostracism, marginalization, and so on. And we have to take seriously the fact that to follow Jesus is not a picnic. It's serious. And therefore, we need to get back to the ideas that suffering and persecution are perfectly normal for Christians, and that supernatural deliverance from all evil is not a normal expectation for Christians. Praise God for deliverances, but these are often exceptions. The whole concept of walking with Jesus and bearing our cross and following him is going to mean rejection and hatred by the world.
Stan Guthrie is Associate News Editor for Christianity Today.
Related Elsewhere:
Also appearing on our site today:
Doors into Islam | September 11 has only intensified the dangers and rewards of Muslim evangelism.
Article continues below
Deconstructing Islam | Apologist Jay Smith takes a confrontational approach.
Previous Christianity Today articles on Islam and evangelism to Muslims include:
Outpaced by Islam? | The Muslim challenge is growing faster than our Christian outreach. (Feb. 4, 2002)
Letter from a Muslim Seeker | Christians aren't the only ones asking 'Why?' after September's tragedy. (Dec. 5, 2001)
Is the God of Muhammad the Father of Jesus? | The answer to this question reveals the heart of our faith. (Feb. 1, 2002)
Does God Hear Muslim's Prayers? | We must remember that God does not deal with theologies; he deals with persons. (Feb. 1, 2002)
Is Islam a Religion of Peace? | The controversy reveals a struggle for the soul of Islam. (Dec. 28, 2000)
A Many Splintered Thing | Though Muslims shared allegiance to Muhammad and to the Qur'an, Islam faced division as soon as the prophet died. (Dec. 28, 2000)
In 2000, Christianity Today focused on Muslim-Christian relations in a series by Wendy Murray Zoba. Articles included:
Islam, U.S.A. | Are Christians prepared for Muslims in the mainstream?
Islamic Fundamentals | Christians have a responsibility to understand our Muslim neighbors and their beliefs.
How Muslims See Christianity | Many Muslims don't understand Christianity—especially the idea of salvation by grace through faith.
Engaging Our Muslim Neighbors | The Church faces a challenge not just to understand Muslims, but to befriend them.
A 1996 article in International Journal of Frontier Missions, (PDF), gives great background on the work of Samuel Zwemer, The Apostle to Islam.
Answering Islam has a page of essays and articles on "The Christian Witness to the Muslim."
Other Christian sites discussing Muslim beliefs about Jesus and Christianity are available at The Muslim-Christian Debate, Campus Crusade for Christ, and FarsiNet.
Muslim perspectives on Jesus and Christianity are also ubiquitous online. They include Al-Sunnah, Harakah, Islam 101, Answering Christianity, and WhatIsIslam.com
Adherents.com is the place to go for statistics related to the adherents of any religion.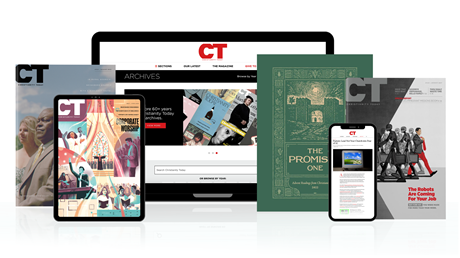 Subscribe to Christianity Today and get access to this article plus 65+ years of archives.
Home delivery of CT magazine
Complete access to articles on ChristianityToday.com
Over 120 years of magazine archives plus full access to all of CT's online archives
Subscribe Now
September 11 Prompts Sober Missions Thinking
September 11 Prompts Sober Missions Thinking