Arecent survey offers evidence that American churchgoers and clergy recognize the complexities and ambiguities of the war in Iraq.
While 57 percent of those who attend church at least once per month say they are hearing about the war from their clergy, only 21 percent said their clergy have communicated a position for or against the war—7 percent said their clergy had spoken in favor of the war, while 14 percent said their clergy were against the war. Some 37 percent had spoken about the war without taking a position, and 41 percent had not mentioned it at all.
The survey, conducted March 13-16 by the Pew Forum on Religion and Public Life, was completed before the hostilities began last week. Undoubtedly more clergy spoke about the war last Sunday, since it was by then a current reality.
But the nation's clergy have clearly changed since the days of the Vietnam War when voices of "My country right or wrong" clashed with voices of "War—what is it good for? Absolutely nothing!"
Today, most clergy are more nuanced in their positions.
The survey shows that only a small minority (15 percent) of Americans believe that war is never justified. The question for the 85 percent: Is this war justified?
There has clearly been a reluctance to label this "a holy war" or to claim that "God is on our side" and against the Iraqi people. Neither President Bush nor the nation's clergy are presuming God's preference for one nation over another.
In fact, many clergy have not felt the obligation to pronounce this war justified or unjustified. The war is now simply a tragic fact, and a reason to pray.
Pastor Doug Osness of Centennial Community Church in Denver, Colorado, was no doubt representative of many U.S. clergy yesterday, when he invited the congregation to pray for the nations involved in the war, for the leaders and military personnel of the Coalition forces, "and for the Iraqi people who are carrying the heaviest burden in this conflict."
If for 85 percent of Americans, war is sometimes a tragic necessity, there is certainly unanimity among the clergy that their churches can pray that the war will be short, and that peace and justice will prevail, recognizing that all nations stand under the love and judgment of God.
Marshall Shelley is editor of Leadership.
Related Elsewhere
For more articles, see Christianity Today sister publication Leadership and CT's church life archive.
Previous Christianity Today articles and commentary on the current war with Iraq include:
Article continues below
Peacemakers Seek to Show War from Point of View of Iraqi Civilians | Six Christian Peacemaker Team members remain in Iraq as bombs drop. (March 21, 2003)
Speaking Out: Where Do We Go From Here? | Now that the bombs are falling, we'll need to repair Iraq—and our nation's moral standing. (March 21, 2003)
CT Classic: Weeping over Baghdad | Desert Storm cost Iraq thousands of lives. At its conclusion, a Christianity Today editorial called for the church to deal with the living souls that remained. (March 21, 2003)
War Could Reduce Holy Land's Christian Presence | Palestinian bishop fears current hostilities could continue a trend that sees Christians forced out of the area altogether. (March 21, 2003)
Weblog: Will War Breed Hate Crimes Against Muslims, Christians, or Both? | Plus: PCUSA court criticizes leader but dismisses charges, and other stories from online sources around the world. (March 20, 2003)
Weblog: Clergy Respond to Bush's Ultimatum to Saddam | Plus: Banning hot cross buns, Slate says Rick Warren "does a subtle violence to the rigors of belief," and other stories from online sources around the world. (March 18, 2003)
Standing for Peace on the Eve of War | Christian group seeks nonviolent solution in Iraq. (March 12, 2003)
Weapons of the Spirit | Regardless of their positions on Iraq, Christians have much they can do. (Feb. 25, 2003)
Just War in Iraq | Sometimes going to war is the charitable thing to do. (Dec. 10, 2002)
Keeping Their Heads Down | Vital but dwindling Christians face many pressures. (Nov. 8, 2002)
Bully Culprit | Can a pre-emptive strike against the tyrant of Baghdad be justified? (Sept. 30, 2001)
Christian Leaders Respond to Bush's National Security Strategy | The White House outlines foreign policy in a changing world. (September 25, 2002)
Is Attacking Iraq Moral? | Christian leaders disagree, too. (September 4, 2002)
A downloadable Bible study on the implications of war with Iraq is available at CurrentIssuesBibleStudy.com. These unique Bible studies use articles from current issues of Christianity Today to prompt thought-provoking discussions in adult Sunday school classes or small groups.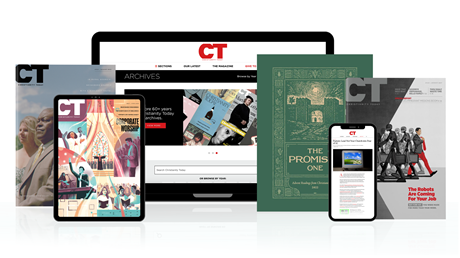 Subscribe to Christianity Today and get access to this article plus 65+ years of archives.
Home delivery of CT magazine
Complete access to articles on ChristianityToday.com
Over 120 years of magazine archives plus full access to all of CT's online archives
Subscribe Now
War Isn't Being Waged From the Pulpit
War Isn't Being Waged From the Pulpit