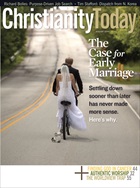 This article is from the August 2009 issue. Subscribers can read all of CT's digital archives.
FOR THE GLORY of God is the human person fully alive, and life consists in beholding God. For if the vision of God which is made by means of the creation, gives life to all living in the earth, much more does that revelation of the Father which comes through the Word, give life to those who see God.
Irenaeus, Against Heresies
MAY I KNOW me! May I know thee!
Augustine, Soliloquies
ABIDE IN THE VINE. Let the life from him flow through all your spiritual veins.
Hannah Whitall Smith, The Christian's Secret of a Happy Life
GOD CANNOT be understood by logical reasoning but only by submission.
Leo Tolstoy, Wise Thoughts for Every Day
AS WE UNITE with God, we are invited into bonding rather than bondage.
Flora Slosson Wuellner, in Weavings
I BRING my void here for filling;it is my poverty God needs. With my want the Lord builds palaces.
Kilian McDonnell, from "A Place to Hide: Light On," in Weavings
GOD CAN'T CLEAN the house of you when you're still in it.
Anne Lamott, Grace (Eventually)
RECEIVING FORGIVENESS requires a total willingness to let God be God and do all the healing, restoring, and renewing.
Henri J. M. Nouwen, The Return of the Prodigal Son
IF A MAN HUMBLES himself, God cannot withhold his own goodness but must come down and flow into the humble man, and to him who is least of all he gives himself the most of all, and he gives himself to him completely. What God gives is his being, and his being is his goodness, and his goodness is his love.
Meister Eckhart, Sermon 22
I ON YOUR PATH, O God
You, O God, on my way.
Celtic walking prayer
IT IS NOT ONLY PRAYER that gives God glory but work. Smiting on an anvil, sawing a beam, whitewashing a wall, driving horses, sweeping, scouring, everything gives God glory if being in his grace you do it ...
1
Our digital archives are a work in progress. Let us know if corrections need to be made.
Our Life with God