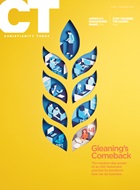 This article is from the July/August 2019 issue. Subscribers can read all of CT's digital archives.
Twenty Christians in Burkina Faso died in four terrorist attacks in four weeks last spring. Gunmen raided an Assemblies of God church and two Catholic churches during Sunday services, executing the leader each time, before vandalizing their buildings. Another ambush came during a weekly Catholic procession, killing four. The raids follow three years of mounting jihadist violence in the West African nation—which is approximately 60 percent Muslim and 25 percent Christian—but are considered the first to directly target houses of worship. The Assemblies of God in Burkina Faso stated the shift represents "a new turning point in terrorism" and have called for peace and unity.
China's persecution of Christians and other faiths belongs in a category unto itself, according to the annual report of the United States Commission on International Religious Freedom (USCIRF). The commission has condemned China's violations for 20 years straight but never as strongly as in the 2019 report, which notes the communist country's moves to shutter underground churches, jail pastors, and arrest human rights activists. USCIRF urged the US to hold China accountable. The report also named Burma, the Central African Republic, Eritrea, Iran, Nigeria, North Korea, Pakistan, Russia, Saudi Arabia, Sudan, Syria, Tajikistan, Turkmenistan, Uzbekistan, and Vietnam as the top religious freedom violators.
Pakistan: Asia Bibi leaves, another Christian fights blasphemy sentence
After nearly a decade living in a country where courts wanted her condemned to death and rogue clerics wanted her killed ...
1
Gleanings: July/August 2019
Gleanings: July/August 2019