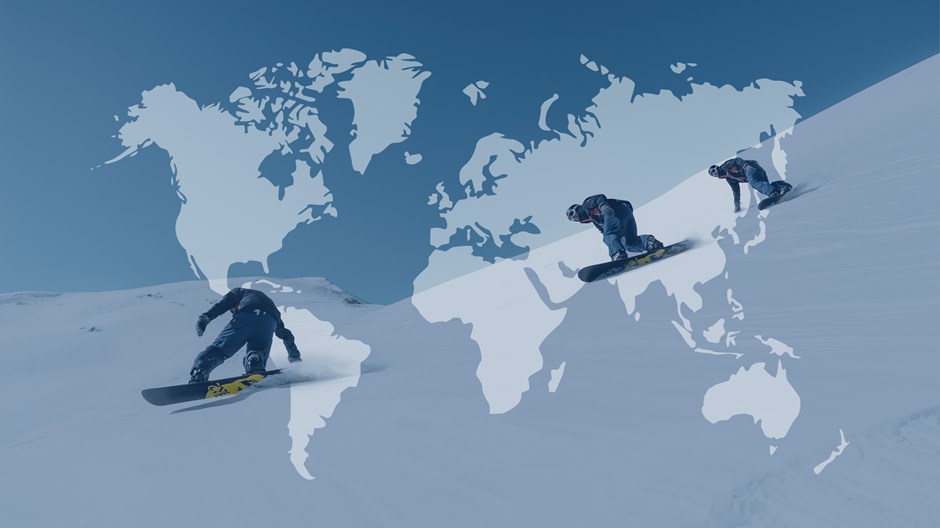 Evangelicals align against Evo Morales
Evangelical leaders say it was spiritual warfare that ousted Bolivian President Evo Morales, who stepped down in October amid protests against electoral fraud. The Secretary General of the Spanish Evangelical Alliance said prayer woke the country up, pointing to Luis Fernando Camacho, a leading opposition activist who posted a picture of himself with a Bible in the presidential palace. "Our fight is not with weapons," Camacho wrote. "I go with my faith and my hope, with a Bible in my right hand and his resignation letter in my left hand." Critics have called it a coup. The National Association of Evangelicals of Bolivia is asking for continued prayer.
Paula White, a televangelist associated with the prosperity gospel, has been named to an official position at the White House, joining the Faith and Opportunity Initiative in the Office of Public Liaison. White has become one of Donald Trump's go-to spiritual advisers since she joined his election campaign in 2016. At Trump's announcement that he would seek a second term in 2020, White prayed against "every demonic network who has aligned itself against the purpose, against the calling of President Trump." Both George W. Bush and Barack Obama established faith outreach offices early in their presidencies, but Trump has not done so, until now.
Sudan government plans to return seized church property
Sudan's minister of religious affairs said property stolen from Christians will eventually be returned through the courts. The minister, Nasr al-Din Mufreh, criticized former President Omar al-Bashir, who was ousted last April, for "very bad practices," including denying legal rights to non-Muslims. In the statement, Mufreh invited Jews to return to the country and agreed with the Sudanese Church Council that all seized church property should be restored. Mufreh's comments were encouraging to Christians who hope the transitional government will usher in a new period of religious freedom.
Chick-fil-A announced plans to end charitable giving to some Christian organizations, including the Salvation Army and the Fellowship of Christian Athletes, amid concern over LGBT backlash as the fast-food chain expands into new markets. The move leaves some evangelicals feeling betrayed. In 2012, chief operating officer Dan Cathy made statements against same-sex marriage, and conservative TV commentator Mike Huckabee rallied conservatives to support Chick-fil-A. The company has since become a political icon, patronized and boycotted for its stance on LGBT issues. Tim Tassopoulos, current chief operating officer, has made moves to depoliticize the Georgia-based brand.
Northern Ireland's longstanding abortion restrictions were overturned after lawmakers failed to reconvene to block a measure passed by the United Kingdom. Evangelicals and Catholics both lobbied the assembly to meet to stop the law from going into effect, but were unsuccessful. Northern Ireland hasn't had a functioning regional government since 2017, when the ruling coalition of nationalists and unionists fractured. Northern Ireland had perhaps the most restrictive abortion laws in Europe, making no exceptions for rape or incest. Women seeking abortions faced criminal prosecution. The new rule will allow abortion for any reason, including gender and disability. The law takes effect in March.
Aramean Christians won a legal victory in the Israeli Supreme Court in September, furthering their efforts to establish their historic identity and differentiate themselves from Arab Christians. Arameans can now choose to send their children to either Jewish or Arab schools, and local municipalities must provide transportation. The plaintiffs in the case were concerned Arab schools were "Islamized" and argued that municipalities already pay to bus Jewish students to Jewish schools. Arameans, who speak Aramaic and identify as descendants of Jesus' earliest followers, say the imposed Arabic identity unfairly lumps them together with the Palestinian minority. Some activists hope to build an Aramean school soon.
Protesters march for peace after church attacks
Millions marched for peace in Ethiopia, protesting the violence against the Orthodox Tewahedo Church and rising ethnic conflicts. More than 30 churches have been attacked by mobs in the past two years. Thousands have been displaced by widespread conflict across the Oromia region, and 86 people were killed in October, after Prime Minister Abiy Ahmed, a 43-year-old evangelical, won the Nobel Peace Prize. The violence has caused some to question if the prize was premature. Abiy is up for reelection in May and faces opposition from some prominent former supporters. He is urging the country to embrace unity. Muslim and Protestant protesters joined the Orthodox in a show of unity and called for Abiy to do more.
Three leaders of the creation care movement died in a car accident in South Africa. The car—carrying A Rocha cofounders Peter and Miranda Harris, CEO Chris Naylor, and Naylor's wife Susanna—flipped over a bridge and into a river. Only Peter and the driver survived. A Rocha was founded in 1983 and focuses on science research, practical conservation, and environmental education rooted in biblical faith that God made the world and entrusts it to human care. The group now works in 21 countries. In South Africa, A Rocha is helping with environmental management of the Umgeni river catchment.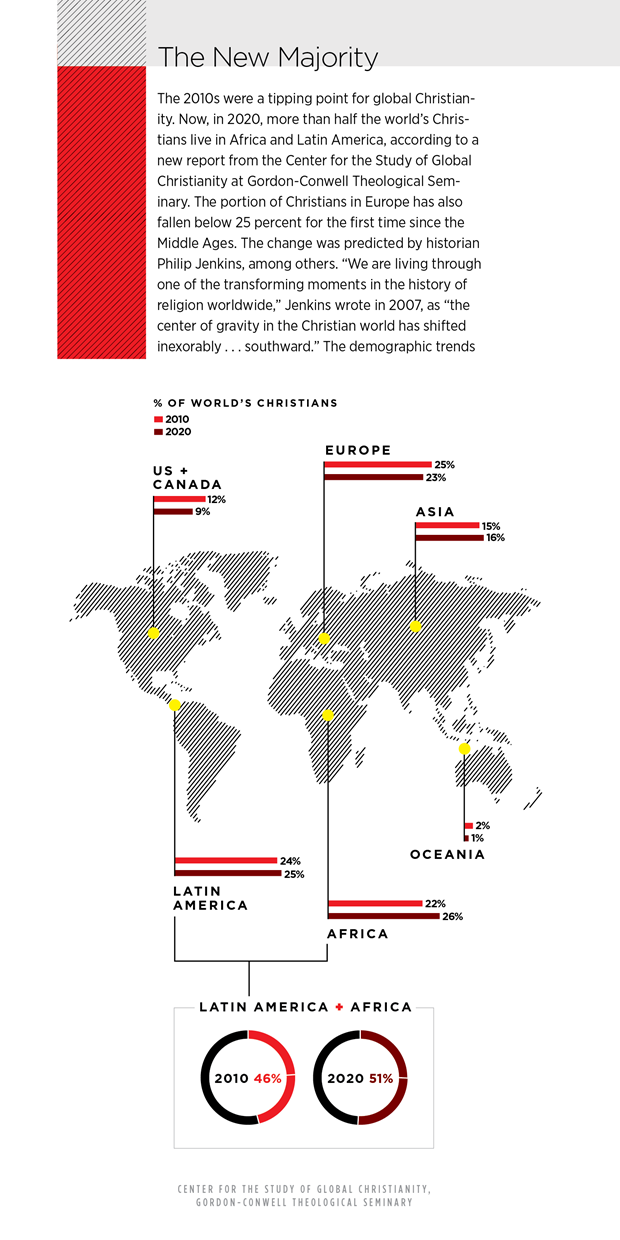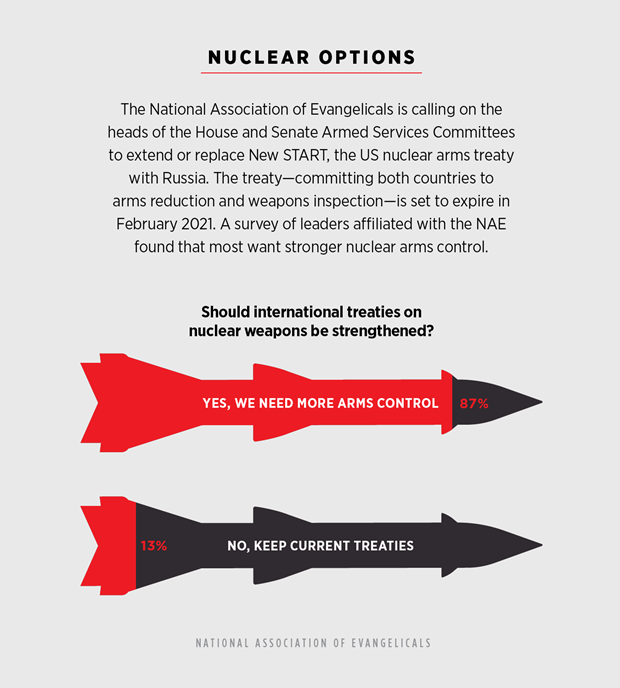 Have something to add about this? See something we missed? Share your feedback here.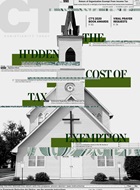 This article is from the Jan/Feb 2020 issue.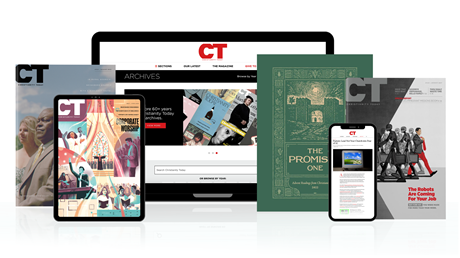 Subscribe to Christianity Today and get access to this article plus 65+ years of archives.
Home delivery of CT magazine
Complete access to articles on ChristianityToday.com
Over 120 years of magazine archives plus full access to all of CT's online archives
Subscribe Now
Gleanings: Jan/Feb 2020
Gleanings: Jan/Feb 2020