The Surprising and Beautiful Solution for a Dying New Jersey Church
An interview with Judy Broker, Pastor of Friends to Friends Community Church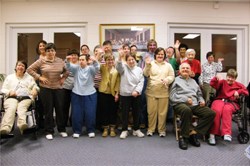 A church in Northern New Jersey has changed its name to reflect the reality which has unfolded over the last 20 years: People with disabilities are at the center of this church's ministry and mission. I spoke with pastor Judy Broker about this very unique congregation.
When did this ministry begin?
The First Reformed Church of Ridgewood was a dying congregation of approximately 40 elderly people. The interim had spent about 18 months trying to close the church, but the membership wouldn't hear of it. He told me that the church was, in effect, already dead. He said all I had to work with was a little bit of money and a building. I had started a ladies' Bible study, and during my first Advent with the church decided to focus on prayer and asking God, "Why is this church still here?"
And what did you discern? Why do you think the church was still there?
During this time I received a check for $100 from a neighboring Presbyterian church. It was made out to the church, but I was asked to give it to the Sunday school class meeting in the building. This class was started back in the sixties by a group of mothers who wanted their children with disabilities to know Jesus. Not wanting to meet in a church any of them belonged to, they came to the First Reformed Church of Ridgewood and asked to attend half the worship and then, before the sermon, they would leave for Sunday school downstairs. At that time there were about 30 children involved.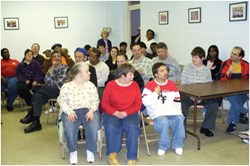 They left the church after the last pastor left and the interim came, thinking the church would close. When the church did not close, and I came, they asked to come back. The children were now grown up, and there were only six students left.
Shortly after, the teacher died and I began to reach out into the community, introducing myself to agencies and group homes to see if others were interested in coming. The first year we offered one service a month in place of our traditional worship and the next year we offered a "Friends to Friends" worship every Sunday night.
More and more churches are and organizations are reaching out to folks with disabilities, but I haven't seen a lot of churches where they're truly at the center of the community's life together. Say more about that...
I'd rather not. Judging another church for what they do or don't do isn't really my job. I will say that people with disabilities have a lot to offer all of us, and it is sad when those gifts are not utilized by the church. Scripture often points out how Jesus used people with disabilities to teach about the kingdom. I wonder what we are missing by not seeing in this group of people what Jesus saw in them.