The Africa Paradox—and how One Man is Working on it in Liberia
In the beautiful continent of Africa, food insecurity is still an ever-growing problem. Learn how the HDI program equipped a student with a desire to bring change and respond to God's call to care for the earth.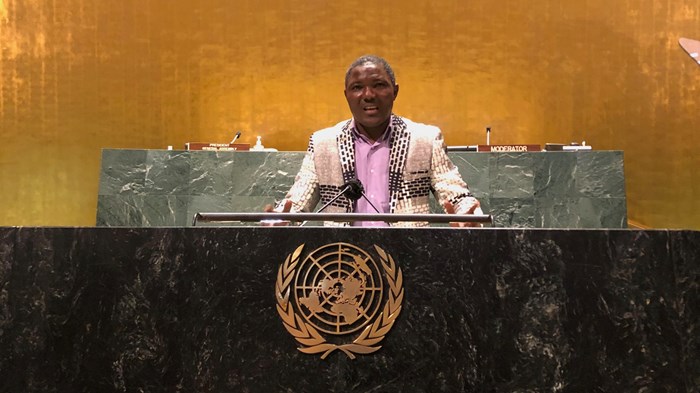 According to the World Food Program, "there are 45 million people in 43 countries at the 'emergency' phase of food insecurity in 2021, just one step away from a declaration of famine. The number of people who are food insecure has increased by a staggering 4.5 million in the last year alone."
I think we have been commissioned by God to cultivate the earth and to be fruitful. The Biblical account reminds us in Genesis 41:33-36 when there was a severe famine in Egypt where Joseph recommended men of discernment and wisdom be put in charge to provide food security during the famine. The principles and values of Christ have helped me greatly over the years to bring a holistic change within my nation Liberia and across the globe.
I do believe that the continent of Africa is very rich with great soil, climate, and human resources but paradoxically we continue to suffer severe food insecurity as the result of bad leadership, dependency/aid mindset, growing amount of unrest/civil war, and corruption.
The Humanitarian & Disaster Leadership graduate program at Wheaton College empowered me to do effective humanitarian services holistically—services that do not create a sense of dependency by destroying communities and societies, but create a healthy and safe environment to help communities to mitigate, prepare, respond, and recover from disasters. Those skills have helped me serve my country Liberia, South Africa, and the United Nations.
To mitigate food insecurity, I think the government should be doing the following:
Create an environment to empower farmers with the requisite skills, resources, and technology that will also provide good irrigation systems due to climate change. This way, farmers can graduate from subsistence farming to merchandise farming and develop a storage system to save perishable food items.
Prioritize agriculture on the national budget and intentionally fight against corruption that has over the years undermined the development of Africa and our economy.
Develop leaders and communities that will break the dependency mindset and create the environment where we can graduate from an aid mindset to a development mindset. The change of Africa can only be sustained by Africa through a win/win partnership from the international community with proper accountability that will definitely produce food security within the continent.
I had the privilege to volunteer with the United Nations Volunteer program which then connected me with Compassion Soul Winners Outreach International (CSWOI). This organization has special consultative accreditation with the United Nations to help them develop partnership, networking and fundraising for their agriculture and education project in Johannesburg, South Africa.
During my volunteer service with CSWOI, I was appointed by the CEO to attend the United Nations Disaster and Climate Change virtual and in-person meetings held in New York. Some of my reflections from this session include some recommendations I made. During my attendance of the virtual session, I highlighted the following to the CSWOI Team and the CEO which led to my appointment as Ambassador of CSWOI to the United Nations.
Below were my recommendations to CSWOI:
Unless we can have a transforming concept about climate change which is also responsible for food insecurity and other disasters, we cannot address the issues of poverty, starvation and famine across the globe. We have to be intentional about partnership and networking as it is a global issue facing humanity.
We need to have a difficult, healthy conversation about the issues of climate change no matter our perspective. We also need to be intentional in our approaches as we need collaboration by all nations across the globe if we must live out our responsibility to fight food insecurity and many disasters.
Innovation is an important element in addressing climate change, food insecurity, and many other disasters across our various nations. Innovation will help us become very proactive in mitigating climate change, food insecurity and other forms of disasters.
If we care for nature as it is commanded by God to cultivate the earth, nature will care for us. Our actions are our future. As Humanitarian Disaster Leaders, it is time to move from discussion to action. The journey will be challenging but with strong partnership, we can overcome and make our world a better place for the next generation to come.
I do believe that sustainable development and growth can only take place when we decide to take responsibility and own the process of our growth and development. I believe it is time for us to grow from aid to sustainable development. The change of Africa can only take place when we are able to own the change and partner with other nations to create the Africa we desire.
I believe with God on our side, we will get there, but it starts with this generation. I would like to extend my thanks and appreciation to the Wheaton College Graduate School Humanitarian and Disaster Leadership MA Program for equipping me with the requisite skills to bring holistic transformation to the nations of the world.
George Blamoh is earning a M.A. in Humanitarian Disaster Leadership from Wheaton College, with an expected graduation in 2022. He now serves as Country Director for the Association For Life of Africa-Liberia, and won the 2019 Oscar Johnson Award for Excellence in Scholarship & Service.
The Better Samaritan is a part of CT's Blog Forum. Support the work of CT. Subscribe and get one year free.
The views of the blogger do not necessarily reflect those of Christianity Today.