true
If you can read this, you're probably not waiting in line at a movie theater. If you don't know why people might be waiting in line at a movie theater, you need to come out of that fallout shelter. Fans have been anxiously anticipating the release of The Matrix Reloaded ever since the house lights came up at the end of 1999's blockbuster, The Matrix.
The Matrix is surely the most overanalyzed movie since they invented Christian film critics. Type Matrix and Christian into a search engine and you'll come up with 13 pages of books and college seminars, youth group studies and evangelism strategies. The Christian themes in the film are so obvious that even nonbelievers can spot them across the room. A site that offers free essays to kids who cheat on their homework includes one with this title: "Christian Themes in the Matrix."
What are those themes? That this world is in the power of an evil force. It devours humans, while keeping them distracted with material pleasures. A small band of brave humans know the truth, and seek to free the race from destruction. Neo, "the One," is clearly the savior. (This role is a bit of heavy lifting for Reeves, who is not the most thoughtful of actors, but the first half of The Matrix is ideal for his talents. Reeves can be effortlessly convincing at portraying a confused person.) In the first film, Neo dies, rises from the dead, and rockets skyward making threats that sound more Terminator than Life-Giver. Neo is attended by Morpheus, who fills a John the Baptist role, and a brave young woman named Trinity. The underground camp of free humans is called Zion.
You get the picture. It's a mix of names and themes from many religious traditions, and hardly the screen equivalent of a Four Spiritual Laws tract. But the presence of any Christian resonances in a mainstream movie is so intoxicating to some Christians that they embraced it with glee.
But I believe there's one big flaw in the Matrix's theology. It's the idea that the beauty of creation is a deceptive lie, generated by evil forces. Real reality, the way Neo and the others discover it, is ugly, dirty, and gray. The temptation they must resist is the desire to return to the illusory world of flowers, birdsong, and sizzling steaks. Courageous humans instead must remain resolutely in their muddy realm, wearing their dingy clothes. (Not to be a pest, but if the struggling liberated humans can have clothes that are brown and gray, why can't they have clothes that are purple and green? And if they can whisk all around the time-space continuum, why can't they locate a Laundromat?)
It might occur to you that this actually sounds more like Hinduism than Christianity. Christians don't believe that this whole world is deceptive illusion (maya). We believe that it is created good—very good—and filled with the presence of God. "The heavens are telling the glory of God" (Psalm 19:1). All creation reveals his presence. It isn't saying, "Look over there!" to keep us distracted from him.
In fact, the testimony of saints through the ages is that, the closer you draw to God, the more the beauty of reality unfolds. Puritan preacher Jonathan Edwards wrote that in prayer "God's excellency, his wisdom, his purity and love, seemed to appear in everything; in the sun, moon, and stars, in the clouds and blue sky; in the grass, flowers, trees, in the water, and all nature." Catholic poet Gerard Manley Hopkins wrote, "The world is charged with the grandeur of God; it will flame out like shining from shook foil." Quaker founder George Fox found that, after his conversion, the world smelt different.
The world that The Matrix presents as "real" is the phony one. It is made in the image of a vague romantic idea that "facing reality" means embracing grim, unpleasant truths, and beauty is a trap to distract us. But God clothed the lilies of the field in splendor, because it shows what he is like, and indicates what he has in mind for us too. Creation has not been made beautiful in order to distract us from uglier truths, but to awaken our desire for the one who himself is Truth. Reality is not opposed to beauty. Beauty is the secret of God's living, breathing presence in our midst.
Frederica Mathewes-Green is the author of Gender: Men, Women, Sex, Feminism, The Illumined Heart: The Ancient Christian Path of Transformation, At the Corner of East and Now, and Facing East: A Pilgrim's Journey into the Mysteries of Orthodoxy.
The views expressed in Speaking Out do not necessarily reflect those of Christianity Today.
Related Elsewhere:
Other Matrix dicsussions:
Speaking Out: Looking for God in The Matrix | Neo's return reminds us that a fallen world full of people is a world worth saving. (May 16, 2003)

Film Forum: Talking About Revolutions | What religious critics are saying about The Matrix Revolutions... (November 6, 2003)

Exegeting The Matrix | A lot of spiritual stuff went into The Matrix films, but not as much as some authors think. (November 6, 2003)

The Dick Staub Interview: Why We Are Drawn to The Matrix | Chris Seay, coauthor of The Gospel Reloaded, says the first movie was about finding belief and the second looks at walking that path. (May 27, 2003)

Film Forum: Matrix Sequel Flaunts Flashy Effects, Tedious Talk | Christian film critics find little enthusiasm for The Matrix Reloaded, Down with Love, or Daddy Day Care, but they are impressed with Man on the Train. (May 22, 2003)

The Matrix Reloaded | Christianity Today Movies did not review this film, but here's what other critics are saying … (May 15, 2003)

Liberated by Reality: The Matrix | Tony Jones (September 1999)

The Matrix Trilogy Bible-based Discussion Guide | What do these ground-breaking films say about the nature of self-knowledge, faith, love, reality, free will, and destiny? For personal use or as a group series, download this Reel-to-Real study to look deeper at these challenging moral and philosophical questions.


Article continues below
Mathewes-Green is a columnist for Christian Reader and Beliefnet.
Frederica Mathewes-Green's earlier Christianity Today articles include:
Tex-Mex Orthodoxy | A former Southern Baptist, Dmitri Royster is now a maverick of the Orthodox Church (May 16, 2002)
Whatever Happened to Repentance? | We've come to think our faith is about comfort. It's not. (Feb. 22, 2002)
Brother from Another Planet | When a 15-foot-high stranger told Howard Finster to paint for God full time, he listened (Dec. 11, 2001)
Judgment Day | God promised that calamity would follow disobedience. So why are we quick to dismiss it as a reason for the September 11 attacks? (Sept. 25, 2001)
Chasing Amy | God intervened in a NOW activist's unlikely conversion (Jan. 27, 2000)
Wanted: A New Pro-life Strategy | Twenty-five years after Roe, and 37 million abortions later, we have to admit we are losing the fight (Jan 12, 1998)
Men Behaving Justly | It's clear that men and women need each other. You would almost think someone planned it that way (Nov. 17, 1997)
Free Love Didn't Come Cheap | It's hard to share your body when your heart keeps getting in the way (Oct. 6, 1997)
The Hungry Congressman | Democrat Tony Hall is pioneering a new political model for Christians (Sept. 1, 1997)
Embarrassment's Perpetual Blush (July 14, 1997)
The Dilemmas of a Pro-life Pastor | How churches should handle the delicate issue of abortion when nearly one-fifth of women who get abortions are sitting in our pews. (Apr. 7, 1997)
She is also a former columnist for Christianity Today. Her columns included:
Article continues below
Unrighteous Indignation (Oct. 5, 2000)
A Clear and Present Identity (Sept. 5, 2000)
Every Day Is Casual Friday (July 18, 2000)
Get It? (May 18, 2000)
Sex and Saints (Apr. 11, 2000)
Psalm 23 and All That (Feb. 15, 2000)
The Abortion Debate Is Over (Dec. 28, 1999)
The Thrill of Naughtiness, (September 6, 1999)
Escape from Fantasy Island, (July 12, 1999)
Men Need Church, Too, (May 24, 1999)
My Spice Girl Moment, (January 11, 1999)
Moms in the Crossfire, (October 26, 1998)
Gagging on Shiny, Happy People, (September 7, 1998)
Whatever Happened to Middle-Class Hypocrisy? (July 13, 1998)
I Didn't Mean to be Rude, (May 18, 1998)
See also Dick Staub's interview with Mathewes-Green about The Illumined Heart.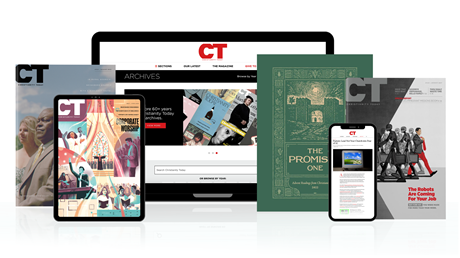 Annual & Monthly subscriptions available.
Print & Digital Issues of CT magazine
Complete access to every article on ChristianityToday.com
Unlimited access to 65+ years of CT's online archives
Member-only special issues
Subscribe
Desert of the Real?
Desert of the Real?