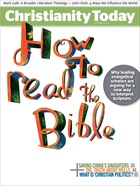 This article is from the October 2011 issue. Subscribers can read all of CT's digital archives.
"This is not about doing a favor; this is about rectifying an injustice. … The times when a citizen of ours would be oppressed due to his religious, ethnic origin or different way of life are over."
Recep Tayyip Erdogan, Prime Minister of Turkey, announcing that the country will return hundreds of properties seized from Christians and other religious minorities since 1936. The European Union has made the return of the properties a requirement for Turkey's membership.
Source: Kathimerini
"We insist that Islamic religious leaders in the North should caution their members, or be held responsible if things like this happen in the future. Christians cannot continue to be at the receiving end. Enough is enough."
Owen Nwokolo, an Anglican Bishop in southern Nigeria, warning that Christian may retaliate for recent deadly attacks on churches and clergy. The deaths were blamed on the Islamist Boko Haram sect.
Source: Punch
"Fast from each and every kind of secular information: TV, internet, newspapers, magazines, radios … from everything that is not Godly."
Edir Macedo, head of the Brazil's popular prosperity gospel sect the Universal Church of the Kingdom of God, and owner of many of the country's religious media. He announced the fast as Brazilian media aired exposés of the church.
Source: The Guardian
"Our study suggests that the less educated are dropping out of the American religious sector, similarly to the way in which they have dropped out of the American labor market."W. Bradford Wilcox, professor of sociology at the University of Virginia, on finding that church attendance among white Americans without college degrees is dropping twice as quickly as for those with college degrees. Only 37% of Americans with ...
1
Quotation Marks