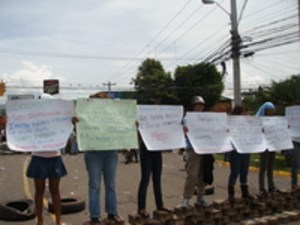 Last Sunday's removal of president Manuel Zelaya by the Honduran military has drawn strong criticism from the international community, uniting such disparate voices as Barack Obama and the United Nations with Hugo Chavez and Fidel Castro. Yet evangelicals in Honduras tell CT that the majority of the Central American nation – including its Protestants and Catholics – are in favor of the removal of Zelaya, though not necessarily of the military method.
"It's sad to see the OAS and the UN forcing Honduras to take back this president," said Maria Elena Umana-Alvarez, a well-connected Honduran evangelical. "We feel that what has happened is a reply to the fervent prayers of so many Christians. For many of us, it's not a coup, but the rescue of our country and our democracy."
Below the jump is an analysis of the situation offered by ASJ, a Christian social justice organization in Honduras.
The events surrounding Zelaya have caused evangelical church leaders, traditionally apolitical, to make initial steps into the realm of political activism. The week before Sunday's ballot box showdown, leaders of the main Honduran evangelical associations, including Oswaldo Canales, Rene Peñalba, Misael Argeñal, and Evelio Reyes, led peaceful demonstrations calling upon Zelaya to stop his efforts to change the Honduran constitution and focus on more-pressing domestic concerns, such as the aftermath of May's 7.3-magnitude earthquake. Evangelicals were involved with another large rally on Tuesday.
The 'coup' comes during the peak of the summer short-term missions season in Honduras, causing some missions groups and churches to either come home early or cancel planned trips.
Umana-Alvarez, who hosts a number of missions groups each summer, said caution this week is advisable amid the uncertainty of how nations such as Venezuela and Nicaragua will respond to Saturday's expected showdown between the OAS-backed returning Zelaya and the interim Honduran government that refuses to accept him back.
However, she said that canceling trips altogether this year would be an overreaction at the expense of Hondurans in need of the water projects and other works planned by missions groups.
Photo by Eleana Borjas Cuello.
Below is an analysis offered by Dr. Kurt Ver Beek, Calvin College professor, and Andrew Clouse, communications specialist with the Asociación para una Sociedad más Justa:
Political leaders from around the world are racing to be the first and loudest to condemn this past Sunday's coup in Honduras. Everyone from President Obama to Hugo Chavez of Venezuela, from the United Nation's general secretary to Fidel Castro, are denouncing the coup, threatening sanctions and calling for the return to office of ousted President Manuel Zelaya. Yet why are so many Hondurans, including key evangelical leaders, so divided about the coup and Zelaya's return?

It all starts with the constitution. The Honduran constitution has 379 articles - and all but four can be reformed. It's one of these four non-negotiables that's causing all the fuss. The article states that a Honduran president cannot be re-elected. Ever. One four-year term is the only shot a president can have. Nearly all Latin American countries wrote this into their constitutions during the 1970s and 1980s in an attempt to avoid their presidents' tendency to use second terms to consolidate power and stay in office permanently.

So starting with president-turned-dictator-turned-fugitive Alberto Fujimori in Peru, and more recently including Hugo Chavez in Venezuela, Evo Morales in Bolivia, Rafael Correa in Ecuador and now a little closer to home - Daniel Ortega in Nicaragua and Zelaya in Honduras - Latin American presidents have sought to reform their constitutions to permit re-election. In the last few years Venezuelan president Chavez has been building ALBA, a block of Latin American presidents designed to challenge the U.S. hegemony in the region. His country's oil income in the form of finance grants, loans and political advisors serves as the carrot to entice presidents to join ALBA. And predictably enough, six of the nine members of the ALBA countries have or are trying to reform their constitutions to pave the way for their possible re-election.

Honduran president Zelaya began a full-out effort to reform the constitution in March of this year by announcing a referendum to be held Sunday, June 28 - the day the coup took place - to determine whether the people wanted an assembly called to rewrite the constitution before presidential elections in November. Almost immediately, the country's political, economic and many religious leaders began lining up against this effort. The Supreme Court ruled the referendum illegal; the Congress voted to sanction the president; the attorney general's office began investigations into possible charges; both political parties - including the president's own - condemned his actions; and church leaders like Evelio Reyes, pastor of one of the largest evangelical churches in Honduras, began holding high-profile prayer vigils each morning in front of government offices.

Had the president done a better job during his first three years in office, his efforts may have been more popular. However his administration has been plagued by ineffectiveness and myriad accusations of corruption. During his first year in office, his administration received over $4 billion in debt forgiveness - with the chief condition that any money not spent on debt was to be invested in reducing poverty. Many organizations, including Christian NGOs, worked for over a year to define how this money could be best invested. However, Zelaya ignored their efforts and instead tried to buy votes by spending 70 percent of the money on raises for teachers and health workers, and the rest on ineffective but politically powerful "cash coupons" for the rural poor. Zelaya has also failed to deliver on promises to build houses, promote land reform, build a new international airport and fight corruption. In the meantime, he has used public funds to finance a pro-government newspaper and TV station, flashy TV and radio ads and pro-government demonstrations. Zelaya did move beyond rhetoric early this year when he impetuously hiked the minimum wage by 60 percent. The raise was desperately needed, but its overnight implementation in an already-struggling economy led to thousands of minimum-wage job losses as many businesses found it impossible to make payroll.

In short, Zelaya's record is dismal. And that fact has led many Hondurans, including most evangelicals, to be relieved to see his ineffective and corrupt administration come to an unexpected end. Pastor Evelio Reyes, in a speech to support the new government said, "We cannot tolérate these kinds of actions. No country in the world puts up with these types of barbarities, and Honduras won't either because we have dignity."

But the president does have his supporters. Despite his decidedly non-leftist background, Zelaya has managed to gain the support of some of the most radical social groups in Honduras by funding their organizations and protests and promising them seats at the constitutional assembly that would have rewritten the constitution. These groups are expert mobilizers and are now returning the favor by leading the increasingly violent protests seeking Zelaya's return to office.

But other, less radical Hondurans and church leaders also disapprove of the coup. First, the rhetoric Zelaya used during the last three months to promote a rewrite of the constitution touched a nerve for many Hondurans, including evangelicals. Zelaya's speeches as well as very professional TV and radio ads (designed by Venezuelan advisors) argued that the 70 percent of the Honduran population who live on less than $2 a day have seen little benefit from 20 plus years of democratic rule in which a political and economic elite have run the country and everything in it for their own illicit gain. Zelaya said it was time to hear the "voice of the people" and that reforming the constitution was a good first step in getting that voice heard. This message resonated with the poor and those, including many Christians, concerned about issues of poverty and injustice. Mario Cantor, an evangelical pastor in a marginal urban community, said this:

"The majority of people who supported the cuarta urna (the "fourth ballot box") believed that the constitution needed to be reformed to be more inclusive. According to some, the constitution excluded certain sectors of the community. So they believe that there is a need to create a constitution that allows the people to have more participation in the country´s decisions. Zelaya himself was talking about a more equitable society, where distribution of wealth is fairer, talking about the common good, as Jesus did."

In addition, many Hondurans and Honduran Christians are uncomfortable with the military's role in Zelaya's ouster, fearing a return to the situation of the 1970s and 1980s when the military was clearly the power behind the president. This was an era of fear, violence and corruption that few Hondurans care to relive. They argue that like him or not, if Zelaya was breaking the law, he should have been charged and tried instead of forcibly removed from his home and flown to Costa Rica. And they are uneasy hearing reports of suspended civil liberties and protesters detained.

They want the democratic system to work the way it is supposed to. As megachurch pastor Rene Peñalba stated, Zelaya's goal "in itself was not bad, but he got the method wrong. And I would say the same about the other side. [Zelaya] deserved to go to trial, but they got the method wrong. Both sides got it wrong."

While the fear of an oversized role of the military is understandable, it seems clear that they were an ambivalent partner in the ouster, directed by a small but powerful political and economic elite. Although initially Zelaya's allies in carrying out the referendum, the military has shifted since there was clearly little enthusiasm for the task. Just days before the referendum, Zelaya fired the chief general and the rest of the general's staff quit in solidarity. Zelaya and his supporters staged a dramatic showdown at a military warehouse to get the ballots while the military stood silently by. And most obviously, while the military carried out the arrest and flew Zelaya to Costa Rica, they did not seize power but immediately installed the president of Congress as President of the country.

What's clear among all the conflict is that all the existing powers in Honduras - the ruling elite, the Zelaya administration, and the military - show by their rhetoric that they recognize what most ordinary Hondurans want - to live in a country where their voice will be heard and where true democracy and rule of law flourish.

Carlos Hernandez, president of the Association for a More Just Society, a Christian social justice organization in Honduras, argues, "As Christians we need to make the legal systems work for everyone - from the poorest Honduran to the most powerful. So first of all, Zelaya should return to the country and there should be a full investigation into his actions. If he has broken laws, he should be tried and sentenced - not sent to Costa Rica without a trial. Second, we should also push for an investigation into who was responsible for this coup and they should also be investigated and tried. It is only then, by showing that neither side is above the law and that neither side can take the law into their own hands, that we can show the world that justice for all is possible, even in Honduras."