July 27, 2020
White Church, Black Church, and Brown Church
Brown Church symbolizes the borderland of Chicano/a Christians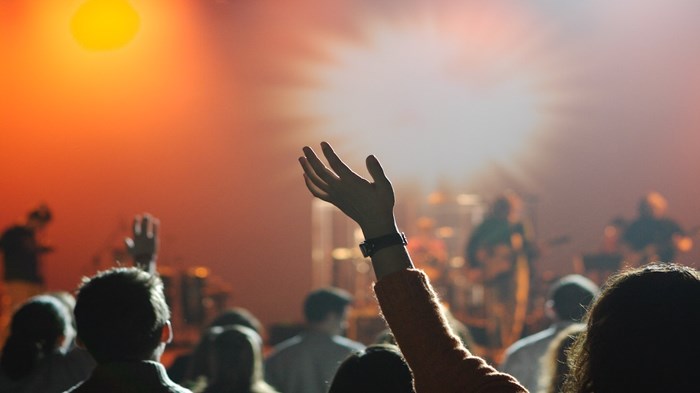 "As the Brown Church," Robert Chao Romero claims, "we take solace in knowing that Jesus, our Lord, was also Brown." What "Brown" means we will clarify below but first this: without one moment of de-emphasis, the Black Church gets more attention because of the history of the White Church in the USA (and elsewhere). My Latin sisters and brothers (Latina/o, or Chicana/o) are often assumed to be the same as the Black Church – racism, marginalization assumed to be all alike – but it is not.
To be marginalized draws all or most of the marginalized together but that does not mean "identical" or even the "same." So, I'm grateful to Romero for his new book, Brown Church: Five Centuries of Latina/o Social Justice, Theology, and Identity. Romero is at La Fuente Ministries, pastored by Marcos Canales and Rosa Ramirez at Pasadena First Nazarene Church (PazNaz, where Tara Beth Leach pastors), and I will surrender space now to Romero's own words:
In sharing my ambition to become a lawyer, I was told in high school, "I'd never hire a Mexican lawyer." I was also told by my high school counselor that I should consider the local state school instead of UCLA. I went on to receive my PhD in Latin American history from UCLA and my JD from UC Berkeley, and I have been a professor of Chicana/o studies and Asian American studies at UCLA since 2005. I was ordained "in the hood" by black and Latino multidenominational Christian pastors of South Los Angeles, and, together with my wife, Erica, I've been a pastor to activist students for more than a decade as part of our Jesus 4 Revolutionaries ministry.
So there!
Chicano/a students today most often emerge from Christian homes – Pentecostal, Catholic – and encounter in university postcolonialism and critical race theory onliy to learn that Christianity is a white man's religion imposed on the Chicana/o communities. Romero is a historian of this community and religion and knows that time and time again the faith dimension of Chicano/a history is either ignored or silenced or denounced. This book is his attempt to write a different history.
Silencing that faith has led to several consequences: emotional struggles, a decision to avoid Chicano/a studies because it is too postcolonial and such students don't want to surrender their faith community, a lack of serious scholarship on the topic… in fact, it is countercultural for Romero to writes this book:
I have also personally experienced discrimination as a professor based on my Christian convictions; indeed, I fear intellectual and professional backlash for the publication of this book. In its most insidious forms, religious microaggressions take the form of viewpoint discrimination and violate highly held principles of academic freedom.
As an academic, Romero explores with appropriate and even fashionable analytical tools – like critical race theory and postcolonialism, but his focus is on the cultural weath, rather than cultural deficit, of the Chicana/o culture.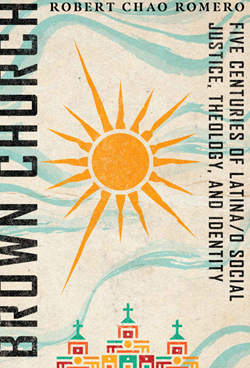 Image: Cover Photo
The Brown Church has been active for five centuries. It has formed its own theology and culture and it has resisted: Spanish colonialism, caste system, Manifest Destiny, US colonialism, Latin dictators, US imperialism, the oppression of farmworkers, and exploitation of undocumented workers.
It's theology is a fulsome theology, not a narrow "soterian" gospel of personal salvation to go to heaven:
Brown Theologians throughout the centuries … challenged this narrow and unbiblical view of the gospel and have proclaimed that Jesus came to save, redeem, and transform every aspect of our lives and the world. His salvation extends over all of God's good creation, which has become twisted and corrupted as a consequence of sin. This includes everything distorted and broken in our world – whether personal, familial, social, or global. Nothing is left out.
The Brown Church is borderlands, or it occupies liminal space: between white and black. So what is "Brown"?
Latinas/os are Brown. Not necessarilyliterally and phenotypically Brown,but Brown in terms of our racial and social positioning in United States history…. In this sense, Brown is symbolic of the cultural and biological mestizaje, or, mixture, in Latin America. In the US context, Brown also symbolizes the racial liminality experienced by Latinas/os as betwixt and between that of white and black.
Jesus, too, was Brown in this sense: Galilean, Jewish, marginalized. In the Incarnation, Romero says, "God… chose to be Brown."
Jesus Creed is a part of CT's Blog Forum. Support the work of CT. Subscribe and get one year free.
The views of the blogger do not necessarily reflect those of Christianity Today.