November 28, 2020
Gary Thomas: How and Where I Write
An interview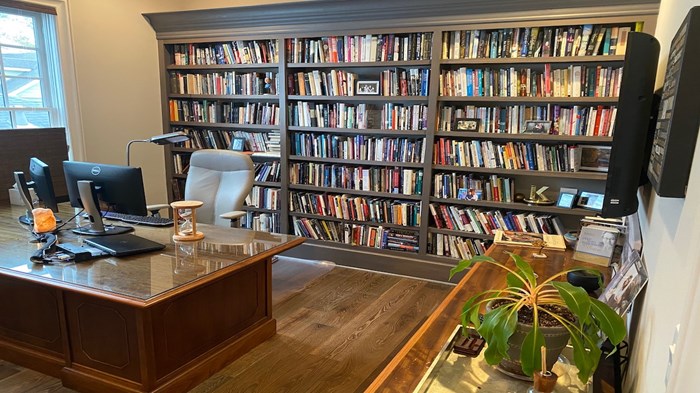 Interview by David George Moore
It's been my privilege to be in the personal spaces of several writers. Among others, Pulitzer winner Tony Horwitz warmly welcomed me at his home on Martha's Vineyard as did William F. Buckley at his place on Long Island Sound.
I have interviewed close to 200 authors. Everyone has their own style with reading, capturing what they have read, research, and then writing. As I writer myself, I have settled on an approach I feel comfortable with.
Moore: Do you still acquire books as you get older or have you slowed down a bit?
Thomas: My shelves and my kindle are bursting. I have two offices (one at church, one at home), both with walls of books, and then there's our personal family library as well. The number is usually a source of guilt more than pride, however.
Moore: What are the best time(s) and place(s) for you to write?
Thomas: Early in the morning, immediately after my devotions, in my home office. I prefer it if it's still dark and everybody else in the house is still asleep.
Moore: How do you capture your research? Old school with note cards etc., or new school with computer programs?
Thomas: In between. I don't use note cards, but my computer "program" consists of a few MS Word files. I am creating a subject index for contemporary books and Christian Classics. I can't tell you how much I wish I would have started these indexes thirty years ago instead of fifteen years ago. They are so helpful when I want to review the best of what I've already read on a topic. To streamline future research, I don't index something unless I believe it makes a significant contribution to the subject at hand.
Moore: Do you immediately start writing on the computer (perhaps typewriter) or by longhand?
Thomas: 100% computer, beginning to end.
Moore: Do you put marginalia in your physical books?
Thomas: I'm a heavy underliner but rather sparing with marginalia, except for one contemporary writer with whom I felt the need to vigorously debate on just about every page.
Moore: Do you read digital books?
Thomas: Yes. I still travel a lot, and digital copies are the only way I can carry William Gurnall's The Christian in Complete Armor (which is over 1200 pages in paper) or the J.I. Packer library (six of his books).
Moore: What is some good advice you received on writing?
Thomas: Writing is re-writing. If you don't enjoy the process, the quality of your books will likely suffer.
Moore: What do you think is your best book?
Thomas: I don't think you can compare books that way. Authentic Faith is the only one of my books to have won the Gold Medallion award, but Sacred Marriage has sold almost as many copies as all the other books combined. Sacred Pathways might be the most creative, but my love of the Christian classics will always preserve a soft spot for my first book, re-released as Thirsting for God. The ones I hear praised most often are Sacred Marriage, Sacred Pathways and Thirsting for God, probably in that order.
Moore: Please name a few of your favorite authors from your own field of study
Thomas: For contemporary authors, Dallas Willard, John Ortberg, J.I. Packer, and N.T. Wright. For classic authors, Francis DeSales, William Law, Gregory the Great, St. Theophan the Recluse, Thomas Cogswell Upham, Henry Drummond, Charles Spurgeon and of course C.S. Lewis.
Moore: What is a book you should have read by now, but haven't? This will make all of us sleep better!
Thomas: I've read these two but I don't get these two: Augustine's Confessions and Bunyan's The Pilgrim's Progress. So many brilliant, godly people rave about these books that it makes me wonder what's wrong with me when I don't really connect with them at all.
David George Moore is the author of the forthcoming Stuck in the Present: How History Frees and Forms Christians (Leafwood/Abilene Christian University Press). Some of Dave's teaching videos and contact information can be found at www.mooreengaging.com.
Jesus Creed is a part of CT's Blog Forum. Support the work of CT. Subscribe and get one year free.
The views of the blogger do not necessarily reflect those of Christianity Today.