July 3, 2021
Weekly Meanderings, 3 July 2021
Links across the webs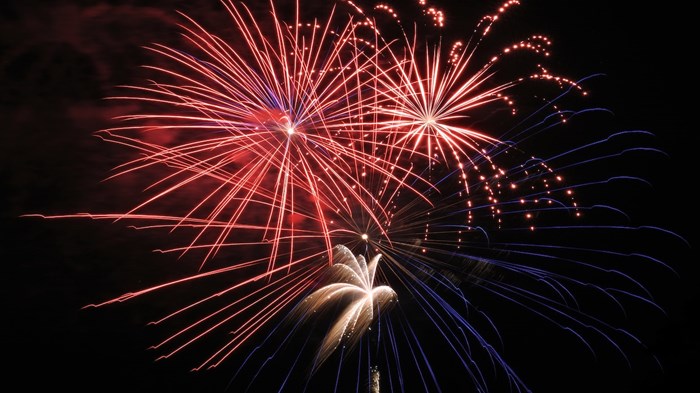 Good morning!
(NEXSTAR) – A new ranking of the best "BBQ cities" in America has determined the country's premiere destinations for quality 'cue.

The study, conducted by LawnStarter, an Austin-based lawn-care "concierge" service, ranked a total of 199 American cities based on three sets of criteria, including access to barbecue, the quality of local barbecue, and the prevalence of barbecue-based events and festivals. Points were awarded to each metro area based on 14 weighted metrics, for a maximum total of 100 points.

The top-ranked city, by a wide margin, was determined to be Kansas City, earning a total of 60.14 points for its highly rated barbecue and the number of awards and contest winners that hail from the area. Oddly, however, Kansas City ranked 108th in access to barbecue restaurants, but it was ultimately "quality over quantity" that sealed the win.

"Sorry, Memphis. Kansas City tops our list of the Best BBQ Cities," wrote LawnStarter in a June 29 blog post, which also detailed the city's many World Series of Barbecue winners, as well as a local ice cream parlor that serves a flavor swirled with BBQ caramel sauce and candied burnt ends.
The GI Bill and America's African Americans:
When Eugene Burnett saw the neat tract houses of Levittown, New York, he knew he wanted to buy one. It was 1949, and he was ready to settle down in a larger home with his family. The newly established Long Island suburb seemed like the perfect place to begin their postwar life—one that, he hoped, would be improved with the help of the GI Bill, a piece of sweeping legislation aimed at helping World War II veterans like Burnett prosper after the war.

But when he spoke with a salesman about buying the house using a GI Bill-guaranteed mortgage, the door to suburban life in Levittown slammed firmly in his face. The suburb wasn't open to Black residents.

"It was as though it wasn't real,"Burnett's wife, Bernice, recalled. "Look at this house! Can you imagine having this? And then for them to tell me because of the color of my skin that I can't be part of it?"

The Burnetts weren't the only Black Americans for whom the promise of the GI Bill turned out to be an illusion. Though the bill helped white Americans prosper and accumulate wealth in the postwar years, it didn't deliver on that promise for veterans of color. In fact, the wide disparity in the bill's implementation ended up helping drive growing gaps in wealth, education and civil rights between white and Black Americans.

While the GI Bill's language did not specifically exclude African-American veterans from its benefits, it was structured in a way that ultimately shut doors for the 1.2 million Black veterans who had bravely served their country during World War II, in segregated ranks.
An important yet often neglected subject of consideration for both our practice of church and the training of clergy must be that of disability. The fact is that our churches are filled with people who are either born with a disability, acquire a disability by illness or accident, or else who age into disability. According to the World Health Organization, 20 per cent of the world's population, that's one in five people, has a disability of some variety. And yet I have never heard a sermon about the topic of disability in my life and it never came up in my theological and pastoral training.

Nancy L. Eisland, a theologian who has a disability, pointed out that Jesus himself was crucified into disability so that Jesus died in an imperfect human body, weak and vulnerable, even helpless, yet God's redemptive power, love, healing, and beauty were manifested in his broken body.

Furthermore, John Swinton argues that the image of God in humanity is not a matter of relational or rational capacity, emotional intelligence, nor bodily autonomy, neither knowing nor acting, but being known by God as a royal child of God (see John 1:12-13; 1 Cor 8:3; Gal 4:9). We are God's children by birth and new birth, not by ability or capacity.

"People living with disabilities need more than inclusion in the church; they need to fully belong to the church."

Christians must be prepared to defend people with disabilities as image-bearers, know how the Gospel speaks a word of grace to disabled people and their carers, and pursue ways for the church to care for the most vulnerable in their midst. Following John Swinton again, I would contend that people with disabilities need more than inclusion in the church (i.e., their presence be tolerated); rather, they need to belong to the church (i.e., be valued when present and missed when absent). We need to ensure that the church is friendly and welcoming to those with disabilities and their carers, and works to see them flourish in their humanity and exercise their spiritual gifts. We need to minister to people with disabilities and find ways in which they too can minister if so called.
ARVADA, Col. (KDVR) — After a shooting in Arvada, Colorado took the life of Officer Gordon Beesley, two grade school girls and their friends wanted to help his family. So they decided to sell lemonade.

Memorials, processions and testimonials are certainly fitting, but for best friends Scarlet Reust and Addyson Elliott, they wanted to do little more.

Scarlett and Addyson went to work and did what kids do best, open up a lemonade stand. It did not take long until customers showed up, regardless of thirst.

"We sold about six jugs of the lemonade. People came and didn't even want any lemonade but just gave us money. It just grew and grew and grew and grew and grew and grew," said Scarlett.

"We were blown away by that, and they were like, 'Maybe we could get to $500, let's go out another day,'" Scarlett's mother, Ashley Conn, said.

The girls presented two checks, each totaling $925, to Arvada Police Chief Link Strate.

"For those two little girls to think of him and to work on that lemonade stand and to give their proceeds to Officer Beesley's family, will make a statement to this department that I don't believe I can express," Strate said.

Beesley was shot and killed, along with a 40-year-old man police described as a good Samaritan, while responding to a report of suspicious activity.
SURFSIDE, Fla. (AP) — Nicolette Daniel pulled a wheeled cart packed with takeout boxes of chicken tenders, French fries and deep-fried Oreos to the intersection where police officers stood by their cars Tuesday, directing traffic a block from the collapsed condominium tower in Surfside, Florida.

"They can't leave their spot," said Daniel, so determined to offer first responders a hot meal that she and her husband hired a food truck to cook 350 meals that are being distributed in a parking lot of a nearby church.

One of the officers Daniel approached, Sgt. Patricia Vazquez, thanked her for the offered meal, but graciously declined.

"So many people have been coming by with food," Vazquez said, patting her stomach. "Somebody just came by here with 50 Big Macs."

Since a huge section of the Champlain Towers South building fell to the ground early Thursday, an ever-growing virtual army of volunteers has been offering everything from water and energy drinks to pizza and deep-fried Oreos to firefighters, police officers and other rescue workers working 12-hour shifts at the site.

At Casa Church near the disaster site, Pastor Ezequiel Fattore got to work handing out refreshments to first responders within hours of the building collapse Thursday, beginning with a few bottles of water and Gatorade.
HILLSBOROUGH, Calif. (AP) — Fred Flintstone fought the law — and he won.

Technically, the owner of the fanciful Flintstones house in a posh San Francisco suburb settled a lawsuit with the town of Hillsborough. But the agreement will allow Fred and his friends to remain.

In a yabba dabba dispute that pitted property rights against government rules that played out in international media, retired publishing mogul Florence Fang defended her colorful, bulbous-shaped house and its elaborate homage to "The Flintstones" family, featuring Stone Age sculptures inspired by the 1960s cartoon, along with aliens and other oddities.

The town, however, called the towering dinosaurs and life-size sculptures "a highly visible eyesore" and sued Fang, alleging she violated local codes when she put dinosaur sculptures in the backyard and made other landscaping changes that caused local officials to declare it a public nuisance.

An attorney for the town previously said residents are required to get a permit before installing such sculptures, regardless of the theme.

Hillsborough went to court in 2019 after Fang failed to comply with multiple stop-work orders, as well as an order to remove the features around the multimillion-dollar property with its 2,730-square-foot (254-square-meter) home. Fang counter-sued. The Daily Post in Palo Alto first reported news of the settlement on Thursday.

Mark Hudak, an attorney for Hillsborough, previously said the town prides itself on its rural, woodsy feel, and rules are in place "so neighbors don't have to look at your version of what you would like to have, and you don't have to look at theirs."
Scientists on Friday announced that a 146,000-year-old massive fossilized skull is a new species of ancient human, according to the New York Times.

Why it matters: The discovery of the new species — dubbed Homo longi, or "Dragon Man" — could challenge existing theories on human evolution, per the NYT. Researchers say the discovery could replace Neanderthals as the closest relative to Homo sapiens, according to NBC News.

Yes, but: Some experts dispute the conclusion published in three papers.

Experts still say that the discovery could help scientists reconstruct the human family tree and explain how modern humans emerged.

The skull, which belonged to a mature male who boasted a big brain and massive brow ridges, was given called "Dragon man," named for the Dragon River region of northeast China where the skull was found. What they're saying: "It is widely believed that the Neanderthal belongs to an extinct lineage that is the closest relative of our own species," Xijun Ni, a co-author of the studies and a paleoanthropologist at the Chinese Academy of Sciences and Hebei GEO University said in a news release. "However, our discovery suggests that the new lineage we identified that includes Homo longi is the actual sister group of H. sapiens." "It's a beautiful thing," John Hawks, a paleoanthropologist at the University of Wisconsin-Madison, told the NYT. "It's very rare to find a fossil like this, with a face in good condition. You dream of finding this stuff."
NEW YORK (AP) — Gwen Goldman exchanged fist bumps with the New York Yankees she had been admiring for decades from afar, walked onto the field and waved to the crowd.

She got to be a Yankees' bat girl on Monday night at age 70 — a full 60 years after she was turned down because of her gender.

Shaking with excitement, she beamed while recounting how it felt to be at Yankee Stadium on this day for the game against the Los Angeles Angels.
KANSAS CITY (WDAF) — Houses that are not even listed are selling fast, experts say. They're called "whisper listings."

Whisper listings are residential properties released directly to a broker who only allows specific clients to view the home. It's not advertised publicly or listed on the area's multiple listing service (MLS).

It's an attractive option for sellers who don't want to go public, don't want their privacy disturbed or are hoping for a quick sale. But it leaves out other buyers who aren't in that small circle of clientele and makes the housing supply even more limited for those searching the public market.

The controversial practice has been around for several years, but it's been growing in popularity during this hot housing market, especially in places like Florida. According to Redfin, the number of whisper listings has increased from 2.4% to 4.0% since November 2019, and there are no signs of it slowing down.

"Nothing like this ever in 18 years that I've been doing this job. It is absolutely incredible what is going on here," Palm Beach, Florida, real estate agent Liz Hogan said.
Jesus Creed is a part of CT's Blog Forum. Support the work of CT. Subscribe and get one year free.
The views of the blogger do not necessarily reflect those of Christianity Today.