Skills
The answer helps me keep my ambition in check
Recently, a friend shared a conversation she'd had with another woman in leadership. "All she talked about is how no one will support her preaching, and how she's having a hard time getting ordained. Not once did she talk about serving, or call, or God's direction."
Ambition isn't unique to women. Men strive to get ahead just like we do. But within women's leadership circles, ...
continue reading
---
Take care when telling other people's stories
Sometimes I'm taken aback by how much gossip has become an acceptable part of our culture. Whether it's learning the 411 on the celebrity of the hour or following the latest political gossip on Twitter, it's hard to turn on the television or walk through the checkout lane of the grocery store without catching a whiff of some juicy news that may or may not be ...
continue reading
---
Rookie year reflections
Next month marks my one year anniversary of working in paid ministry. It's been a year full of joy, surprises, and challenges of all kinds. Here are five things I've learned in my rookie year:
1. If it was easy, it wouldn't be leadership.
I wasn't expecting every decision that I made to be so difficult. Despite my years as a volunteer in ministry, I was shocked by the number ...
continue reading
---
The key to cultivating exceptional leaders
Things change continually in ministry, for better and worse. One area that seems to have improved drastically over the past 15 years or so, though, is the emphasis placed on mentoring and its role in creating fully engaged employees.
Being good stewards of resources goes far beyond just dollars and cents. Mentoring allows us to be good stewards of one of the greatest ...
continue reading
---
Making the most of vacations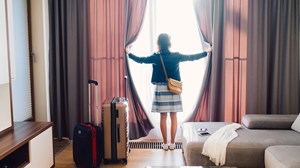 Image:
One of the things I tend to neglect (and I know many leaders who struggle with this as well) is fully utilizing vacation time. I underestimate the value of rejuvenation that happens when I disconnect my mind from my usual routine and responsibility. I too easily miss the importance of time with family and friends, laughing, playing, and resting. And oftentimes my vacation ...
continue reading
---
Last month during a meeting of the Chicagoland Christian Writers Group, a member spoke about fear of success coming from the sneaky suspicion that our writing is not as good as it ought to be. Maybe we suffer from a Moses complex, you know, "Surely God has made a mistake - shouldn't someone else carry this message?" She spoke about giving ourselves over to ...
continue reading
---
While checking my children into the nursery at church last week, an acquaintance of mine approached. "Susan, this is who I've been telling you about!" she exclaimed, pulling her friend behind her. She turned to me with a big smile. "I've been telling Susan all about you, how you're so good at speaking. You are the best teacher!"
I froze, ...
continue reading
---
"And then," the student continued, "The professor interrupted me in the middle of my presentation. He totally didn't take me seriously." My colleague and I looked at each other.
"He might . . ." I paused and began again. "You . . ." I looked at her, wrangled my courage and spit it out. "I wonder if your outfit was subliminally ...
continue reading
---
As we begin a new year, once again we've looked back on the previous year to see which blog articles and downloads you found most intriguing. Thought you might enjoy seeing what was most popular with the Gifted for Leadership crowd in 2008. Check out the great conversations from last year:
Top 10 Most Popular Blog Posts of 2008
10. The Women Out There by Caryn Rivadeneira
9. ...
continue reading
---
Solve some problem right in front of you. Often vision is born by passing through the narrow and dark birth canal of problems. You see the problem, and you start to work on it. You don't necessarily feel inspired or see lights. All you are doing is trying to solve some problem right in front of you. But later, everyone else says, "What a great vision!"
The ...
continue reading