What Blogs Are You Reading?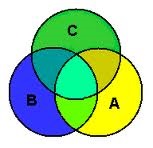 As you may have noticed, the title of this blog is Thin Places, and the subtitle reads, "Amy Julia Becker on faith, family, and disability." You could use the Venn diagram to place most of my posts in at least one of those categories– every week I try to make sure that at least one post covers a topic related to the Christian faith, to our family, and to disability, whether personal or in a more broad way.
I read a few other blogs that cover related topics. But I'm trying to expand my list. Not only do I want to expand my own relationships and knowledge of thoughtful content elsewhere on the internet related to these topics, but I'm also looking for bloggers who might be interested in the work I do here and in my upcoming book, A Good and Perfect Gift (which, by the way, you can pre-order on Amazon and receive sometime in August).
I'm looking for bloggers who write regularly (at least once a week) for a wide audience and who offer thoughtful commentary about matters pertaining to faith, family, and disability. Which brings me to my question: what blogs are you reading that you think I might like? (And please feel free to comment with a link to your own blog. Thanks!
Support our work. Subscribe to CT and get one year free.
To add a comment you need to be a registered user or Christianity Today subscriber.
Recent Posts
What Blogs Are You Reading?