Penny's Star Days
Penny and I prayed, I cupped my hands around the gift of trust she'd given me, and I scheduled a meeting with her teachers.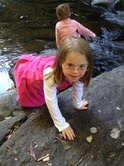 A few weeks ago, I asked Penny if she wanted me to pray for her before she went to sleep. She nodded. I said, "Is there anything you need God's help with?"
She nodded again, and in the dim light of the evening, she began to talk: "I don't line up in school at the right time."
I said, "Okay. I can pray for you about that."
"And I don't look at the teacher at the right time."
"I can pray about that too."
"And I touch my friends when I shouldn't. And I don't stay in my classroom when I'm supposed to. Or at lunch. And I don't come when they call me at recess. And I rolled around on the floor in gym. And. . . "
The list went on.
"I just want to stay home and be with you Mommy."
I had three responses. First, I wanted to cry. For her. With her. To God. My little girl had been carrying around this burden of knowing what she was supposed to be doing and yet feeling totally incapable of doing it, and I hadn't known. Second, I swelled with admiration. That she was able to articulate all the hard spots. That she wanted me to pray about it. That she recognized the gap between what she was supposed to be doing and what she was actually doing. And third, my practical response, I needed to talk to her teachers.
Penny and I prayed, I cupped my hands around the gift of trust she'd given me, and I scheduled a meeting with her teachers.Ironically enough, having written a post a few weeks earlier about how I was glad that Penny "ran away" when she gladly boarded the bus on her first day of school (Why I Was Grateful to See My Daughter Run Away),  it turned out one thing she was doing every day in school was running away from her classroom, or from the lunch room, or from recess. So I was not so glad she was running away after all. (As a side note, the first time she told me about this, she explained that she had wanted to go visit a 5th grader who had been kind to her. I gave her a very sympathetic response. A few days later, when I was asking why she had run away, she said, "I don't know." William chimed in, "Maybe it's because you wanted to see G?" Penny lit up–"Yeah, that's a good one, William.") Moreover, she was throwing her peers' things, drinking out of their water bottles, and generally calling attention to herself through negative behavior all day long.
We decided to institute a positive behavior system. For each period of the day, Penny had the opportunity to earn a star. She needed to follow two rules–stay in her seat and keep her hands to herself. If she earned two stars in a row, she then had 5 minutes in which she could choose a friend and together they did an activity.
From day one, she ran off the bus with a smile: "I got all stars today Mom!" It's been two weeks in a row of all stars (of course, there are times she doesn't actually get a star, but because there is nothing on what she brings home to indicate the absence of a star, she feels the excitement of a star day every day. I have a sense by how many stars she gets how the day went). Her teachers report a tremendous difference, with peers excited about having Penny in their classroom and with Penny paying attention and learning new things.
And she's not asking me to pray about a long list of things she can't do anymore, which, I suppose, is an answer to prayer in and of itself.
Support our work. Subscribe to CT and get one year free.
To add a comment you need to be a registered user or Christianity Today subscriber.
Recent Posts
Penny's Star Days