Don't You Care If We Drown?
In the midst of a raging storm, "The disciples wanted Jesus to pitch in, to do his part in solving the crisis. But Jesus had other things in mind altogether." It's true in my life as well.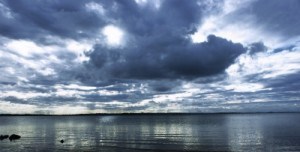 Image: photo credit Jennifer Ellison
A few years ago, I came to a totally new understanding of a passage from the Bible in Mark 4 when Jesus falls asleep in a boat and his disciples wake him up when a storm comes. I wrote about it then, but it has been reposted on Not-Alone.org (a site I recommend for anyone who has children with special needs and would like some spiritual encouragement), so I thought I would repost the beginning of it here as well:
After Penny was diagnosed with Down syndrome, there were days when I felt as if I was drowning. I could almost feel my lungs filling up with water. I could almost see my murky surroundings, the distorted objects and the light filtering through. I thought I would never  come to the surface.
Back then, my head was filled with questions and my heart was filled with dread. I was scared of the life we would live as a  family. I was scared that Down syndrome would take our daughter away from  us. I was scared that I just wasn't up to the task of having a child with  special needs.
In that time, I found great comfort in a passage from Mark 4. Here, Jesus and his disciples set out across a lake. Jesus falls asleep.  And then a storm comes up. It's a tremendous storm, and the disciples  work furiously to keep the boat afloat. Finally, one of them shakes Jesus  awake and yells, "Teacher, don't you care if we drown?"
I  love it. They are so scared, so exhausted, so certain that their situation is a  desperate one, that they cut right to what they are thinking. No false piety  here.
 To keep reading, go to Questions for Jesus: Don't You Care if We Drown?
Support our work. Subscribe to CT and get one year free.
To add a comment you need to be a registered user or Christianity Today subscriber.
Recent Posts
Don't You Care If We Drown?