A One-Word Prayer
What is one word that sums up your needs and hopes right now?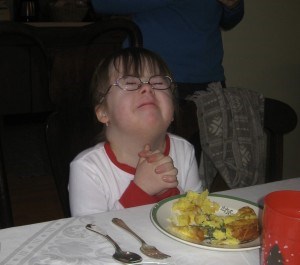 "What's one word or verse I can pray for you?"
Those were the words from a friend I received earlier this week.
One word, or one verse, that sums up my needs before God right now. In this season. This season in which God is beginning to feel quite near quite often, for the first time in a long time. This season in which I am waking up to God's presence, and to God's absence. This season in which I am not just pretending to be grateful but actually feeling grateful. This season in which I seem to have forgotten how to pray.
At first, I had no idea how to respond.
But I let the question sit. It was kind of as if I placed it on the seat beside me and then drove through my normal day–drop-off at school, work at the library, doctor's visit with Marilee. It rattled around and slid under the seat and I turned a corner and there it was again.
And then, suddenly, I knew.
"Faithfulness," I wrote back. "I want to be faithful to that which God has given me (family, writing, friendships, etc.), but I want to ignore that to which I'm not called, even when it tempts me, distracts me, etc."
And now that question I couldn't answer, that persistent rattle, has weight, solidity. It is a prayer for myself. Not just that I would be faithful in the sense I wrote above, but also that I would be one who is full of faith. I am prone to wander into doubt. But I want to be one who is full of faith. And it is through faith in the one who has called me that I can let go of the good things to which I am not called. Finally, this word is a reminder of who God is. The one who has always been faithful to me.
What's your word?
Support our work. Subscribe to CT and get one year free.
To add a comment you need to be a registered user or Christianity Today subscriber.
Recent Posts
A One-Word Prayer