Dear White Brothers and Sisters: Why #BlackLivesMatter Matters to You
Eric Garner and Tamir Rice did not deserve to die. A guest post by Natasha Sistrunk Robinson.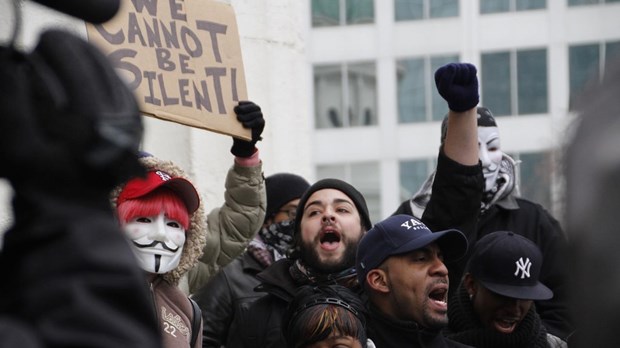 Image: velocity/flickr
In light of the ongoing civil unrest following the death of Michael Brown in Ferguson, Missouri, and the recent grand jury decision on Eric Garner's death at the hands of police in Staten Island, New York, I asked the various writers who contributed to an August blog series on race and racial reconciliation if they had more to say. I'm grateful for Natasha Sistrunk Robinson, writing today with a thoughtful and gracious invitation for Christians of all racial backgrounds to begin to talk, and listen, and heal:
Last Tuesday, a grand jury decided not to indict a police officer who choked an unarmed African American male, Eric Garner, to death in July. Garner was being arrested for selling cigarettes and not paying taxes. After being wrestled to the ground by several police using an unauthorized technique, Garner's final words were, "I can't breathe." The cops stood around and waited as he died. This troubling scene was recorded on video.
Just last week, a Cleveland police officer fatally shot a 12-year-old African American boy, Tamir Rice, dead within a matter of seconds of arriving on the scene. Tamir was playing alone with a pellet gun. That killing was also recorded on video. The deaths of Garner and Rice are part of a growing list of police brutality against African American males, which has resulted in outrage across America.
In order to process, dialogue, and document history, advocacy, and responses to these and other important issues, many people have turned to the social media platform provided by Twitter. Hashtags are used by Twitter users to tag topics and search all tweets related to a certain topic. In response to these incidents and more, the hashtag #BlackLivesMatter has become popular, and it promises to be a critical tool for continued dialogue.
After the grand jury decision in Ferguson, I joined a Twitter Teach-In hosted by #Evangelicals4Justice (@Evangelicals4J). As a member of this diverse group, I responded to the question, "Why is it necessary to declare #BlackLivesMatter?" The theological answers were clear: Inside and outside of the womb, God cares about the senseless loss of a life (Gen. 9:6); because God demands an account for the loss of life, we must demand an answer as well (Gen. 9:6); and because black people are humans who are created in the image of God (Gen. 1:37).
During this Twitter exchange, I received a response from a white male evangelical asking, "Does that mean that other lives don't matter? I'm tired of being discriminated against 4 being a white man."
I responded, "Respectfully, making a statement like #BlackLivesMatter about you is indeed part of the problem, Sir."
This brief interaction helped me to process some of what is being lost in the way some white evangelicals approach race, and the various ways people of color view education, income, religion, wealth, family, and cultural practices, all affected by this social construct we refer to as race.
The Washington Post recently published an article revealing that "for every 91 white friends a white American has, they have only one black friend." Additionally, "the study found that 75 percent of whites have entirely white social networks without any minority presence." The lack of intimate connection to diverse communities, and sociological research demonstrates, that white people need better cultural tools to process racial concerns.
For the creditability of the gospel, all Christians must seek to develop intimate relationships with diverse communities, not a single "other" here and there. When intimate relationships are not in place, we must at least speak with people from a variety of backgrounds who are educated concerning the issues, and are willing to articulate the cultural challenges and changes in which the church must be prepared to respond. We must take a deeper look at ourselves and at the ways we view those not like us.
I want to engage with my white brothers and sisters so that together we can consciously bring about peace, healing, and reconciliation. Regarding #BlackLivesMatter, three things might help white evangelicals understand where some black people are coming from:
Now that we are learning to love ourselves, it does not mean that we hate you.
For centuries African Americans have been told what to think, what to believe, and how to look so that they are "acceptable" in the dominant (white) society. So when I, as a black woman, say "My Black is Beautiful" or put on a "Black Girls Rock" t-shirt, or wear my hair in its natural curly state, I am simply saying, "I love how God created me" and thereby reject the images and lies of old—that I am not good enough if I don't measure up to white culture's standards.
These affirmations of my natural beauty are my way of saying, "I understand all humans are created in the image of God, and therefore, all human life has value and purpose." When I see that value and purpose being snuffed out, I see the glory of God being diminished. I have made a decision to love the image bearer in me and in others. This is why the statement #BlackLivesMatter is not an indictment on white people or any non-black person.
#AllLivesMatter
Some people have pushed back on #BlackLivesMatter with an #AllLivesMatter. Generalizing this important statement is simply a way of silencing the wilderness experiences of black folks and those who are lamenting the senseless loss of black lives. Of course, all lives and all children matter, but all are not being killed by cops. When I say #BlackLivesMatter, I am saying that black people need the same protections as white people from the police and their communities. Now is the time to hold powerful and political structures accountable.
When I talk about cops killing unarmed black men and boys, it is wrong to divert that important conversation by then referring to the perceptions and criminality of black folks with the phrase "Black on Black Crime." As a member of the black community, I have never lived in a neighborhood where blacks were killing each other. These broad generalizations and myths about a large community of people must stop. Further, we can discuss black-on-black crime at the same time we discuss "White on White Crime." Many white people have recently used the hashtag #CrimingWhileWhite to confess their own crimes and the sharp disparity of their police experiences (i.e., they live to tell about it, and they don't go to jail for petty offenses). Finally, we have to agree that we need integrity in our law enforcement and that police must be held to a higher authority and accountability than common citizens.
You Can Be Part of the Solution.
There are several practical steps to take right now in your social, political, and church environments:
1. Listen well to the cries and conversation of #BlackLivesMatter. Engage if so inclined.
2. Consider what your advocacy will look like: Some are calling for police to use body cameras, some are peacefully protesting, and others are calling for more gun legislation. I am committing to write fearlessly and mentor young people. What is God calling you to do?
3. We must address racial issues in our churches. Read and discuss books written by nonwhite Christian authors, or start a diverse small group conversation around sociologist Michael O. Emerson's Divided by Faith. We cannot continue a theology of words or practices that does not value the lives of people. Valuing the lives of all people is not a new biblical concept, and it is a sad day when prophetic voices in the church must work to convince some white evangelicals that this principle includes black people.
#BlackLivesMatter declares that the wages for walking while black, driving while black, playing while black, being big and black, or even illegally selling or stealing a box of cigarettes should not be death. Black people and white people deserve equal protection under the law, and we all need to open our eyes to our misperceptions so we can better understand and love each other.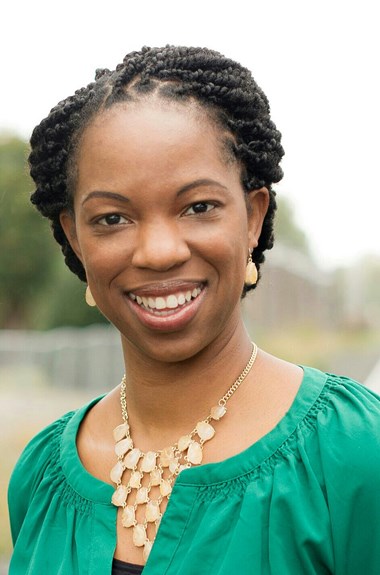 Natasha Sistrunk Robinson is the Assistant Director of the Center for the Development of Evangelical Leadership (CDEL) at Gordon-Conwell Theological Seminary Charlotte, where she graduated cum laude with an M.A. in Christian Leadership (having completed independent studies in racial reconciliation, biblical justice, and spiritual formation). She is the author of a forthcoming mentoring and discipleship book (Zondervan, February 2016). Natasha is an inspirational speaker, freelance writer, and anti-human trafficking advocate. Connect with her: officialwebsite, blog, Facebook, Twitter @asistasjourney, Pinterest, or YouTube.
Support our work. Subscribe to CT and get one year free.
To add a comment you need to be a registered user or Christianity Today subscriber.
Recent Posts
Dear White Brothers and Sisters: Why #BlackLivesMatter Matters to You