In Defense of Lent
Five reasons to fast and feast until Easter arrives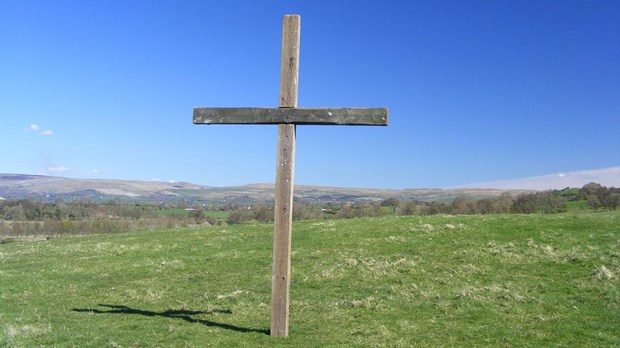 Image: Pimlico Badger, flickr
I used to feel some measure of disdain towards people who observed Lent, the religious season that begins next Wednesday and continues for forty days until Easter. For those who gave up candy or cheese, I figured it was just a religious excuse for a diet. For those who began a particular devotional practice, I often fell back upon the words of an elementary school friend who asked me about Lent as a kid: "Why would you only do something for forty days? Don't you believe in God all year round?"
But as I've grown up in faith and in life, I've changed my mind about Lent, for at least the following five reasons:
The church year: Observing the patterns of the liturgical church year isn't a requirement for any Christian, but it has served as a helpful tool for me. We live daily lives before God, sure, but we also live in seasons. When time stretches out endlessly, without markers and rhythms, change seems less possible. But the defined season of Lent gives us an opportunity to fast and focus for a particular amount of time on a particular aspect (the cross) of God's saving work for us.
The feasting: Traditionally, people give up bad habits or take on new spiritual practices during Lent. For those who "fast" from something—be it chocolate or speeding or drinking alcohol or watching television—every Sunday is a feast. Every Sunday in Lent is a celebration, an anticipation of Easter. Lent offers a concrete way to turn our attention to the upcoming celebration even as we experience a taste of the sorrow of the cross.
The fasting: I sometimes wonder whether our lives are so consumed by "ordinary" things like cooking and cleaning and washing our bodies and so forth and so on because God wants us to recognize his presence in the midst of our ordinary lives. Giving up simple things (like candy or cheese) may well be a pious diet plan, but it also can be a humbling reminder of our very mundane lives and our very mundane longings. When I deny myself something I desire physically, it can remind me of the spiritual longings I often surpress. And when I "suffer" as a result of that self-denial, it can remind me of the suffering God was willing to endure on our behalf.
Limitations: I could make a list of countless habits I should change and probably even more spiritual practices I'd like to cultivate. But I can't do them all at once. Lent is an opportunity to approach one or two. For a season. With God's help. I'm overwhelmed at the thought of a daily Bible reading plan. I know I will fail if my New Year's resolution is to pray every morning for a specified amount of time or give up caffeine forever or even to fast from a particular meal or for a particular day every week of the entire year. But for forty days, just forty days, in anticipation of a celebration… well, with God's help, perhaps I can do that. And perhaps I can learn and grow a bit in the process.
Lent is about as counter-cultural as it gets. And I'm quite influenced by our culture. To spend a short part of each year constraining myself, limiting myself, practicing self-denial, is just one way of turning my attention away from the relentless message of self-gratification and instant pleasure offered to me everywhere I turn and instead put my hope and trust (or at least a little bit of it) in the one who truly satisfies this thirsty soul.
Nowhere does the Bible, or even the church, command fasting during Lent. But this church season offers me an invitation, and this year I'm planning to accept it.
I'm going to write next week about my plans for the season, and on Friday's weekly roundup I'm going to suggest a few books that might be helpful companions through the Lenten season.
Did you grow up observing Lent? Do you observe it now? What has been the most helpful practice for Lent that you've had in the past?
Support our work. Subscribe to CT and get one year free.
To add a comment you need to be a registered user or Christianity Today subscriber.
Recent Posts
In Defense of Lent